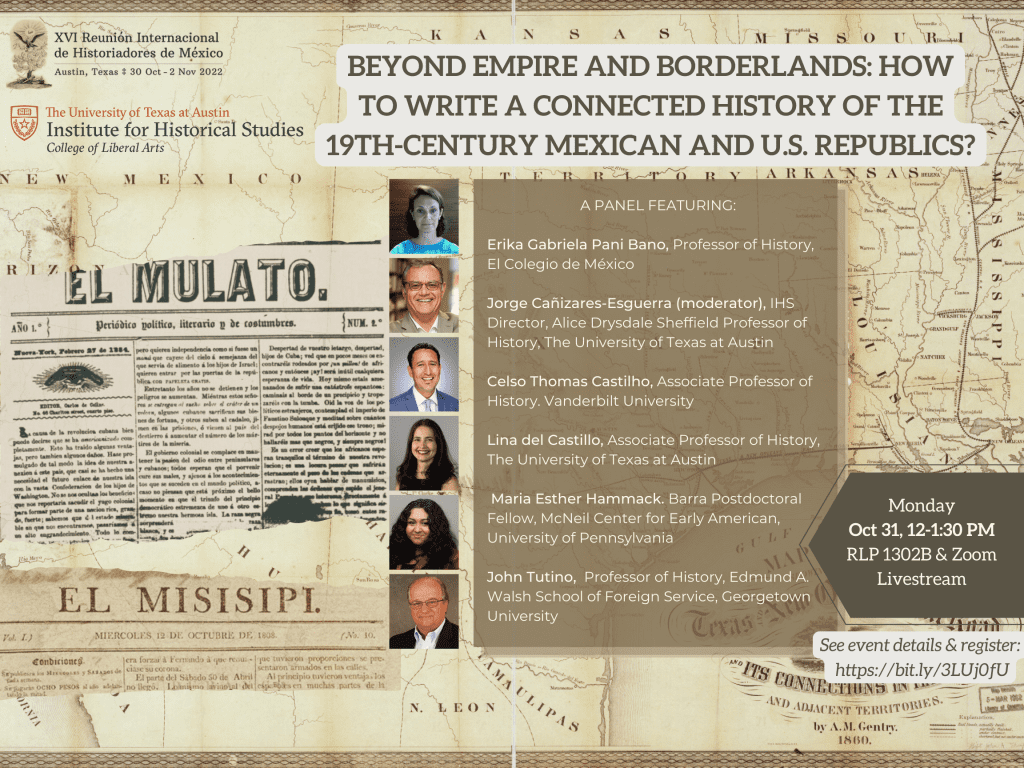 In conjunction with the XVI Reunión Internacional de Historiadores de México conference on "Los federalismos en la historia de México y México-Texas."

The histories of the 19th century Mexican and the US  republics are obviously deeply entangled.  Mexico lost half of its territory to the USA. But were 19th-century Mexico and the US  solely connected through the borderland history of war, imperial expansion, and occupation? Can we conceive of the history of these two nations differently?  How would the historiography of US slavery and abolitionism change if our unit of analysis were to include Mexico, for example?  The same applies for the history of US public opinion and liberalism. New Orleans was as much a Mexican political and economic hub as it was the capital of the US Cotton Empire. New Orleans, San Francisco, New York, Philadelphia hosted multiple printing presses  and newspapers in Spanish that were  as deeply involved in US politics as in Mexico's. This panel seeks to explore connected history of the two republics to offer a model beyond an entangled history of borderlands.

Erika Gabriela Pani Bano
Professor of History
El Colegio de México
Profile

Jorge Canizares-Esguerra (moderator)
Director, Institute for Historical Studies, and
Alice Drysdale Sheffield Professor of History
The University of Texas at Austin
Profile

Celso Thomas Castilho
Associate Professor of History
Vanderbilt University
Profile

Lina del Castillo
Associate Professor of History
The University of Texas at Austin
John Tutino
Professor of History,
Edmund A. Walsh School of Foreign Service
Georgetown University
Profile
Dr. Maria Esther Hammack, Barra Postdoctoral Fellow at the McNeil Center for Early American Studies at the University of Pennsylvania, was unable to attend. Read more about her work here.