In response to student demand and in the wake of decisions made elsewhere in the southern U.S. to remove Confederate flags, UT-Austin President Greg Fenves appointed a Task Force to consider the removal of monuments to Jefferson Davis and other Confederate leaders that occupy a central site on the UT-Austin Campus.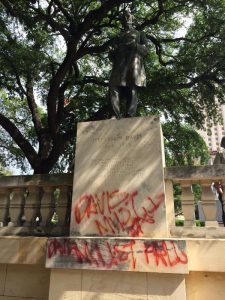 Understanding history and separating historical analysis from historical myth is essential for any society. One of the many disturbing aspects of Dylann Roof's murder of nine African Americans on June 17, is his justification of White supremacy on historical grounds.  And one of the signs that we could be doing a better job as historians is the CNN poll that shows the majority of White Americans see the Confederate flag as a "symbol of southern pride" rather than a "symbol of racism."
Over the next few weeks, Not Even Past will offer readers historical sources, readings, and commentary on these events. Last week, Mark Sheaves collected past articles devoted to the history of slavery and its legacy in the US and provided us with an annotated list.
Today we offer the historical analysis and commentary from journalists and historians primarily writing online. Follow us on Facebook and Twitter for more reading and news from the Task Force. (We will add to the list as relevant articles appear.)
---
First, "Causes Lost But Not Forgotten: George Washington Littlefield, Jefferson Davis and Confederate Memories at the University of Texas at Austin," an article by Alexander Mendoza about the controversies that have dogged the statues since their inception.
"Monuments to Confederacy have their own History at Texas Capitol," by Lauren McGaughy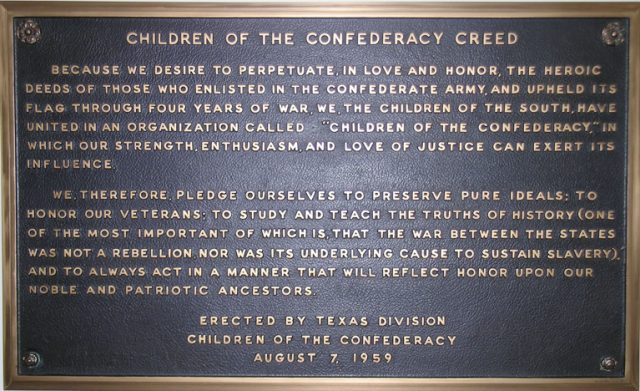 Many southerners claim that Confederate flags and monuments are reflections of southern "heritage," not racism. On the Nursing Clio blog, Sarah Handley-Cousins discusses the uses of heritage as a concept and a badge, "Heritage is Not History: Historians, Charleston, and the Confederate Flag."
A 2011 Pew Research Center survey that showed that more people believe the Civil War was fought over states' rights rather than over slavery.
In "Why Do People Believe Myths about the Confederacy? Because Our Textbooks and Monuments Are Wrong," James W. Loewin addresses some of the ways southerners rewrote Civil War history in Texas and elsewhere.
To document the centrality of slavery to the reasons southern states went to war, Ta Nehisi-Coates wrote "What This Cruel War was Over," arguing that "the meaning of the Confederate flag is best discerned in the words of those who bore it."
(And in case you haven't read Nehisi-Coates' searing history of relentless White efforts to prevent Blacks from obtaining economic security, here it is: The Case for Reparations.)
Finally, Bruce Chadwick on one of the most pernicious, and successful, purveyors of myths about "the southern way of life," D.W Griffiths' Birth of a Nation, 100 years old this year.
Added July 8-9, 2015:
On discussing the commemoration of the confederacy with students:
David C. Williard, "I don't want my students to simply choose sides in a polemic between heritage and hate."
It's complicated. Not very, but a little.
Richard Fausset, "'Complicated' Support for Confederate Flag in White South."
Added July 14, 2015
Many people argue that removing monuments is erasing history:
Alfred L. Brophy, "Why Northerners should Support Confederate Monuments"
---
The views and opinions expressed in this article or video are those of the individual author(s) or presenter(s) and do not necessarily reflect the policy or views of the editors at Not Even Past, the UT Department of History, the University of Texas at Austin, or the UT System Board of Regents. Not Even Past is an online public history magazine rather than a peer-reviewed academic journal. While we make efforts to ensure that factual information in articles was obtained from reliable sources, Not Even Past is not responsible for any errors or omissions.