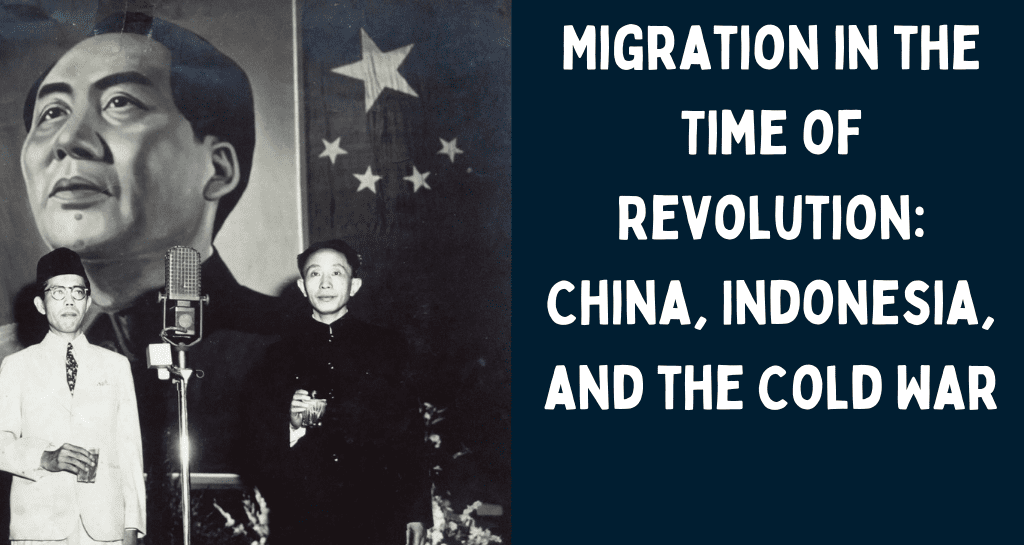 Friday April 30, 2021 • Virtual Event
What happens when geostrategic collaborations between states intersect with ethnic tensions? In response to this question, this talk examines how two of the world's most populous countries interacted between 1945 and 1967, when the concept of citizenship was contested, political loyalty was in question, national identity was fluid, and the boundaries of political mobilization were blurred. Even though China and Indonesia do not share geographical borders, the existence of 2.5 million ethnic Chinese in Indonesia—many of whom had economic influence but an unclear citizenship status—gave rise to a porous social frontier. Through their everyday social, political and economic practices, "ordinary" Chinese diaspora influenced bilateral diplomacy. Their life experiences were shaped by but also helped shape the trajectory of governmental relations.
Taomo Zhou is an Assistant Professor of History at Nanyang Technological University, Singapore, specializing in modern Chinese and Southeast Asian history. Taomo received her B.A. from Peking University and Waseda University, M. Sc. with Distinction from the London School of Economics and Ph.D. in History from Cornell University. Her writings have been accepted by journals such as Diplomatic History, Journal of Asian Studies, The China Quarterly, and The Critical Asian Studies. Taomo's first book, Migration in the Time of Revolution: China, Indonesia and the Cold War (Cornell University Press, 2019), was selected as one of the Best Books of 2020 by Foreign Affairs and received an honorable mention for the Harry J. Brenda Prize. Taomo is working on a new research project on Shenzhen—the first Special Economic Zone of China—and its connections with the Export Processing Zones and free ports across Southeast Asia. This research is funded by a Tier 1 grant from the Ministry of Education, Singapore.
Talk organized by UT Department of History Professor Madeline Hsu.
This event will be held on Zoom and is open to the public. Please register here.
Sponsored by: The Julian Suez Endowment in Chinese Studies and Center for East Asian Studies
---
The views and opinions expressed in this article or video are those of the individual author(s) or presenter(s) and do not necessarily reflect the policy or views of the editors at Not Even Past, the UT Department of History, the University of Texas at Austin, or the UT System Board of Regents. Not Even Past is an online public history magazine rather than a peer-reviewed academic journal. While we make efforts to ensure that factual information in articles was obtained from reliable sources, Not Even Past is not responsible for any errors or omissions.