Not Even Past is proud to partner with This is Democracy, a groundbreaking podcast that brings together thoughtful voices from different generations to help make sense of current challenges and propose positive steps forward. For Episode 120 of This is Democracy, Jeremi and Zachary Suri hosted Professor Hannah Gurman and Professor Kaeten Mistry to discuss the role of dissent, specifically whistleblowers, in U.S. national security and defense.
…one of the discoveries we made is that, in many respects, whistle-blowing is an act of desperation. But it is not necessarily radical, it's historical phenomenon that have made it radical. So that's why it's important to trace this history.

Professor Hannah Gurman
Listen to the podcast below or see it here.
For further readings on whistle-blowers and the role of dissent in U.S. national security and defense, Hannah Gurman and Kaeten Mistry recommend the following five books.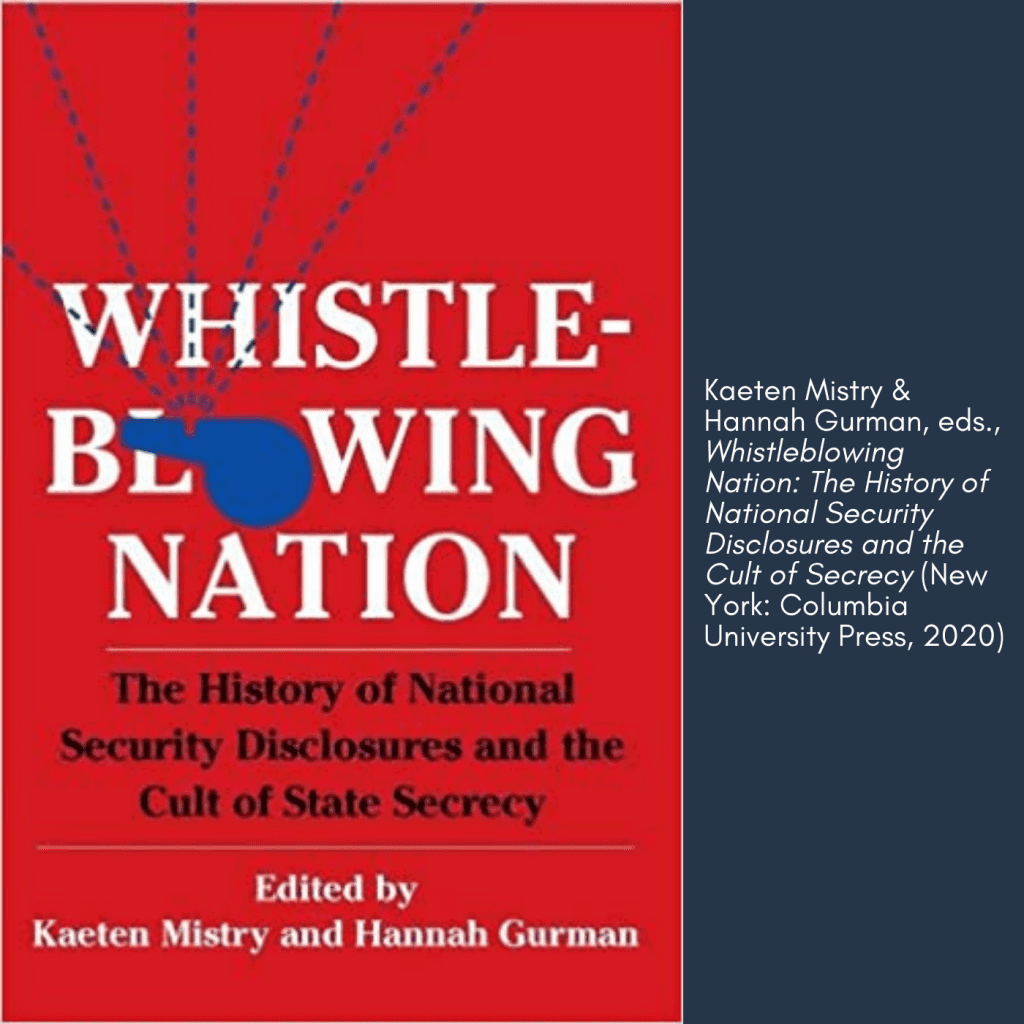 Kaeten Mistry & Hannah Gurman, eds., Whistleblowing Nation: The History of National Security Disclosures and the Cult of Secrecy (New York: Columbia University Press, 2020).

"The twenty-first century witnessed a new age of whistleblowing in the United States. Disclosures by Chelsea Manning, Edward Snowden, and others have stoked heated public debates about the ethics of exposing institutional secrets, with roots in a longer history of state insiders revealing privileged information. Bringing together contributors from a range of disciplines to consider political, legal, and cultural dimensions, Whistleblowing Nation is a pathbreaking history of national security disclosures and state secrecy from World War I to the present. The contributors explore the complex politics, motives, and ideologies behind the revelation of state secrets that threaten the status quo, challenging reductive characterizations of whistleblowers as heroes or traitors. They examine the dynamics of state retaliation, political backlash, and civic contests over the legitimacy and significance of the exposure and the whistleblower. The volume considers the growing power of the executive branch and its consequences for First Amendment rights, the protection and prosecution of whistleblowers, and the rise of vast classification and censorship regimes within the national-security state. Featuring analyses from leading historians, literary scholars, legal experts, and political scientists, Whistleblowing Nation sheds new light on the tension of secrecy and transparency, security and civil liberties, and the politics of truth and falsehood."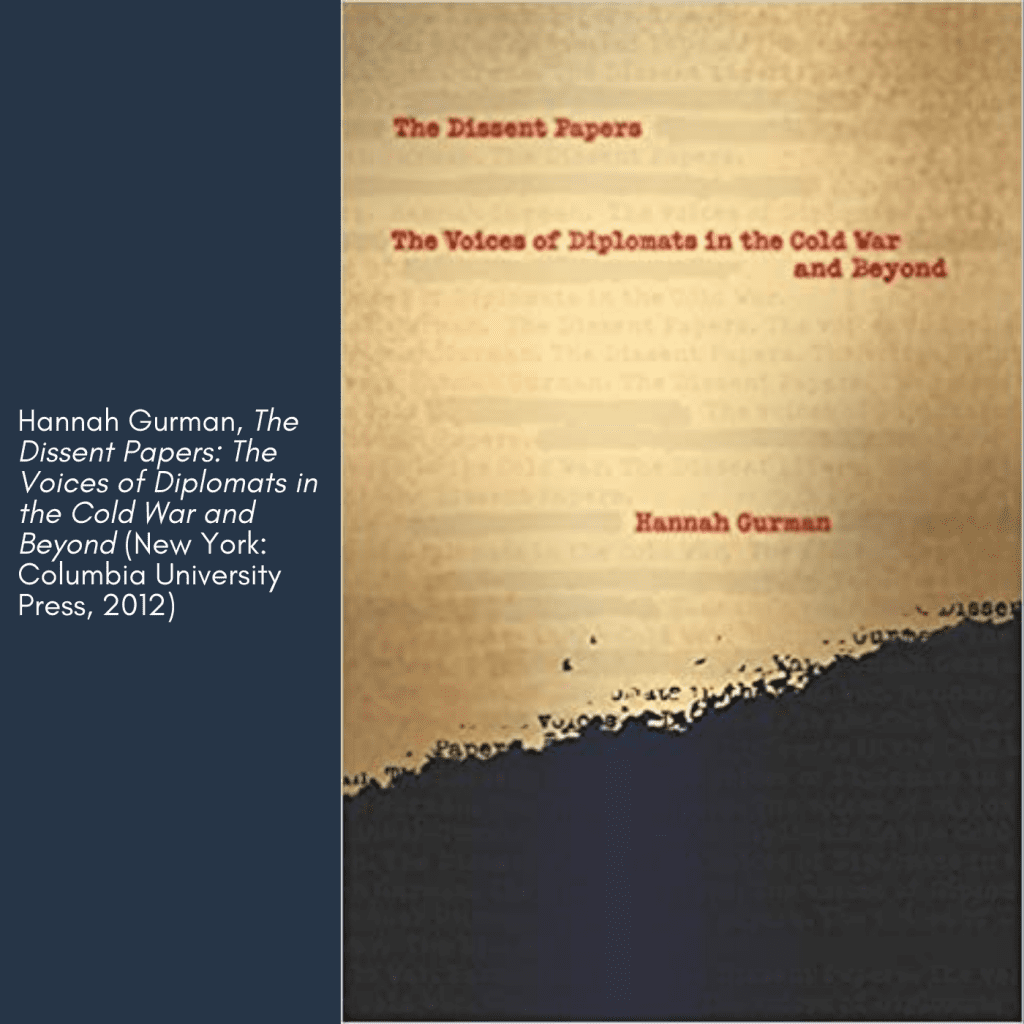 Hannah Gurman, The Dissent Papers: The Voices of Diplomats in the Cold War and Beyond (New York: Columbia University Press, 2012).

"Beginning with the Cold War and concluding with the 2003 invasion of Iraq, Hannah Gurman explores the overlooked opposition of U.S. diplomats to American foreign policy in the latter half of the twentieth century. During America's reign as a dominant world power, U.S. presidents and senior foreign policy officials largely ignored or rejected their diplomats' reports, memos, and telegrams, especially when they challenged key policies relating to the Cold War, China, and the wars in Vietnam and Iraq. The Dissent Papers recovers these diplomats' invaluable perspective and their commitment to the transformative power of diplomatic writing. Gurman showcases the work of diplomats whose opposition enjoyed some success. George Kennan, John Stewart Service, John Paton Davies, George Ball, and John Brady Kiesling all caught the attention of sitting presidents and policymakers, achieving temporary triumphs yet ultimately failing to change the status quo. Gurman follows the circulation of documents within the State Department, the National Security Council, the C.I.A., and the military, and she details the rationale behind "The Dissent Channel," instituted by the State Department in the 1970s, to both encourage and contain dissent. Advancing an alternative narrative of modern U.S. history, she connects the erosion of the diplomatic establishment and the weakening of the diplomatic writing tradition to larger political and ideological trends while, at the same time, foreshadowing the resurgent significance of diplomatic writing in the age of Wikileaks."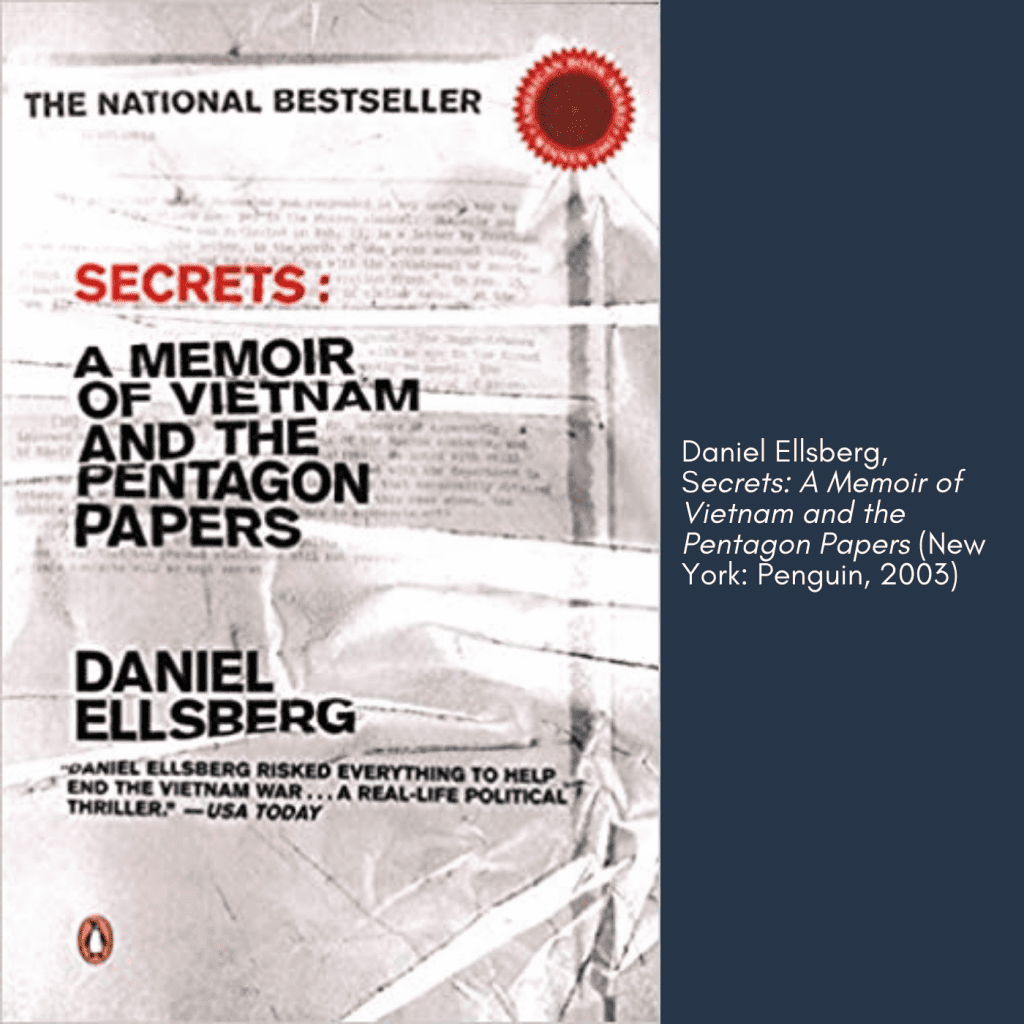 Daniel Ellsberg, Secrets: A Memoir of Vietnam and the Pentagon Papers (New York: Penguin, 2003).

"In 1971 former Cold War hard-liner Daniel Ellsberg made history by releasing the Pentagon Papers – a 7,000-page top-secret study of U.S. decision-making in Vietnam – to the New York Times and Washington Post. The document set in motion a chain of events that ended not only the Nixon presidency but the Vietnam War. In this remarkable memoir, Ellsberg describes in dramatic detail the two years he spent in Vietnam as a U.S. State Department observer, and how he came to risk his career and freedom to expose the deceptions and delusions that shaped three decades of American foreign policy. The story of one man's exploration of conscience, Secrets is also a portrait of America at a perilous crossroad."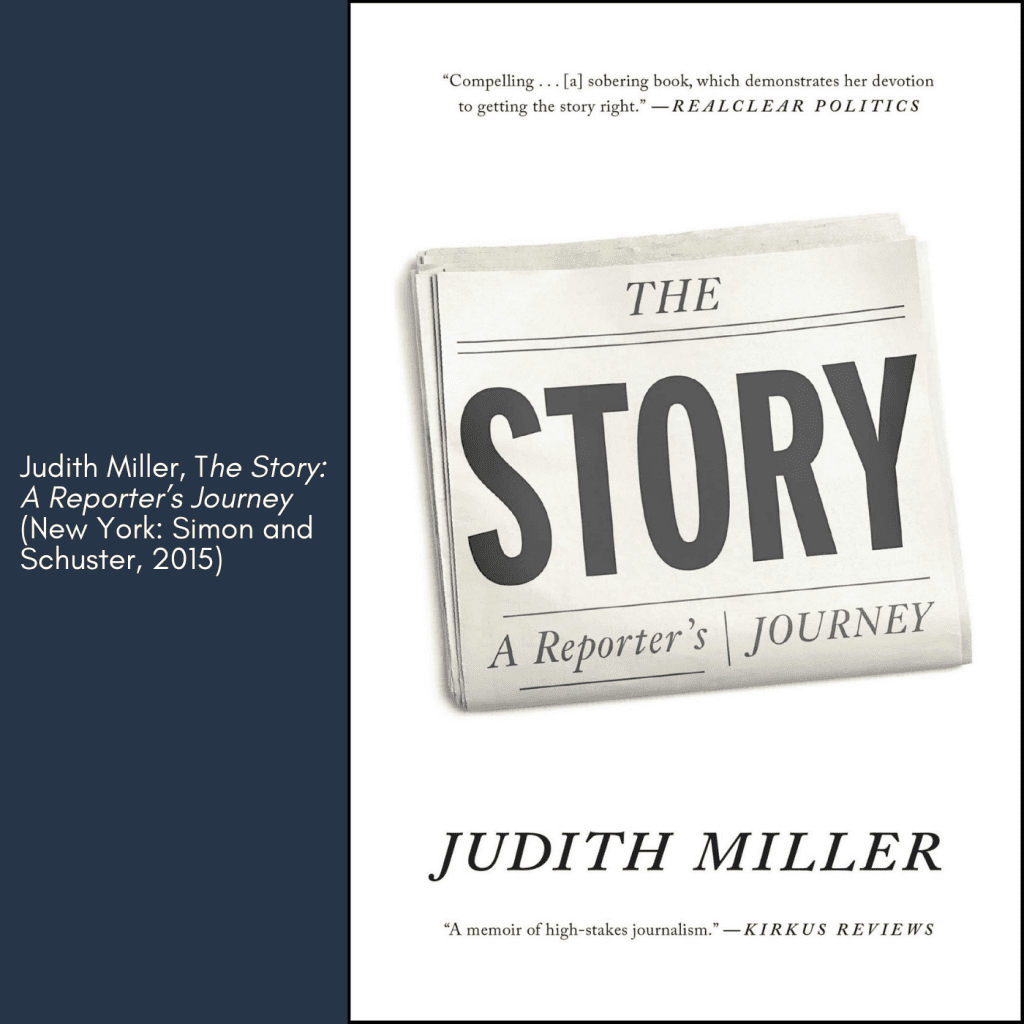 Judith Miller, The Story: A Reporter's Journey (New York: Simon and Schuster, 2015).

"In The Story, Judy Miller turns her journalistic skills on herself and her controversial reporting, which marshaled evidence that led America to invade Iraq. She writes about the mistakes she and others made on the existence in Iraq of weapons of mass destruction. She addresses the motives of some of her sources, including the notorious Iraqi Chalabi and the CIA. She describes going to jail to protect her sources in the Scooter Libby investigation of the outing of CIA agent Valerie Plame and how the Times subsequently abandoned her after twenty-eight years. Judy Miller grew up near the Nevada atomic proving ground. She got a job at TheNew York Times after a suit by women employees about discrimination at the paper and went on to cover national politics, head the paper's bureau in Cairo, and serve as deputy editor in Paris and then deputy at the powerful Washington bureau. She reported on terrorism and the rise of fanatical Islam in the Middle East and on secret biological weapons plants and programs in Iraq, Iran, and Russia. Miller shared a Pulitzer for her reporting. She describes covering terrorism in Lebanon, being embedded in Iraq, and going inside Russia's secret laboratories where scientists concocted designer germs and killer diseases and watched the failed search for WMDs in Iraq. The Story vividly describes the real life of a foreign and investigative reporter. It is an account filled with adventure, told with bluntness and wryness."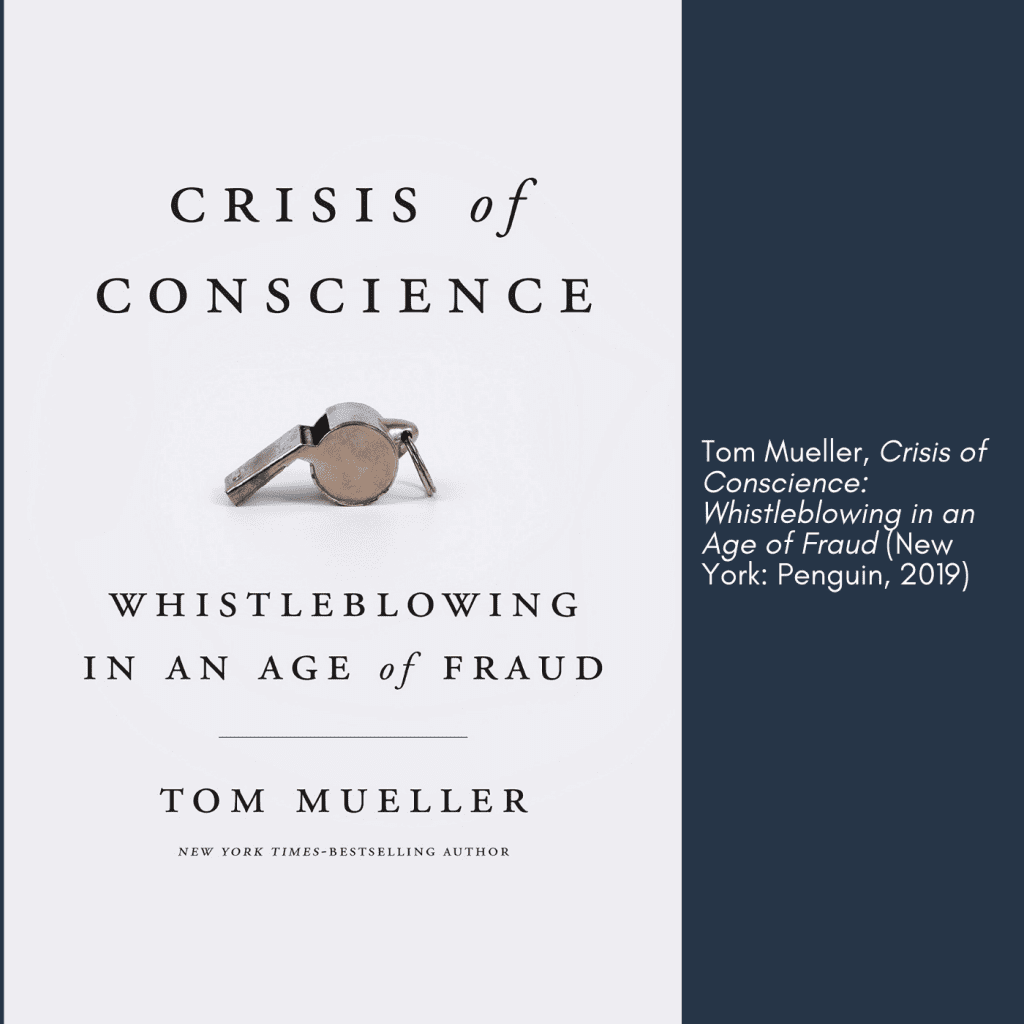 Tom Mueller, Crisis of Conscience: Whistleblowing in an Age of Fraud (New York: Penguin, 2019).

"We live in a period of sweeping corruption — and a golden age of whistleblowing. Over the past few decades, principled insiders who expose wrongdoing have gained unprecedented legal and social stature, emerging as the government's best weapon against corporate misconduct–and the citizenry's best defense against government gone bad. Whistleblowers force us to confront fundamental questions about the balance between free speech and state secrecy, and between individual morality and corporate power. In Crisis of Conscience, Tom Mueller traces the rise of whistleblowing through a series of riveting cases drawn from the worlds of healthcare and other businesses, Wall Street, and Washington. Drawing on in-depth interviews with more than two hundred whistleblowers and the trailblazing lawyers who arm them for battle–plus politicians, intelligence analysts, government watchdogs, cognitive scientists, and other experts–Mueller anatomizes what inspires some to speak out while the rest of us become complicit in our silence. Whistleblowers, we come to see, are the freethinking, outspoken citizens for whom our republic was conceived. And they are the models we must emulate if our democracy is to survive."