By Kacey Manlove
Read the full paper here
See more images here
Annotated bibliography, including author interviews with former NASA officials
What role did space exploration assume in the history of Soviet-American relations? For her Texas History Day research paper, Kacey Manlove argues that it represented the "fire" of mutual distrust and fear, but also the "ice" of cooperation and détente: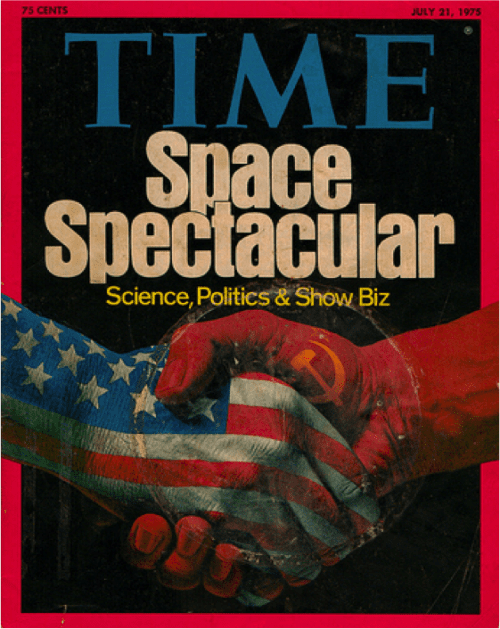 "Between 1945 and 1991, Robert Frost's 'Fire and Ice' presented sobering possibilities as Cold War confrontations dominated world politics. Both America and the Soviet Union postured for superiority in nuclear strength, building armories with potential to annihilate the world in fiery holocaust. October 4, 1957, marked the first major turning point when Sputnik's launch catapulted the possibility of destruction into space. Their tense competition for nuclear dominance on earth and control of activities in space appeared unsolvable until 1975, when their Cold War space agencies initiated the next major turning point, symbolically transforming American-Soviet relations from conflict to détente as the commanders of their joint Apollo-Soyuz mission reached across space to shake hands. That handshake planted the seed for other cooperative events, first Shuttle-Mir and later the International Space Station, today's symbol of international cooperation."
You can follow the links above to read all of Kacey's fascinating paper, see more images and read her first person interviews with former NASA officials.
Kacey Manlove
Rockport-Fulton High School
Senior Division
Individual Paper
Photo Credits:
1975 issue of Time examining American-Soviet cooperation in space (Image courtesy of "Fire and Ice: How a Handshake in Space Turned Cold War Agendas from Competition to Cooperation")