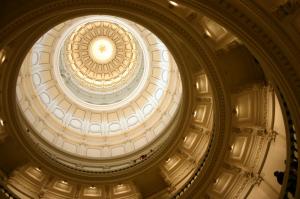 By George Christian
This spring the Texas Legislature will consider numerous proposals expanding the right to carry a concealed firearm. Two of these proposals—one prohibiting colleges and universities from barring concealed firearms on campus and another restricting the ability of an employer to prevent employees from carrying weapons in vehicles parked on the employer's premises—are particularly contentious. In view of the strongly conservative cast of the present legislature and state leadership, most observers agree that little stands in the way of either one.
Given the widely held perception that Texas is one of the most "pro-gun" jurisdictions in the nation, it may come as a surprise that Texas was a relative latecomer to conceal-carry laws. By the time Governor George W. Bush signed the first Texas concealed handgun licensing law in 1995, nearly half the states in the nation had one form or another of concealed handgun permitting. Vermont and New Hampshire have the longest history of concealed-carry, the former with no restrictions at all and the latter with a licensing law that dates back to the early 1920's. Georgia's 1976 concealed-carry law, however, marked the beginning of a concerted campaign by the National Rifle Association and allied groups to promote concealed firearm licensing laws on a national basis.
In Texas, concealed-carry legislation was introduced in each regular legislative session beginning in 1983. Democratically-controlled legislatures blocked the proposals, although a watered-down version came close to passage in 1991. That same year, a gunman opened fire in a Luby's Cafeteria in Killeen, Texas, killing 23 people, including the parents of future State Rep. Suzanna Gratia Hupp (served 1997-2007), who subsequently led a spirited and well-financed public campaign for a Texas concealed-carry law. A veto threat from Governor Ann Richards blocked the bill during the 1993 session, though the Legislature did pass legislation calling for a referendum on the issue. Governor Richards vetoed that bill, assuring that concealed-carry legislation would become one of the most hotly debated issues during the 1994 gubernatorial election. George W. Bush's victory cleared the way for concealed-carry legislation during the 1995 legislative session. Authored by then-State Senator and current Texas Land Commissioner Jerry Patterson (R-Pasadena) and passed over bitter opposition in both the Texas Senate and House (it was amended 41 times on the House floor alone), the bill established Texas' first licensing regime for concealed handguns. When the new law went into effect on September 1, 1995, more than 200,000 Texans applied for a CHL license.
Since its initial passage, the Legislature amended the law in 1997, 2001, 2003, 2005, and 2007. Most of these bills dealt with the definitional ambiguities, administrative processes, and fees, though in 2007 the Legislature enacted an important bill recognizing the "Castle Doctrine," which shields a person from criminal or civil liability for using deadly force to repel an invasion of one's home. At the same time, various legislative proposals to restrict places in which licensees may carry concealed weapons (e.g., places of worship, school parking lots, public streets, public facilities) have generally failed.
In the wake of the Virginia Tech shootings in May, 2007, the Texas Senate passed bills expanding concealed carry to public college and university campuses and employer parking lots during the 2009 session. Both proposals made it out of committee in the House but did not get to the floor before the time clock ran out. With the make-up of the Texas Senate virtually the same as it was in 2009 and a far more conservative House, it appears nearly certain that both bills will pass this time. Throw in the possibility that Governor Perry will make a run for national office in next year's presidential election on a conservative platform, and the recipe for expanded concealed-carry laws is complete.
Sources:
Larry Arnold, The History of Concealed Carry, 1976-2009, Texas Concealed Handgun Association, http://www.txchia.org/history.htm (accessed 2/23/11)
Hilary Hilton, "The Gun Lobby's Counterattack," Time, April 18, 2007, http://www.time.com/time/nation/article/0,8599,1611939,00.html (accessed 2/23/11)
Christopher Smith Gonzalez, "Colin Gardner's Right to Bear Witness to a Campus Massacre," Texas Tribune, February 23, 2011 http://www.texastribune.org/ (accessed 2/23/11)
If you want to read more on the topic, try:
Guns in America: A Reader, ed. Jan E. Dizard, Robert Merrill Muth and Stephen P. Andrews (1999)
Photo: Wing-Chi Poon [CC-BY-SA-2.5] via Wikimedia Commons
---
The views and opinions expressed in this article or video are those of the individual author(s) or presenter(s) and do not necessarily reflect the policy or views of the editors at Not Even Past, the UT Department of History, the University of Texas at Austin, or the UT System Board of Regents. Not Even Past is an online public history magazine rather than a peer-reviewed academic journal. While we make efforts to ensure that factual information in articles was obtained from reliable sources, Not Even Past is not responsible for any errors or omissions.