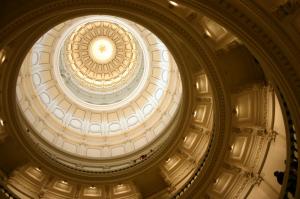 By George Christian
On May 19, Governor Rick Perry signed into law legislation further restricting abortion rights in Texas. H.B. 15, which passed by 2-1 majorities in both the Texas House and Senate, requires a physician to perform a sonogram on a woman seeking an abortion at least 24 hours prior to the abortion procedure. The bill further requires the physician to show the sonogram to the woman, explain the images on the sonogram, and make the fetus's heartbeat audible. A woman seeking an abortion may waive the requirement that she view the sonogram image and hear the heartbeat, but must hear the explanation of the sonogram images unless she can certify that: (1) she is pregnant by reason of sexual assault, incest, or other criminal violation; (2) she is a minor receiving an abortion under the judicial bypass procedure; or (3) the fetus has an irreversible medical condition or abnormality. If the woman certifies that she resides more than 100 miles from the nearest abortion provider, she may waive the 24-hour waiting period. The bill requires the provision of printed materials to women seeking abortions and penalties for physicians who fail to comply with the law.
With Governor Perry's signature, Texas joined eighteen other states that regulate sonograms for pregnant women seeking abortions, but is only the fifth state to require a woman to obtain a sonogram prior to an abortion (the others are Alabama, Arizona, Louisiana, and Mississippi; Oklahoma's similar sonogram law is in abeyance pending a court challenge.) H.B. 15, however, can be seen as part of a larger historical trend to reassert state regulation of abortions in the wake of the U.S. Supreme Court's 1973 decision in Roe v. Wade that struck down a Texas criminal statute barring a woman from procuring and a physician from performing an abortion unless a physician deemed it necessary to save the woman's life. As Justice Blackmun recites in his opinion in Roe, Texas' criminalized abortion in 1854, joining a growing number of states and territories (Connecticut was the first in 1821). The statute survived in substantially unchanged form through several subsequent revisions of the Penal Code, most recently in 1961, but physicians prosecuted and convicted under the statute had repeatedly challenged its constitutionality in state courts. As early as 1908, the Texas Court of Criminal Appeals ruled that the state had a fundamental interest in preserving fetal life and that the state's proscription of abortion was not unconstitutionally vague (Jackson v. State, 55 Tex.Cr.R. 79, 115 S.W. 262 [1908]). The Court affirmed this decision in 1971, just two years prior to Roe. For well over a century, Texas law, as well as the laws in a majority of states, made voluntary abortion illegal.
This all changed in the late 1960s and early 1970s, when several state courts (Texas excepted) struck down criminal abortion statutes. In Roe, seven justices of the U.S. Supreme Court agreed, albeit not all for the same reasons. Speaking for the majority, Justice Blackmun concluded that criminalizing abortion violates the Due Process clause of the Fourteenth Amendment. States or the federal government may not regulate abortions during the first trimester of pregnancy, but may regulate abortion in the second trimester in a manner reasonably related to maternal health. In the third trimester, a state may proscribe abortion except where it is necessary to preserve the life or health of the mother. Justice Blackmun's characterization of the legal history of abortion at English common law and in its nineteenth-century statutory adaptations in the United States has proven almost as controversial as the decision itself. A growing scholarship on the subject asserts that American jurisprudential and medical history belie Roe's emphasis on the relative leniency of the common law toward abortion and the existence of a constitutional right to an abortion. This debate will doubtless rage on and deeply influence the next round of litigation seeking to reverse Roe.
In the meantime, states such as Texas have steadily eaten into the conceptual framework of Justice Blackmun's constitutional argument by erecting increasingly more restrictive hedges around a woman seeking to exercise that right. In response to a 1974 request for opinion, Texas Attorney General John Hill issued guidelines pertaining to abortion in the post-Roe world, including: (1) a requirement that only licensed physicians perform abortion; (2) physicians and private hospitals (but not public hospitals) may decline to provide abortion services; (3) abortion facilities should not be subject to any reporting or regulatory requirements different than other facilities; and (4) legislation allowing the putative father to consent to the abortion would likely be unconstitutional. The initial legislative response to Roe and the Attorney General's interpretation occurred in 1977, when the Legislature immunized from liability physicians who refused to perform abortions and allowed private hospitals and clinics to refuse to perform abortions unless the pregnant woman's life was in imminent danger. In 1985, the Democratic Legislature passed and Republican Governor William P. Clements signed the Texas Abortion Facility Reporting and Licensing Act, which required all facility or physician's offices performing abortions to obtain licenses and report detailed information regarding each abortion provided.
Tighter abortion restrictions interacted with U.S. Supreme Court decisions handed down after Roe. In a series of decisions beginning with Danforth v. Planned Parenthood, 482 U.S. 52 (1976) and ending Webster v. Reproductive Health Services, 492 U.S. 490 (1989), the Court began relaxing Roe's strict scrutiny standard and allowing regulation of abortions and abortion facilities. The new test was whether state regulation imposed an "undue burden" on a woman's right to an abortion. The effect of this shift was to open the door to informed consent, waiting period, and parental consent laws. In Planned Parenthood of Southeastern Pennsylvania v. Casey, 505 U.S. 833 (1992), the Court specifically upheld Pennsylvania's 24-hour waiting period, informed consent, parental consent for a minor (with a judicial bypass), and detailed reporting requirements, though it struck down a spousal consent requirement. The Court passed up several opportunities to revisit the issue for nearly a decade, when in Stenberg v. Carhart, 530 U.S. 914, 120 S.Ct. 2597 (2000) it struck down a Nebraska statute prohibiting partial-birth abortions as overly broad. A split Stenberg court, however, left open the possibility that a more narrowly tailored ban on partial birth abortions, one that excepted procedures to save the life of the mother, would pass constitutional muster. Since Stenberg, 16 states have banned partial birth abortions, but not yet Texas.
After a relatively quiescent period in the 1990s, an increasingly conservative Texas Legislature took up the abortion issue with renewed vigor. In 1999 Texas joined the 39 states that prohibit third trimester abortions and impose penalties on physicians who performed them. The Texas legislation exempts abortions in which a physician concludes that the fetus is not viable and the pregnancy is not in the third trimester, the abortion is necessary to prevent death or serious harm to the woman's physical or mental health, or the fetus has a severe, irreversible abnormality. More significantly, the Legislature passed legislation barring a physician from performing an abortion on a pregnant unemancipated minor without at least 48 hours prior notice to the minor's parent or court-appointed managing conservator or guardian, unless the physician determined an immediate abortion was necessary to prevent the minor's death or avoid a serious risk of substantial and irreversible impairment of a major bodily function. The legislation also allowed a minor to seek a court order authorizing the minor to consent to the procedure without parental notification. Texas' parent notification law became a centerpiece in then-Governor George W. Bush's 2000 campaign for the White House.
Four years later Governor Rick Perry championed and the 2003 Legislature enacted the "Woman's Right to Know Act," which required informed written consent before an abortion may be performed; detailed information in the consent form about the risks of abortion, the availability and benefits of prenatal and neonatal care, pregnancy counseling services, and adoption services; a 24-hour waiting period between dissemination of the materials and the abortion procedure; and detailed explanation and images of the fetus at certain gestational periods. Texas is now one of 22 states with a mandatory waiting period. It is this 2003 statute that has now been expanded to add the sonogram requirement. As in 1999, when a Texas governor advocated a parental notification law as part of his presidential election bid the following year, a current Texas governor, after declaring a mandatory sonogram law a legislative emergency earlier this year, has an abortion regulatory bill under his belt as he mulls a presidential bid of his own. This historical coincidence does not at all mean that abortion regulation is merely a political issue, though strong anti-abortion or pro-life credentials appear necessary for candidates hoping for success in the GOP primary elections. But it does suggest a fundamental philosophical position that is likely to hold sway in Texas for the foreseeable future. What remains to be seen is how far the courts will allow state legislatures to go. If current trends hold, abortion rights will continue to shrink, and Texas stands at the forefront of this movement.
Sources:
Guttmacher Institute, State Policies in Brief: An Overview of Abortion Laws, (accessed May 1, 2011)
John Keown, "Back to the Future of Abortion Law: Roe's Rejection of America's History and Traditions," National Center for Medically Dependent & Disabled, Inc., 22 Issues L. & Med. 3 (Summer, 2006)
J. Lewis and Jon O. Shimabukuro, "Abortion Law Development: A Brief Overview," Congressional Research Service, January 28, 2001 (accessed May 10, 2011)
National Center for Biotechnology Information, U.S. National Library of Medicine (Bethesda, Maryland), http://www.ncbi.nlm.nih.gov/pubmed/3353873 (accessed May 30, 2011)
Roe v. Wade, 410 U.S. 113 (1973)
Further Reading:
The Abortion Rights Controversy in America: A Legal Reader (2004)
N. E. H. Hull, Roe v. Wade: The Abortion Rights Controversy in American History, 2d ed. (2010)
Jennifer Nelson, Women of Color and the Reproductive Rights Movement (2003)
Previous installments of George on the Lege:
Part 8: Public Higher Education
Part 7: Medicaid
Part 6: Betting on Gam(bl)ing
Part 5:2 School Finance, 1991-the present
Part 5:1 School Finance, 1949-1991
Part 4: Concealed Weapons
Part 3: Redistricting
Part 2: Cutting Spending
Part 1: Budget Crises, Today and Yesterday
Photo: Wing-Chi Poon [CC-BY-SA-2.5] via Wikimedia Commons
---
The views and opinions expressed in this article or video are those of the individual author(s) or presenter(s) and do not necessarily reflect the policy or views of the editors at Not Even Past, the UT Department of History, the University of Texas at Austin, or the UT System Board of Regents. Not Even Past is an online public history magazine rather than a peer-reviewed academic journal. While we make efforts to ensure that factual information in articles was obtained from reliable sources, Not Even Past is not responsible for any errors or omissions.