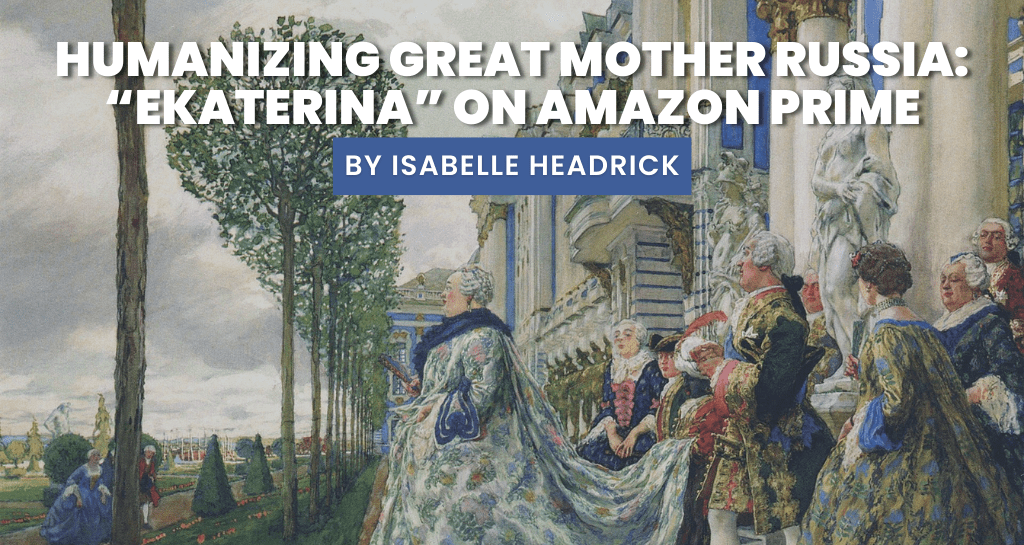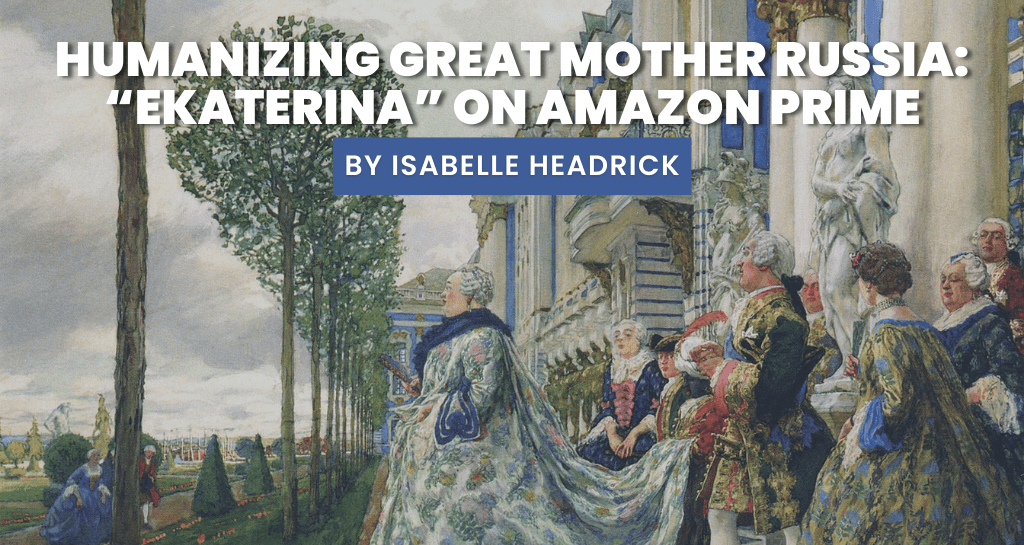 Our family's choice for evening relaxation requires striking the delicate balance between pseudo-highbrow (for the historian) and light (for the trauma therapist). As a result, we usually settle on shows that are both foreign and trashy. "Ekaterina" on Amazon Prime promised to fit the bill and delivered. I had lived in Russia a few times in the late 1980s and early 1990s and was eager to re-experience the fairy-tale magic (although not the impoverished desperation) of St. Petersburg. We began watching in January of 2022. The news that Putin had begun to amass troops on Ukraine's borders was still fresh and barely believable, but that didn't stop me from noticing that major funding for the show was provided by the Ministry of Culture of the Russian Federation.
In a way, this is a story of transplants: two German noble kids who, thanks to the rampant practice of European royals tangling their DNA across national borders, both find themselves in Russia, destined to marry one another. Their encounter is orchestrated by the Empress Yelizavyeta (Elizabeth), daughter of Peter the Great and aunt to Peter the Not-so-much. The younger Peter has been imported to be heir to his grandfather and aunt's throne but unfortunately has some screws loose and isn't the brightest bulb in the shed when it comes to matters both of the heart and the bedroom. Worse still, he is in love with enemy and military aggressor Frederick the Great of Prussia and obsessed with infantile soldier games. Yet he is also a brilliant violinist, not always as idiotic as he appears, and has the odd moments of sensitivity and insight.
Peter's stagnation and pathos serves as an immobile backdrop to the meteoric trajectory of the German princess Sophie Friederika, played by the impossibly beautiful and cat-eyed Marina Aleksandrova, who arrives in Russia as a teenager for an audition to marry him and promptly falls in love and lust with another nobleman, foreshadowing her adult reputation for having many lovers. More to the point, soon after her arrival, she wholeheartedly throws herself into the project of becoming ruskaya, converting to Orthodox Christianity, taking the name Yekaterina, and quickly shedding an unconvincing bad accent for perfect Russian.
The real star of the first season, however, is Empress Elizabeth, magnificently and forcefully portrayed by Yulia Aug, one of the first not-skinny deeply complex female heroines I have seen on screen. In real life, Elizabeth was known as Russia's most enlightened emperor since she didn't execute anyone. She did, however, overthrow the previous tsar, a toddler, in a coup and keep him imprisoned in miserable conditions for the rest of his short, tragic life, so there's that. The actress and the tsarina she portrays are a kaleidoscope of physical and character traits. Big and brilliant, ruthless and conniving within the vipers' nest that is the palace environment, yet also sexual and sympathetic and not without a highly developed sense of humor and playfulness, she personifies imperial Russia itself. Yekaterina, even while the victim of Elizabeth's capacity for great cruelty, takes note and uses her aunt-in-law as a template on which to model her own imperial modus operandi.
The season itself was all about palace intrigue although sadly, none of the street scenes of St. Petersburg I was hoping for. It tracks Friederika/Yekaterina's evolution from a guileless but ambitious German teenager, to—after Elizabeth's death and Peter's accession to the throne—a hardened and scheming palace politician determined to achieve the highest position possible from which to defend Mother Russia's armies and honor from the betrayal of her Prussophile husband-turned-emperor. We all know how that will end: she will collude with her lovers to assassinate her husband as well as other hapless victims standing in her way and thereby assume the throne and go on to be known to history as Catherine the Great. If you want to make an omelet, the series says with a pseudo-apologetic, sorry-not-sorry shrug, you gotta crack some eggs.
We finished watching season one as the invasion of Ukraine began and the final scene made me feel sick to my stomach, as if I had just realized that I had allowed myself to be seduced by someone else's abuser. As Catherine entered and walked through the great hall to the accompaniment of the announcement of the list of Russia's dominions, bedecked with her empress's crown and robe, I couldn't help but flash back to the fall of 1989. I was a student, hosted by a family in one of outer Moscow's endless apartment blocks, and the daughter of my hosts, an adorable blond nine-year-old girl, pointed at a map of the USSR and told me proudly what she had no doubt learned in school, "это наши республики—these are our republics."
This is what Russians were told and knew even as their empire was wobbling on the edge of the precipice: that their country might be a failure by many metrics, including their own lives and their children's opportunities, but at least it was BIG, and those other republics were theirs. Today's Russian imperial propaganda is smarter and had momentarily caught me in its logic as well, reminding me of my own love for that country and the people I cared for in it—not through the heavy hand of the evening news but through the subconscious mechanisms of art: complex, soulful, funny, even feminist, and devastatingly cruel. Back on the screen, Catherine walks forward, in a sumptuous costume and on a rococo set funded by the Vladimir Putin's Ministry of Culture, meeting her destiny as imperatritsa of "all of the Russias": Moscow, Kiev, Vladimir, Novgorod, Kazan, Astrakhan, Siberia, Suzdal, Estland, Livonia, Karelia, Tver, Yugar, Perm, Vyatka, Bulgaria, Chernigov, Ryazan, Rostov, Yarolsavl, Belozero, Khutor, and Circassian and Caucasian lands . . . Yes, the list was very long. The list was the point.
---
Isabelle S. Headrick is a PhD candidate in history at the University of Texas at Austin. She works on the global modern education movement and its interaction with Iranian, Jewish, global French, and family histories.
Note: For further reading on the Russian Ministry of Culture, follow the work of UT history student Rebecca Adeline Johnston, including two recent posts, "In Russian Cultural Policy, the Customer is Always Wrong," and "The Only Russian Official Angrier Than Putin at How Things Are Going in Ukraine."
The banner image uses the painting Elizaveta Petrovna in Tsarskoe Selo, painting (1905) by Eugene Lanceray. Source: The Tretyakov Gallery.