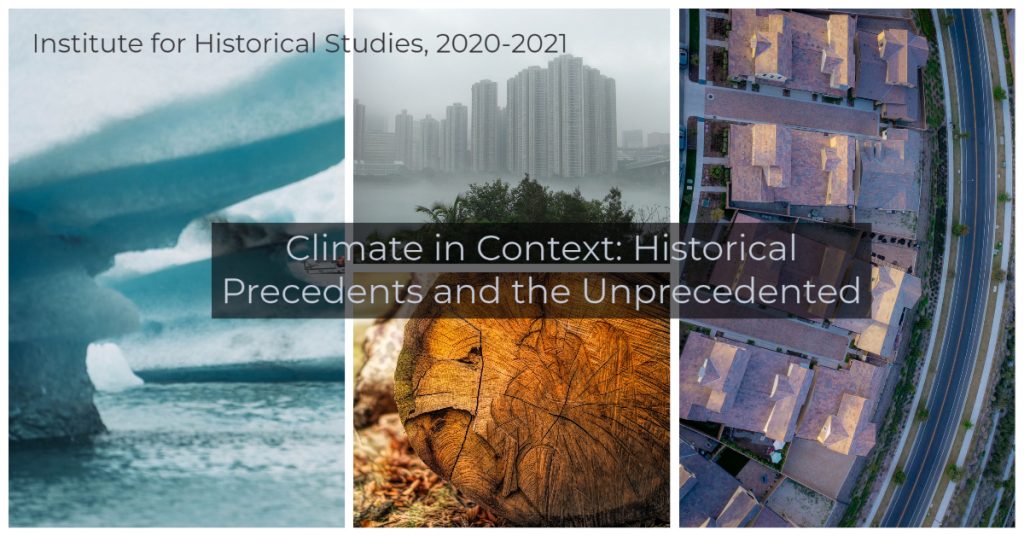 As scholars from different disciplines confront the consequences of climate change, historians have a unique opportunity. Analyzing how human interaction with the natural world has changed over time can provide a valuable basis for addressing current conditions.
In that spirit, the Institute for Historical Studies is pleased to announce a series of talks, workshops, and panel discussions centered on the theme "Climate in Context: Historical Precedents and the Unprecedented" for the 2020-2021 academic year.
These events will weave together scholarship from a wide range of fields including environmental history, history of science, archaeology, anthropology, geology, environmental science, paleoecology, and geography, extending across regions from Mexico to Greece to the American West and dating from ancient times through contemporary history.
A talk by Dr. Dagomar Degroot, Associate Professor of History at Georgetown University, will launch the series on September 21st at noon. "Lessons from Little Ice Ages? Resilience and Complexity in Societal Responses to Climate Change" will complicate understandings of societal responses to two periods of major climate change: the sixth century CE and the thirteenth through the nineteenth centuries.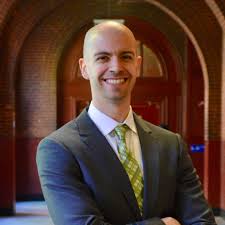 The next event will be a presentation by Dr. Nükhet Varlık of Rutgers University-Newark & the University of South Carolina on October 22. Entitled "Climate, Migration, and Plague in the Early Modern Ottoman Empire," this talk will analyze the Middle East and North Africa (MENA) region as a case study for investigating the interaction between three phenomena: climate, migration and plague.
In November, the 2020-2021 IHS Resident Fellows will share their research on climate history. Dr. Melissa Charenko of Michigan State University will present her paper on "Proxy Methods to Reconstruct Past Climates." Dr. Charenko's work investigates different ways that scholars have utilized material evidence to study climate.
Dr. Christopher Sellers of Stony Brook University will follow with "From Smog to Climate Change?: The Precarious Precedents for Curbing Greenhouse Gases in the U.S. and Mexico." This paper will provide a critical analysis of greenhouse gas regulation in both nations.
Concluding the Fall portion of the series will be a talk by Jared Farmer of University of Pennsylvania. Dr. Farmer is a scholar of the long nineteenth century in the North American West. His research investigates the confluence of landscape, environment, technology, science, religion, culture, and law.
Conversations around the Climate in Context theme will continue into the Spring. A panel on the history of oil and water in Texas will take place on April 12, moderated by Dr. Erika Bsumek and Dr. Megan Raby of the UT History Department. Panelists will include Assistant Professor of Mexican American and Latina/o Studies at UT Austin Dr. C.J. Alvarez, Professor of Geological Sciences at Dr. Jay L. Banner of UT Austin, Associate Research Professor of the Arizona Institute for Resilience of the University of Arizona Dr. Alison Meadow, and Professor of History at Stonybrook University Dr. Christopher Sellers.
These discussions will benefit from the co-sponsorship of Planet Texas 2050, an interdisciplinary council of scholars focused on sustainability in the near future. The group investigates methods for maintaining critical resource systems (water, energy, cities, and ecosystems) in the wake of climate change and demographic growth. With the support of Planet Texas 2050, the 2020-2021 IHS program will explore a critical question concerning the role of the historian in climate change discussions.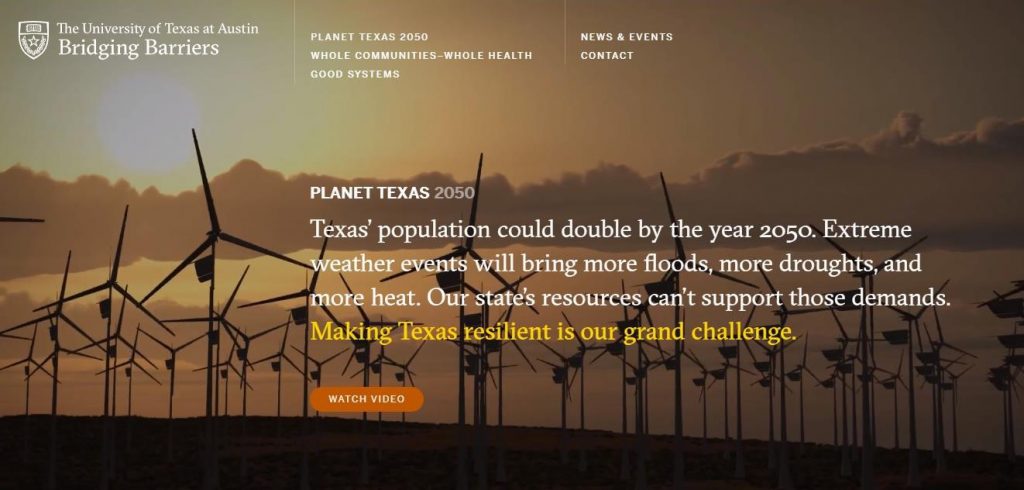 The IHS will hold its annual conference on April 22-23, 2021 around this theme with details forthcoming.
Every year, the IHS aims to create spaces for critical learning and meaningful discussion. By holding all events virtually in the Fall 2020 semester, the IHS hopes to expand upon this objective. As Institute Director Miriam Bodian explains, "Zoom technology will allow us to engage scholars across the globe and reach an audience far beyond UT."
In addition, IHS is pleased to partner with Not Even Past to create a publicly available library of resources related to Climate in Context. NEP's repository will feature Institute talks, interviews with fellows, book reviews, and an ongoing blog.
For additional reading on this year's Climate History theme and visiting Research Fellows read our previous articles here and here. A list of events can be found on the IHS web calendar, which will be updated frequently throughout the year.
Stay informed about institute programming on Facebook (@HistoryInstitute) and Twitter (@UTIHS1), and sign-up for our mailing list here. Consider subscribing to our YouTube channel as well, where we will post recordings of many of these talks.
All events are free and open to the public. For queries, please contact cmeador@austin.utexas.edu.
---
The views and opinions expressed in this article or video are those of the individual author(s) or presenter(s) and do not necessarily reflect the policy or views of the editors at Not Even Past, the UT Department of History, the University of Texas at Austin, or the UT System Board of Regents. Not Even Past is an online public history magazine rather than a peer-reviewed academic journal. While we make efforts to ensure that factual information in articles was obtained from reliable sources, Not Even Past is not responsible for any errors or omissions.