On 21 September, the Institute for Historical Studies at the University of Texas at Austin will welcome the first speaker of its 2020-2021 program: Dr. Dagomar Degroot. The theme for the IHS this year is Climate in Context: Historical Precedent and the Unprecedented. Dr. Degroot is an Associate Professor of Environmental History at Georgetown University. His work incorporates both scientific research and historical analysis.
In addition to teaching courses on climate change and environmental history, Dr. Degroot has developed a wide range of resources. Here we profile his website Historical Climatology, which serves as a valuable resource for anyone interested in learning about the past, present, and future of climate change.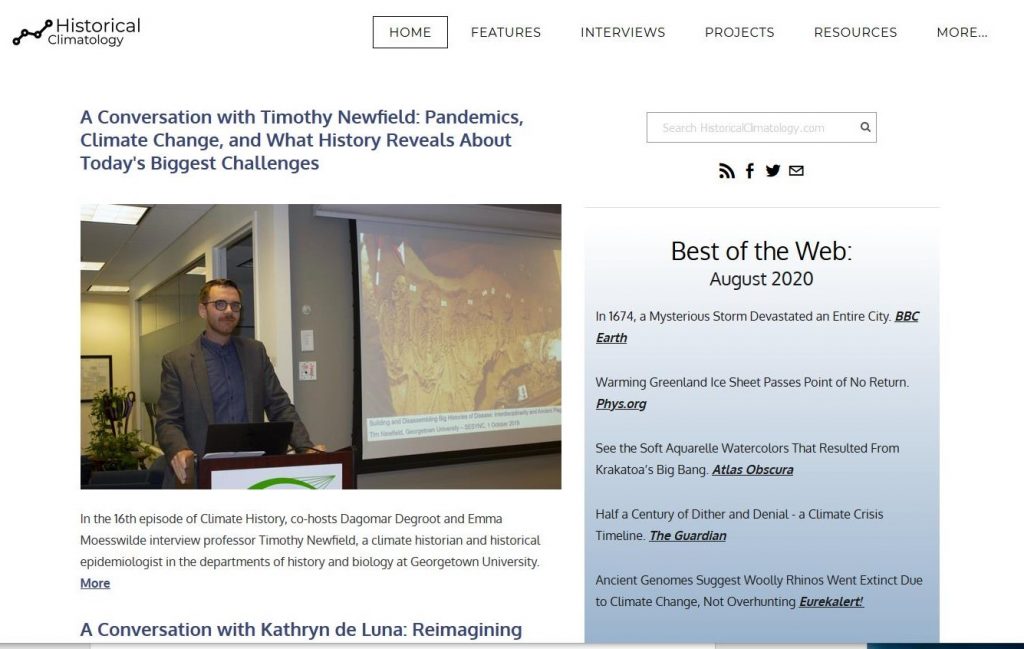 Historical Climatology "shares interdisciplinary climate change research with scholars, journalists, students, policymakers, and the general public." It explains "how cutting-edge scholarship about past climate change can shed new light on issues relevant to present and future warming." The website publishes "bimonthly feature articles about climate change research, written by some of the most dynamic climate scholars."
In 2019 for example the site featured a fascinating article by María Cristina García, Professor of History at Cornell University entitled, "Does the United States Need a Climate Refugee Policy?" The essay explores the US government's history of opposition to accepting migrants seeking refuge from climate-based hardships.
The site offers a list of publications on a wide variety of environmental phenomena, introductory videos, and free tools for studying data related to weather patterns, sea-level changes, and more. Historical Climatology is a constantly growing repository of information. Its multimedia approach makes it ideal not only for research, but also for classroom use.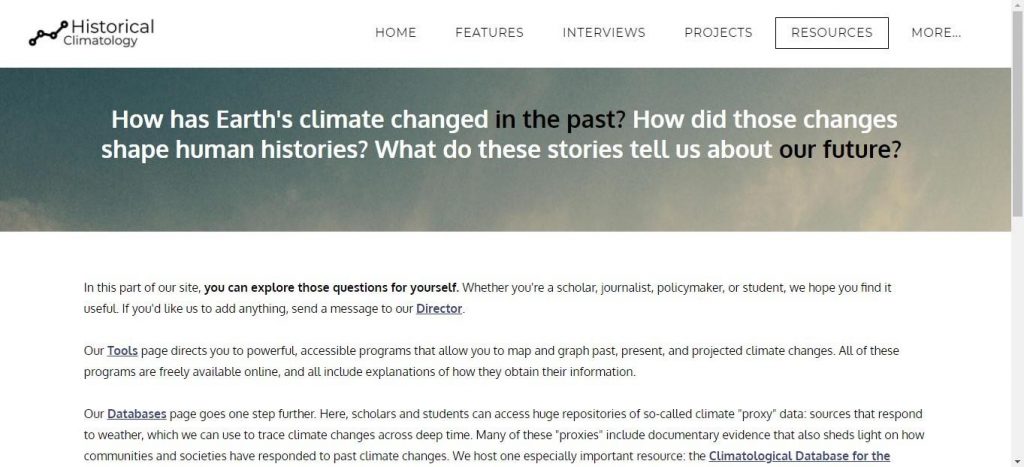 Historical Climatology is a freely available and accessible forum for presenting academic research. It discusses ongoing projects, publicizes new research, and functions as a starting point for further investigation.
Dr. Degroot's IHS talk will take place at noon on September 21st. It will be available for viewing on the IHS YouTube channel after the presentation. For more information or to reserve a spot in the zoom talk, please contact cmeador@austin.utexas.edu
---
The views and opinions expressed in this article or video are those of the individual author(s) or presenter(s) and do not necessarily reflect the policy or views of the editors at Not Even Past, the UT Department of History, the University of Texas at Austin, or the UT System Board of Regents. Not Even Past is an online public history magazine rather than a peer-reviewed academic journal. While we make efforts to ensure that factual information in articles was obtained from reliable sources, Not Even Past is not responsible for any errors or omissions.