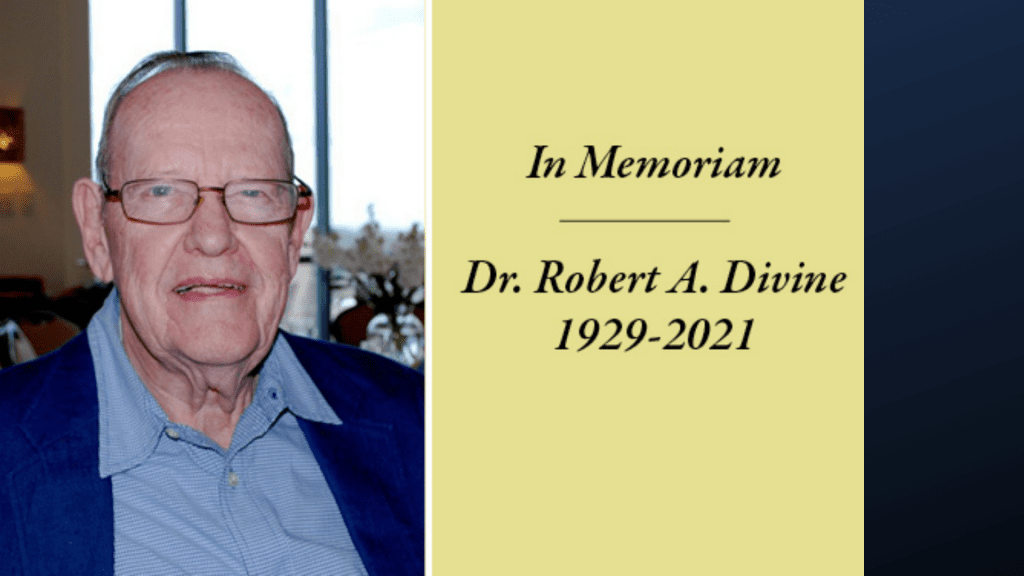 On the passing of George W. Littlefield Professor Emeritus in American History Dr. Robert Alexander Divine on October 13, 2021, Professor H.W. Brands and Professor Mark Atwood Lawrence offer this remembrance.

The Department of History at the University of Texas at Austin lost one of its true giants last Wednesday when Robert Divine, a preeminent scholar of U.S. foreign relations, passed away at the age of 92. Bob taught at UT for a remarkable 42 years before retiring in 1996. Along the way, he published 14 books, racked up numerous teaching awards, served as department chair, and advised numerous PhD students who went on to distinguished careers. Bob touched innumerable lives – including ours — and is remembered for generosity and good cheer as well as his scholarly brilliance.

Bob is a seminal figure in U.S. diplomatic history, one of a small group of pioneers who established the field in the 1950s and 1960. As students and the general public asked how the United States had risen to its newfound global preeminence, Bob offered compelling answers in a series of concise, elegantly written, and widely read books delving into diverse subjects. The Illusion of Neutrality (1962) and The Reluctant Belligerent: The American Entry into World War II (1965) were among the first studies to explore the emergence of the United States as a superpower in the 1930s and 1940s.

In Blowing on the Wind: The Nuclear Test Ban Debate, 1954-1960 (1978), Bob set a new standard for scholarship on arms control and the interplay of citizen movements and national policy. Eisenhower and the Cold War (1981) helped inspire a broad reappraisal of President Eisenhower's leadership that continues to draw interest to this day. Bob's final book, Perpetual War for Perpetual Peace (2000), predicted much of what was to come in the early twenty-first century by asking why America's international activism so often seemed to produce not peace and security but more upheaval and violence.

A remarkably versatile author, Bob also reached innumerable high school students and undergraduates as lead author of one of the top-selling American history textbooks of all time, America: Past and Present, first published in 1983. And he edited several edited anthologies, including three volumes of The Johnson Years, which featured pathbreaking essays rooted in newly available source material from the LBJ President Library on the UT campus.

Bob was born in Brooklyn in 1929. An outstanding student from an early age, he attended Phillips Exeter Academy and then Yale, where he earned his B.A., M.A., and finally, in 1954, his PhD. That same year, he took a job teaching history at UT, which would be his one and only academic home. He served as department chair in the 1960s and received multiple teaching awards. He was instrumental in the establishment of the LBJ School of Public Affairs and the LBJ Presidential Library in the early 1970s. Bob was the George W. Littlefield Professor Emeritus in American History.

One of Bob's greatest legacies to the historical discipline is the excellence of the students he advised and inspired. Among his doctoral advisees are Bill Brands, Ted Galen Carpenter, John Lewis Gaddis, Mitch Lerner, Martin Melosi, and Randall Woods. Bob also contributed to his field by helping in the 1970s to found the Society for Historians of American Foreign Relations (SHAFR), an organization thriving as never before almost half a century later.

Bob, who suffered from Parkinson's Disease, is survived by his wife, Joan Burdick; his four children and their spouses; and numerous grandchildren.

Those of us who had the privilege of knowing Bob are eternally grateful for the wisdom, support, and selflessness he invariably showed to us. But all of us, whether or not we ever met him, work in a department that he helped shape. Let's all pause to honor Bob's enormous contributions and strive to reach the high standards that he set.

—
Dr. Brands is Professor of History and the Jack S. Blanton Sr. Chair in History at The University of Texas at Austin. Dr. Lawrence is Associate Professor of History, Distinguished Fellow at the Robert S. Strauss Center for International Security and Law, and Director of Graduate Studies at the Clements Center for National Security at The University of Texas at Austin.