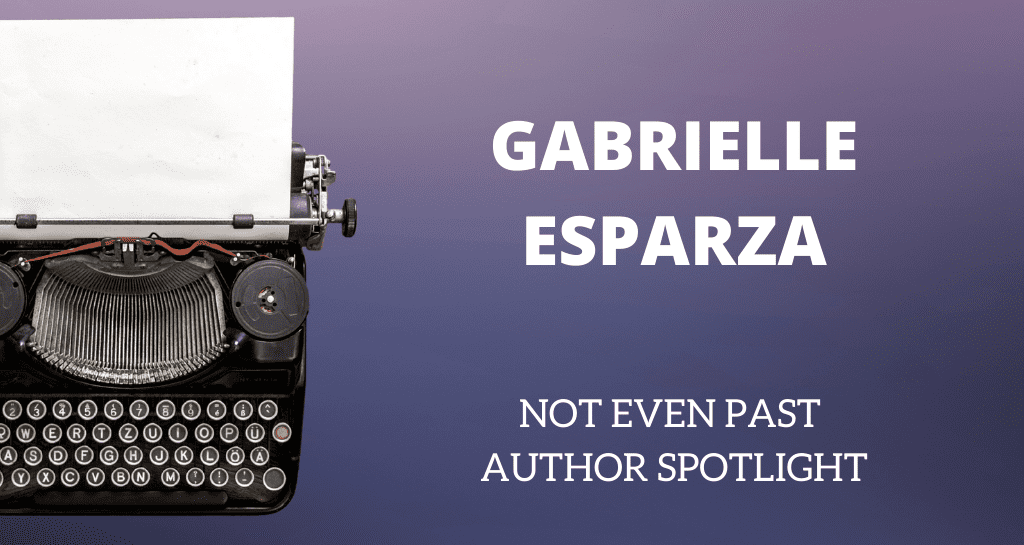 The success of Not Even Past is made possible by a remarkable group of faculty and graduate student writers. Not Even Past Author Spotlights are designed to celebrate our most prolific authors by bringing together all of their published content across the site together on a single page. The focus is especially on work published by UT graduate students. In this article, we highlight the many significant contributions to the magazine made by Gabrielle Esparza, who was also Associate Editor and Communications Director of Not Even Past from 2021-2022. In addition to celebrating her publications, Not Even Past would like to thank Gabrielle for her indefatigable work on the magazine, her countless insights and her remarkable energy. The magazine has been hugely enriched by Gabrielle's dedication and commitment.
Gabrielle Esparza is a Ph.D. candidate in Latin American history, with a focus on twentieth-century Argentina. Her current research interests include democratization, transitional justice, and human rights. She holds a B.A. in History and Spanish from Illinois College and received a Fulbright English Teaching Assistantship to Argentina in 2017. There she taught at the Universidad Nacional de La Plata. Gabrielle graduated with her M.A. in History from the University of Texas at Austin in 2020. Her master's thesis The Politics of Human Rights Prosecutions: Civil Military Relations during the Alfonsín Presidency, 1983-1989 examines the evolution of President Raúl Alfonsín's human rights policies from his candidacy to his presidency, which followed Argentina's most repressive dictatorship. At the University of Texas at Austin, Gabrielle has served as a graduate research assistant at the Texas State Historical Association and contributed to the organization's Handbook of Texas. She served as co-coordinator of the Symposium on Gender, History, and Sexuality in 2020-2021.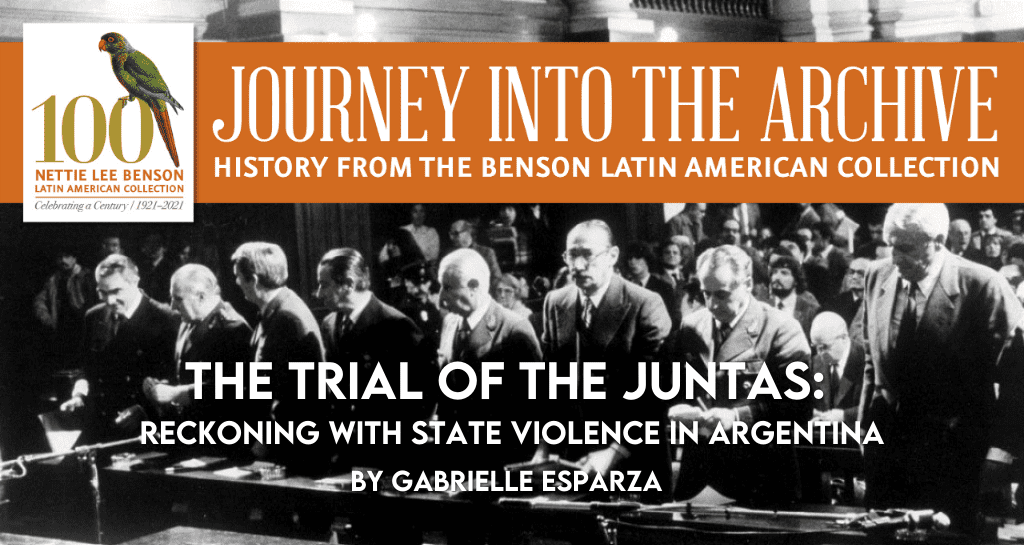 In April 1985, the historic trial of the military juntas that had ruled Argentina from 1976 to 1982 began in Buenos Aires. Nine members of three previous military juntas faced charges ranging from the falsification of public documents to homicide. Over the following eight months, the trial of the juntas captured national attention. Although not televised or aired by radio, the trial was open to the public and received detailed coverage in El Diario del Juicio, a weekly publication that documented the proceedings and included witness transcripts. The accessibility and publication of the facts surrounding the prosecution helped convert the trial into a national event, which served not only to punish the guilty but also to help create a shared understanding of the past.
Read the full article here.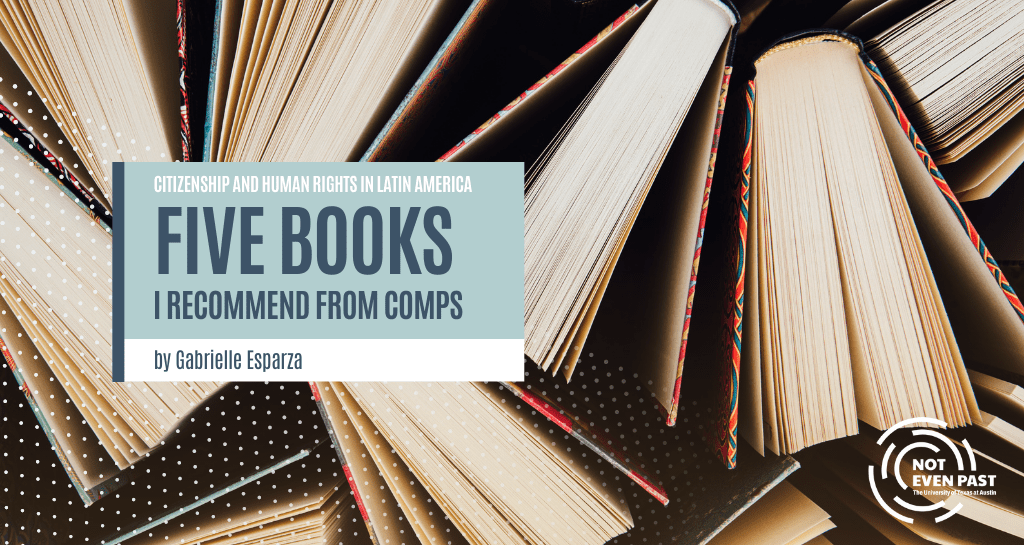 For graduate students in History, comprehensive exams (also known as orals, qualifying exams, or comps) are a crucial milestone on the way to finishing the PhD. Comps are often stressful and overwhelming, but it's also an opportunity to read widely in your field and beyond. I completed my exams in Fall 2021. In the year leading up to my oral defense, I read 160 books and articles on Latin American history from the colonial period to the recent past. I rushed through many books, but some captivated my attention and compelled me to slow down. They represent scholarship at its best. The following five books are titles I enthusiastically recommend from my comps lists. They're fresh and innovative and encouraged me to think about my own scholarship in new ways.
Read her recommendations here.
On 24 February, 2022, Russia shocked the world by dramatically escalating its longstanding war with Ukraine. Since then, numerous experts—including students, faculty, and alumni of the University of Texas at Austin—have performed a vital public service by commenting directly on the Ukraine crisis, unpacking its complicated origins and exposing its devastating impact. Inspired by their work, and hoping to enrich it further, graduate students enrolled in UT's History PhD program have prepared the following list of recommended books by leading scholars, all of whom have analyzed historical events and processes relevant to the war in Ukraine. None of the books listed below are about the war itself. Instead, they provide readers with background information that will help illuminate the war's broader historical contexts.
Read her recommendation, alongside those of fellow graduate students, here.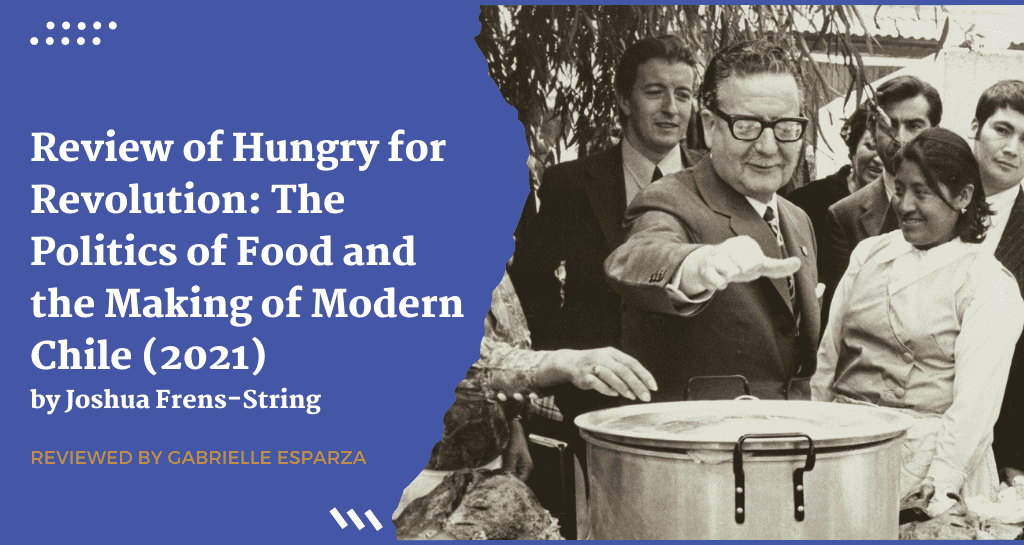 More than fifty years ago, Chile began a democratic path toward socialism with the election of Salvador Allende. President Allende promised that the country's revolution would taste of "empanadas and red wine." These quintessentially Chilean staples represented his pledge to ensure social welfare. In Hungry for Revolution: The Politics of Food and the Making of Modern Chile, historian Joshua Frens-String explores this relationship between revolutionary politics, food security, and nutrition science in twentieth-century Chile. He concludes that the Allende years signified the culmination of decades-long popular struggles to position food security as a basic right of democratic citizenship.
Read the full review here.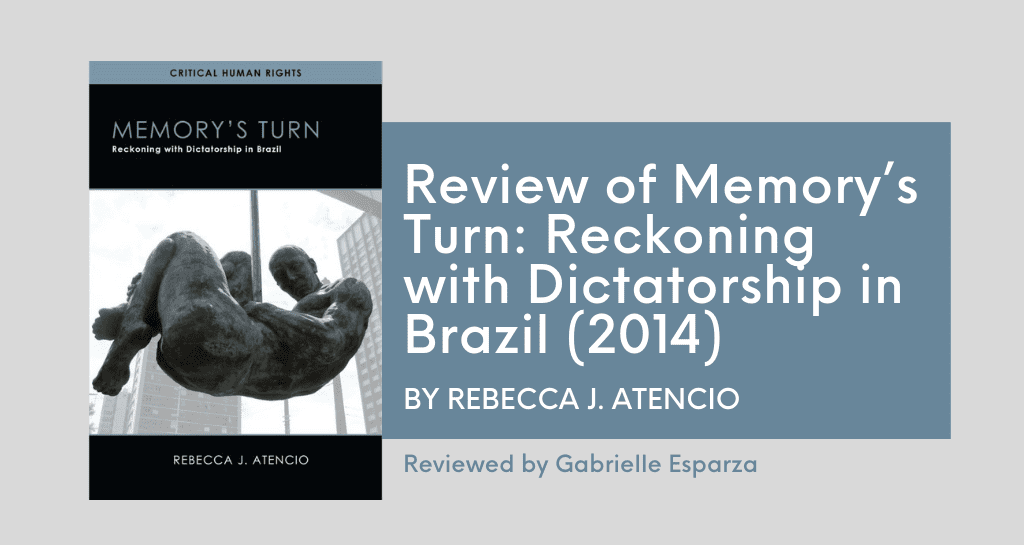 On November 18, 2011, Brazilian President Dilma Rousseff launched the National Truth Commission (Comissão Nacional da Verdade or, CNV). The CNV's mandate included the investigation of torture, disappearances, executions, and other human rights abuses committed between 1946 and 1988. The commission's period of inquiry covered twenty-one years of military rule, from 1964 to 1985. The National Truth Commission began more than two decades after the dictatorship's end, and this delay makes Brazil one of the last countries in Latin America to undertake a state-sponsored investigation of human rights violations committed during the Cold War.
Read the full review here.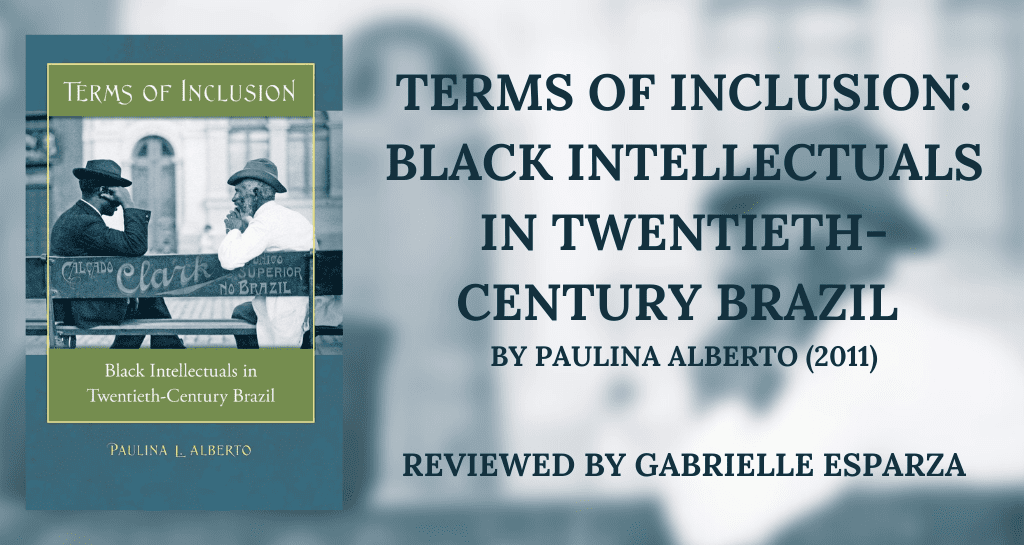 In Terms of Inclusion, Paulina Alberto traces the history of Black activism and thought in twentieth-century Brazil. She focuses on the urban centers of São Paulo, Rio de Janeiro, and Salvador da Bahia between the early 1900s and the mid-1980s while tracing the strategies that Black intellectuals used to shape discourses about race relations and to negotiate their citizenship. Over the course of the twentieth century, Black political thought and action changed as the possibilities for equality and inclusion shifted with developments in local, national, and international politics. Alberto frames the distinct political strategies applied by Black thinkers as part of a century-long struggle to influence and contest dominant ideologies of racial harmony.
Read the full review here.
Gabrielle also compiled a number of indexes and lists as Assistant Editor of Not Even Past, including Latin American and Caribbean History: Collected Works from Not Even Past, Resources for Teaching Women's History, and Resources For Teaching Black History.