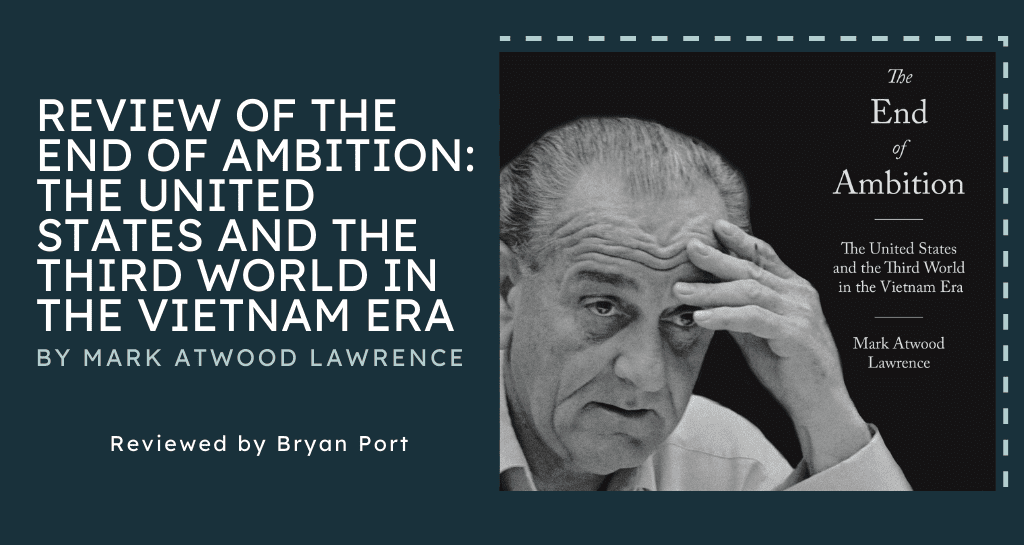 Lawrence, Mark Atwood. The End of Ambition: The United States and the Third World in the Vietnam Era. Princeton, NJ: Princeton University Press, 2022.
While most Americans are likely to think of President Lyndon Baines Johnson (LBJ) in connection with the Vietnam War, Johnson himself wanted to be remembered in terms of his domestic achievements in the form of the Great Society. Lacking in many accounts of LBJ are his policies towards the rest of the world. In The End of Ambition Mark Atwood Lawrence brings into focus U.S. foreign policy during the Kennedy, Johnson, and Nixon administrations, by focusing on the third world, with the notable exclusion of Vietnam, during LBJ's tenure. Few scholars are better positioned to undertake this study. Lawrence is currently the Director of the LBJ Presidential Library and Museum and an accomplished scholar specializing in the Vietnam War and more broadly in the history of U.S. foreign policy in the 1960s and 1970s. As an historian steeped in the politics of the era, Lawrence addresses an important shortfall in scholarship on the Johnson Administration and U.S. foreign policy in general.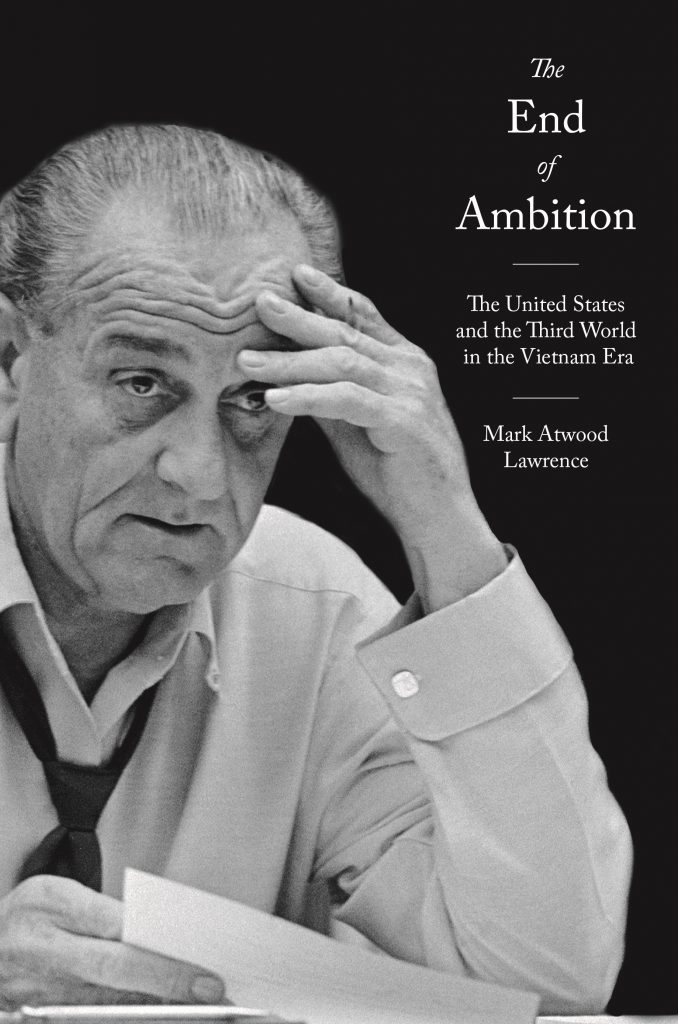 Lawrence begins by considering the legacy bequeathed to LBJ by John Fitzgerald Kennedy (JFK). Johnson began his presidency by committing to JFK's agenda and maintained much of his team. This proved problematic as JFK had often failed to establish clear objectives or priorities and seemed to lack a fixed set of guiding principles. In Lawrence's words the Kennedy administration was a "conglomeration of tendencies, rather than [an] executor of a core set of ideas." Lawrence reviews the Kennedy Administration's approach to four countries—Brazil, India, Iran, Indonesia—and one region—Southern Africa—to provide context for his investigation of the Johnson administration's approach. Supporters of Kennedy might object to Lawrence's critical portrayal of the JFK administration as lacking context and depth. However, considering Lawrence's focus on LBJ's foreign policy pertaining to the third world, he does an admirable job in providing the right amount of context critical to a nuanced exploration of LBJ's approach to the third world, without overwhelming the reader.
LBJ's ambitions in the domestic context were clear, as was his desire to focus on domestic affairs over foreign policy. In line with this basic intent, the Johnson administration adopted a distinct approach to the Third World that, for better or worse, resolved the ambiguities of JFK's administration. LBJ sought to lower U.S. ambitions in the Third World and reduce risk while shoring up U.S. control over global affairs by establishing or bolstering cooperative regimes. Despite the judgment of many, including LBJ himself, that he lacked foreign policy expertise, LBJ's approach to international affairs was rooted in intellectual tendencies distinct from those of JFK, not ignorance. Where JFK sought to transform, LBJ sought to manage. Still, Lawrence points out that LBJ was more visionary than JFK in areas that today we refer to as transnational issues. Further, while LBJ's ambitions in foreign policy may have been tempered by his desire to focus on domestic affairs, he nonetheless displayed the state-building impulse of the 1930s in both the domestic and foreign arenas. This might be expected based on LBJ's admiration of Franklin Delano Roosevelt and LBJ's desire to bring to full fruition the wider new deal program.
Five case studies form the heart of Lawrence's book, covering U.S. policy toward Brazil, India, Iran, Indonesia, and Southern Africa. Central to LBJ's foreign policy in each of these case studies was a desire to minimize U.S. burdens so as to not further distract from efforts in Vietnam as well as Johnson's broader goal of advancing the Great Society program. This was the key driver in the LBJ administration's bringing to power, or enhancing relations with, often authoritarian regimes that could effectively govern and reduce the potential for conflict or communist advances while acting in concert with U.S. interests more broadly. In Brazil, LBJ presided over transformative events and constructed a new relationship with a military regime that effectively dismantled Brazilian democracy. The administration's patterns and policies in Brazil informed his approach to the Third World for the duration of his tenure. These tendencies included favoring the development of constructive change and democracy over the long-term by countering the danger's posed by communist movements.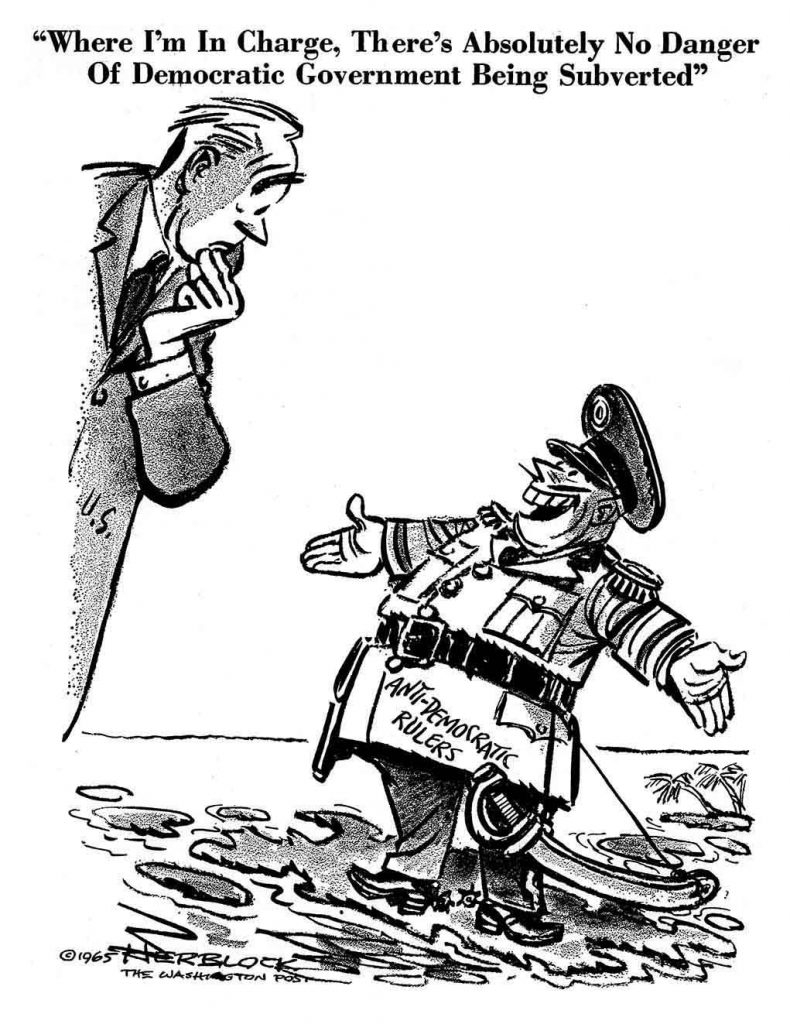 With India, LBJ shared Kennedy's hope that resistance to Chinese expansion would serve as a basis for cooperation, but by early 1966 he was losing hope for reasons including India's lack of support for U.S. actions in Vietnam. In LBJ's approach toward India we see another principle emerge, the emphasis on economic development more so than military assistance. This certainly held true in the case of U.S. policy toward Iran. There was also a China angle in enhancing relations with Tehran as a hedge against Islamabad's improving relations with China.
In Indonesia the rise to power of the military led to the "evisceration of the world's third-largest communist party." Still, among the countries explored, Indonesia was the most resistant to U.S. influence. The Johnson administration wisely opted for a low-key approach, playing the long game by building influence in select elements of the Indonesian military and society. LBJ and his team viewed Indonesia as a success story that gave American leaders a renewed confidence that the Vietnam War was achieving important results even absent a clear military victory. Johnson felt that if the United States had not taken a stand in Vietnam that the countercoup in Indonesia in 1965 and the defeat of communism would not have come to pass.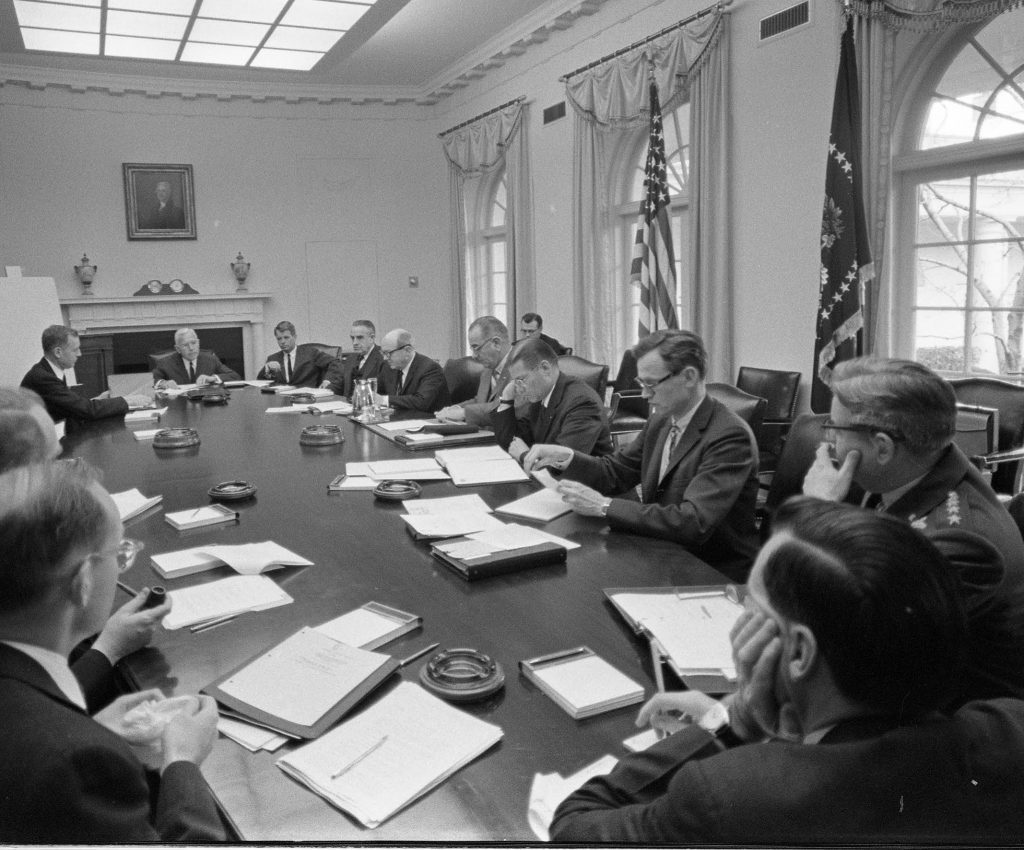 Even though Southern Africa held less strategic importance to the United States, it provoked more political controversy. This was based on intersections with the U.S. domestic context, specifically civil rights. Here Lawrence's case study differs in that it involves a region, not just a nation, though Rhodesia is the primary focus. Despite the differences, the same patterns and policies were clearly in evidence including a desire to minimize U.S. direct involvement, particularly any type of military involvement. Vietnam was certainly a consideration, but one can also appreciate a sense of realistic assessments and expectations regarding the importance of the region and what U.S. power could accomplish. Although one could argue that an appreciation of U.S. constraints emerged only due to Vietnam, such a judgment seems to underestimate LBJ's priorities. It is likely that LBJ would have opted for such an approach even absent Vietnam as his priority was the Great Society. In fact, Lawrence's work supports the contention that LBJ had across a broad basis a preference for restraint overseas and action on the home front.
Lawrence not only covers this history of foreign policy during a critical period in American history, but he also considers patterns and precedents. The title of the book may be mildly misleading in this regard. Lawrence asserts that the United States is shaped by the competing impulses of worldmaking and self-interest. In this context Lawrence asserts that the United States has faced multiple inflection points in which it curbed its worldmaking ambitions in favor of a narrower pursuit of its self-interest. It might be more accurate to say that the United States tempered its ambition, but that the pattern that Lawrence alludes to in the ebbing and flowing of American ambition remains intact and returned with a vengeance in the 1990s.
Lawrence's volume raises many important issues including the relationship between domestic and foreign policy that in total represent the national interest. There are few case studies as potentially rich in this regard as LBJ's basic dilemma – Vietnam vs the Great Society. Such a study would provide additional context and understanding of the priorities and rationale guiding how the Johnson administration faced the rest of the world, aside from Vietnam. For scholars of the Cold War, the Kennedy and Johnson presidencies, and U.S. foreign policy toward the third world more generally, Lawrence's The End of Ambition makes an invaluable and much needed contribution.
Bryan Port is a doctoral student at the University of Texas at Austin and a civil servant with the Department of the Army assigned to U.S. Army Futures Command as a strategist. He is a historian of the United States focusing on U.S. intellectual history. His research interests include the construction and application of the idea of national interest as well as grand strategy. Bryan holds a M.A. in National Security Studies from Georgetown University and a M.S. in National Security Strategy from the National War College. His ongoing research centers on American progressive leaders and thinkers of the first half of the 20th century.