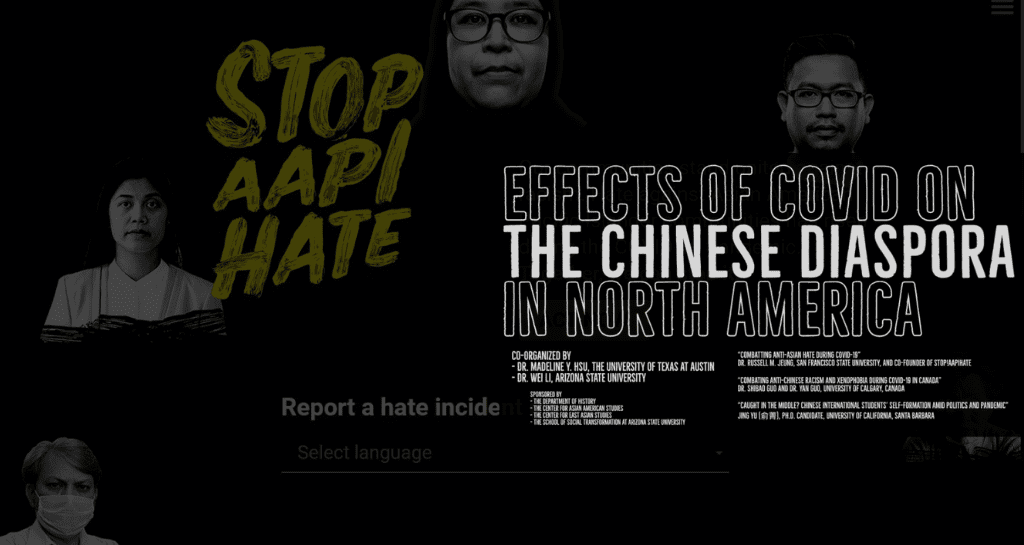 "Effects of COVID on the Chinese Diaspora in North America" International Society for the Study of Chinese Overseas (ISSCO) 2021 Regional Workshop

Co-Organized by Dr. Madeline Y. Hsu, The University of Texas at Austin, and Dr. Wei Li, Arizona State University.

Plenary
"Combating Anti-Chinese Racism and Xenophobia during COVID-19 in Canada"
Dr. Shibao Guo and Dr. Yan Guo, University of Calgary, Canada

Canada is often held up internationally as a successful model of immigration. Yet, Canada's history, since its birth as a nation one hundred and fifty-four years ago, is one of contested racial and ethnic relations. Its racial and ethnic conflict and division resurfaces during COVID-19 when there has been a surge in racism and xenophobia across the country towards Asian Canadians, particularly those of Chinese descent. They have been spat on, verbally abused, and physically attacked. They are shamed and blamed for the spread of the virus despite the fact that they have the lowest infection rates in Canada. They are shouted to "go home" although some of them are born in Canada who have never visited their ancestral lands. Using critical discourse analysis, this paper critically analyzes incidents that were reported in popular press during the pandemic pertaining to anti-Asian and anti-Chinese racism and xenophobia. The analysis reveals that there has been a significant rise of reported hate crimes perpetrated against Asian and Chinese Canadians resulting primarily from ignorance, fear, and misinformation related to the global pandemic. The findings show how deeply rooted racial discrimination is in Canada. The study also reveals that the anti-Asian and anti-Chinese racism and xenophobia reflects and retains the historical process of discursive racialization by which Asian Canadians have been socially constructed as biologically inferior, culturally backward, and racially undesirable. To combat and eliminate racism, we propose a framework of pandemic anti-racism education for the purpose of achieving educational improvement in post-COVID-19.

"Caught in the Middle? Chinese International Students' Self-formation amid Politics and Pandemic"
Jing Yu (俞菁), Ph.D. Candidate, University of California, Santa Barbara

With neo-nationalism spreading in both China and the US as well as the evolving COVID-19 pandemic, Chinese international students are perceived as in-between: racialized in their host country and labeled as out-group members in their home country. When Donald Trump used the racist terms "Chinese Virus" and "Kung Flu" to associate the infection with nationality and ethnicity, Asian people, including Chinese students, immediately faced a resurgence of the long-standing "yellow peril" discourses. Meanwhile, students who returned to China were cyberbullied by Chinese netizens on social media platforms: students were accused of spreading the virus every time new imported cases were reported, and they were portrayed as 'giant infants' (巨婴) with the economic privilege to flee China's brutal educational competition and then return home to reduce their coronavirus risk.
 
To disrupt imposed stereotypes of Chinese students, this study draws upon the concept of self-formation (Marginson, 2014) to emphasize their self-determining agency and capability in the process of personal transformation. Based on online observation and semistructured Zoom interviews with 21 Chinese undergraduate students at a California public university, this study demonstrates that Chinese students tend to live and study resiliently amid current heightened uncertainties. More importantly, they actively exercise independent autonomy to facilitate plural identities, albeit under social circumstances beyond their control. Instead of being caught in the middle as framed by dominant discourses, this study shows that Chinese students' decisions about study abroad, choices about social adaptation, and career ambition are deliberate and conscious, confronting ever-changing social, cultural, political, and economic conditions. This study contributes to existing scholarship on international students' security and agency.
Sponsored by: The Department of History, the Center for Asian American Studies, the Center for East Asian Studies, and the Arizona State University School of Social Transformation.
---
The views and opinions expressed in this article or video are those of the individual author(s) or presenter(s) and do not necessarily reflect the policy or views of the editors at Not Even Past, the UT Department of History, the University of Texas at Austin, or the UT System Board of Regents. Not Even Past is an online public history magazine rather than a peer-reviewed academic journal. While we make efforts to ensure that factual information in articles was obtained from reliable sources, Not Even Past is not responsible for any errors or omissions.