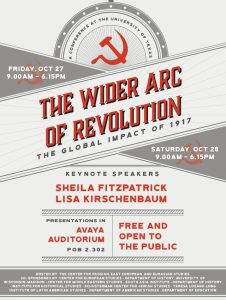 To commemorate the centenary of the Russian Revolution, the UT Center for Russian, East European, and Eurasian Studies held an international conference entitled, "The Wider Arc of Revolution: The Global Impact of 1917."
The first keynote speech was given by Sheila Fitzpatrick, preeminent historian of Russia and the Soviet Union, Professor of History at The University of Sydney and Distinguished Service Professor Emerita at the University of Chicago. Professor Fitzpatrick taught at UT Austin from 1980-1989.
Click here to watch a recording of Professor Fitzpatrick's keynote.