On Monday, March 8th at noon, David N. Pellow will deliver a talk at the Institute of Historical Studies at UT Austin entitled "Exploring Critical Environmental Justice Conflicts from the Neighborhood to the Carceral System." Dr. Pellow is the Dehlsen Chair and Professor of Environmental Studies at the University of California, Santa Barbara. He is also the Director of the Global Environmental Justice Project (the GEJP), which he describes as "a force for supporting, encouraging, and launching a range of efforts on and off-campus, locally and globally that link research, teaching, service, and action for environmental justice."
Dr. Pellow's work centers on environmental justice, defined as "the integration of social justice and human rights with efforts to secure ecological sustainability." His website for the GEJP "supports faculty, students, staff, entrepreneurs, artists, film makers, Environmental Justice advocates, and community leaders in their efforts to explore new ideas, questions, and possibilities for studying, learning about, communicating, and promoting environmental justice."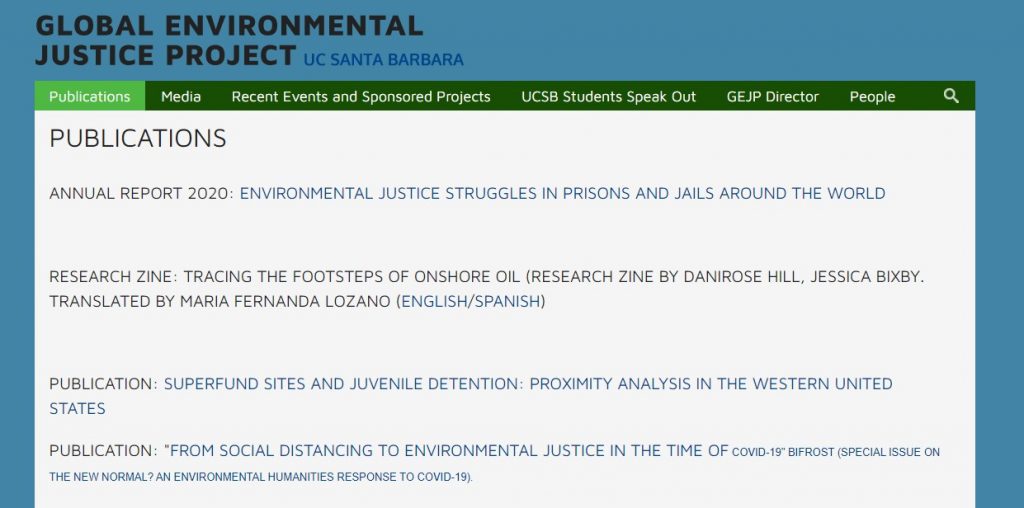 The GEJP site offers a range of resources for students and scholars of environmental justice. It provides a regularly updated list of relevant publications, including annual reports on the US prison system and its overlap with themes of environmental justice. It also features related news stories, interviews, and podcasts. One recent podcast focused on "Where the Movement Stands Now in the Age of COVID-19 and BLM."
The GEJP provides a direct link to relevant news stories, such as this recent article on "Pandemics, policing, and a just transition" in Environmental Health News.
The site complements Dr. Pellow's extensive research on Environmental Justice and community outreach. He has published books including What is Critical Environmental Justice? (Polity Press, 2017), Keywords for Environmental Studies (editor, with Joni Adamson and William Gleason, New York University Press, 2016), and Total Liberation: The Power and Promise of Animal Rights and the Radical Earth Movement (University of Minnesota Press, 2014). His outreach has involved "supervising a group of UCSB students in developing a Green New Deal for California's Central Coast," collaborating with the "Central Coast Climate Justice Network to advance our knowledge base concerning fossil fuel development projects in the region," and investigations of "how environmental privilege and environmental racism shape the local ecology and life chances of native born and immigrant residents of Aspen and Colorado's Roaring Fork Valley."
His upcoming talk contributes to the 2020-2021 theme of the IHS: "Climate in Context: Precedent and the Unprecedented." For more events related to climate and environmental history at the Institute, see the calendar or find us on Facebook and Twitter.