Open-access digital archives have become a crucial resource for humanities research. Online sources eliminate the costs and hassles of travel to and from the archives that preserve the actual documents. They also expand access, by granting students, scholars, teachers, and interested members of the public the opportunity to explore the sources themselves. To that end, many universities and libraries maintain online collections. However, some of these institutions occupy a more well known position than others. For example, their collections may appear more prominently on university websites or Google searches. To facilitate the localization of hundreds of valuable repositories on Latin American history around the world, the Seminar on the Acquisition of Latin American Library Resources has organized a database.
Entitled Latin American & Caribbean Digital Primary Resources, it provides overviews, geographical, and temporal information on current collections. Each entry also has a direct link to the website housing its primary documents.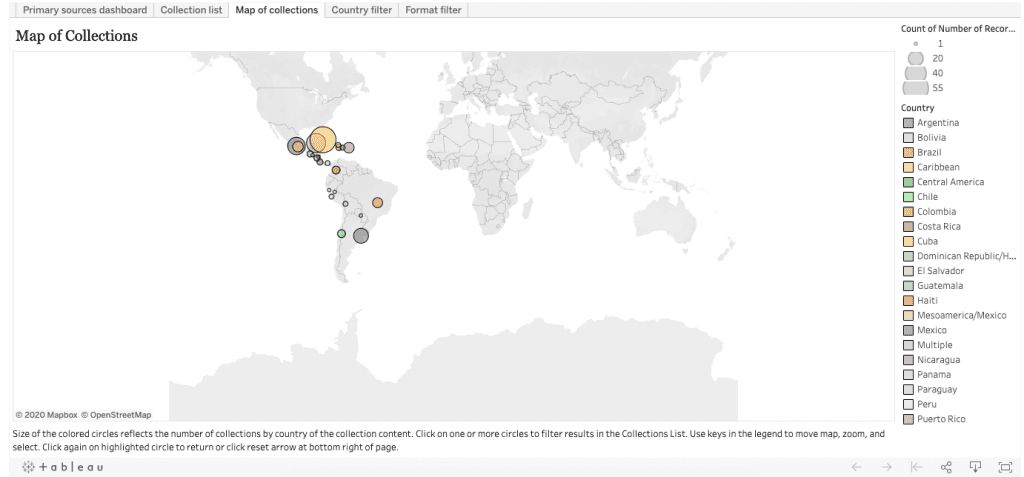 Featured collections contain information on many regions of Latin America and range from the sixteenth through the twenty-first century. One example from Argentina is the Ramón de la Serna papers, formed from the personal drafts and photographs of the poet, novelist, and essayist Ramón Gómez de la Serna (1888-1963). The Caribbean section includes links to the Biblioteca Digital of the Dominican Republic. Portuguese-language documents are also available, such as the Diario de Pernambuco collections, a nineteenth and twentieth-century newspaper repository from Brazil.
The organization behind this project is the Seminar on the Acquisition of Latin American and Caribbean Digital Primary Resources. SALAM originated in 1956, and a team of librarians, archivists, book dealers, book professionals, scholars, and students continue to work towards its founding objectives. They include the "control and dissemination of bibliographic information about all types of Latin American, Caribbean, Iberian, and U.S. Latino publications" and the "promotion of cooperative efforts to achieve better library services." The directors of SALAM first published the Latin American & Caribbean Digital Primary Resources in 2017. An underlying goal of the project was to provide a starting point for researchers. The homepage presents users with various options in their search for relevant online collections. For a user with broad interests, the homepage offers a full list of available digital repositories to peruse. By either hovering over any of the listed websites or clicking the "see data" option, users can access an overview of its contents, chronology, and topics.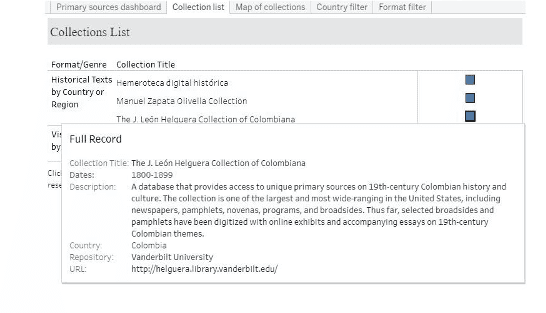 Other browsing options include searching for resources by country or region. The database provides links to twenty-five different sites related to the history of Mexico, for example. For researchers interested in photographs or other non-textual sources, the site also allows users to identify digital collections by media type.
The datebase operates on an interface called Tableau, a data visualization creator. Using that format allows the team at SALAM to present their lists of digitized collections in multiple forms at once. Each of the functions (such as the search by region, or the list of websites based on media type) operates simultaneously in a different tab.
The Tableau format requires some getting used to. However, its design is generally user friendly, including features such as a back button to help new navigators find their way. SALAM has embedded the database into their website, but it functions best in its full-screen form.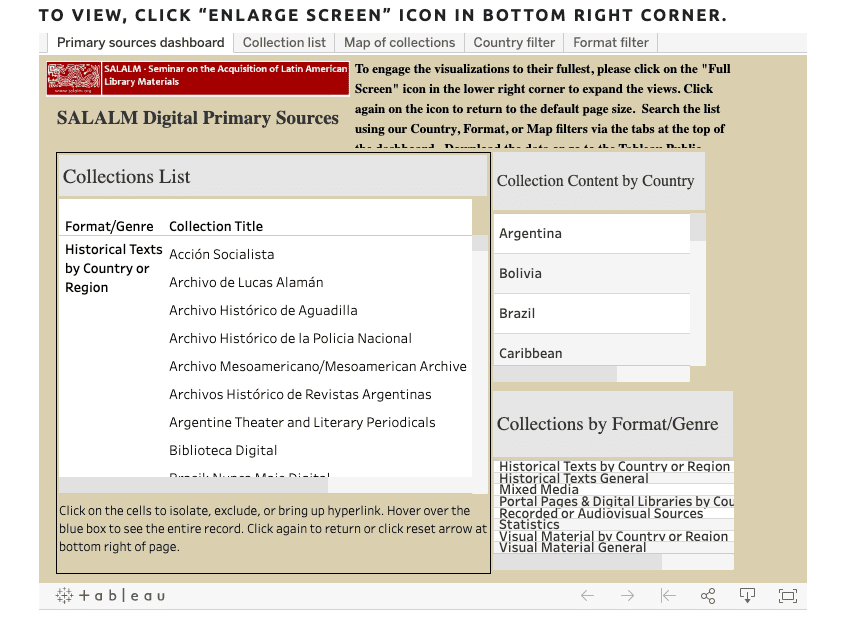 Utilizing Tableau presents several useful export options for search results. Every site included on this interface includes a direct link. However, for researchers compiling resources for future investigations, the platform allows downloads of search results. After locating promising digital collections, users can download the list of sites in a couple formats, including a .PNG or a .PDF. Results from any of the tabs are exportable.
The site's commitment to increasing the visibility of online repositories is commendable, but so too is the site's dedication to expanding the database. In addition to SALAM members' contributions to the list of primary source repositories, the website encourages users to submit suggestions for new websites that should be added.
As a whole, the database serves the important goal of improving the accessibility of online libraries and archives. It provides a jumping off point for research into a variety of topics within Latin American history, and as it expands, its value will only increase. To further support its objectives, the site could aim to offer its overviews of the resources in multiple languages, instead of the mixed use of either only English or only Spanish.
Especially during times when travel to archives is not possible, databases like SALAM's Latin American and Caribbean Digital Primary Resources are vital lifelines. This site compiles into a neat package resources that would otherwise have been scattered across the internet.
---
More by Brittany Erwin: