Ronald P. Dore's Shinohata brings to life the recent history of rural Japan.  Shinohata is a small, wooded village in Tochigi prefecture, part of Japan's central plain.  Dore, an English sociologist who first came to Japan during the American occupation after World War II, wrote the book after more than two decades of intermittent visits and observations in the town.  Shinohata is a unique blend of scholarship and anecdote, insight and humor.  The book goes beyond simple facts and impersonal statistics, and offers a memorable narrative of small town life in postwar Japan.
The first three chapters describe the town's prewar history.  Nineteenth-century famines, Meiji-era tax reforms, and twentieth century market fluctuations all affected the residents of Shinohata.  Naturally, the war with America and the occupation that followed left their marks as well.  But the basic social structures of the traditional village survived the upheavals of the nineteenth and early twentieth centuries relatively intact.  In Shinohata in 1955, Dore says, "[n]obody subjectively felt that the world had fundamentally changed."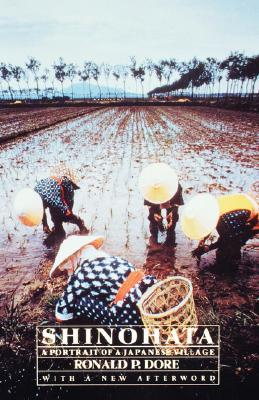 By 1978, though, change was everywhere.  Over the preceding twenty-three years, Dore and his friends in Shinohata had witnessed major shifts in the material aspects of village life.  Items that once were luxuries, such as bicycles for children, now abounded.  Virtually everyone had remodeled their homes to install tiled floors, tatami mats, modern bathtubs, color televisions, and so-called "Western" toilets that, as anyone who has been to Japan will confirm, are far superior to actual toilets in the West.  Farming, the traditional mode of employment in Shinohata, had become mechanized, and almost nobody relied on it anymore for income.  Household finances in Shinohata compared favorably with urban household revenues, and people in the town enjoyed more leisure time than they had in the past.  Japan's postwar economic boom proved more influential than all the crises and violence of the prewar decades.
Throughout the book, Dore provides a respectful and intimate look at the lives of Shinohata's residents.  A chapter called "Couples," for example, deals with marriage and relationships, while "Growing-up" examines the habits of children and young adults. The townspeople Dore writes about are colorful and friendly, and he intersperses his clear prose with a chorus of local voices. He shares personal anecdotes and long passages of villagers' conversations, and is careful to replace real names with pseudonyms to safeguard the privacy of people who were his neighbors and friends. The charm and poignancy of this rustic Japanese town will linger with readers, as will Dore's important observations about the nature of twentieth-century rural Japan.
You may also enjoy David Conrad's review of Embracing Defeat: Japan in the Wake of World War II