At the turn of last century Eugene C. Barker, Distinguished Professor of History at the University of Texas at Austin, conducted research on the illegal slave trade in Texas. Barker sought to unveil the obscure history of slave smuggling in Texas and he set out to collect information pertaining to that subject. Interested in the nineteenth century, particularly in the period from 1808 to the 1865 when the international slave trade was officially abolished and slavery ended in the United States, Barker wrote numerous letters to elderly residents of Texas asking for their recollections on anything related to the illegal slave trade in Texas during that period.
In March 1902, 80-year-old Sion R. Bostick, from San Saba County, replied to Barker with a letter containing a wealth of information. He remembered slave smuggling endeavors that occurred in the 1830s and added provocative and very specific information about two groups of African slaves who were illegally brought into the United States through Texas at that time. Bostick's letter arrived as a one-page hand-written letter on fine-lined letterhead paper depicting the official star of Texas on the upper left-hand corner circled by an intricate drawing of olive wreaths adorned by flowers on the uppermost part of the page.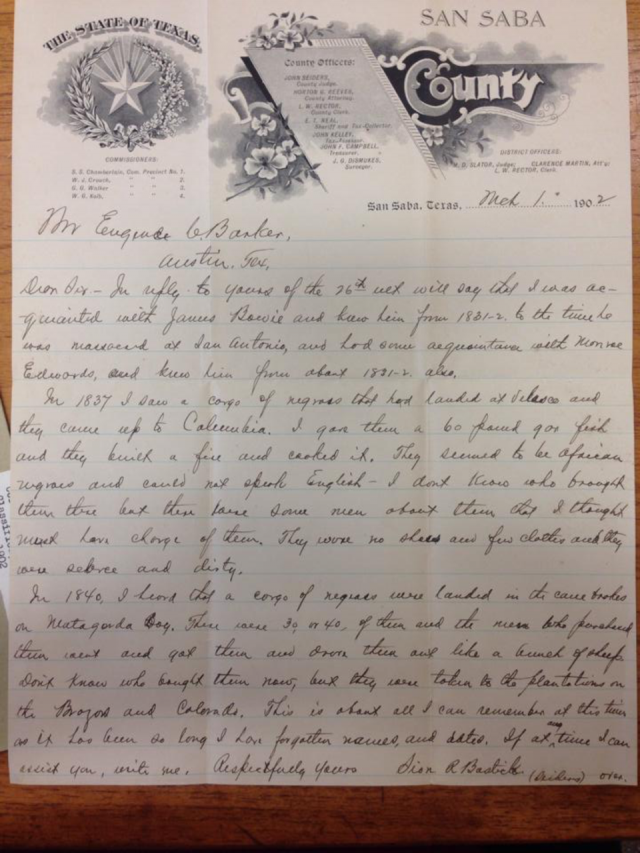 Sion R. Bostick was a decorated soldier who had fought in the Texas army during the Texas Revolution and later was an active community leader in the Texas Veteran's Association. In 1902 he vividly penned what he remembered about groups of African slaves illegally landing at Velasco and about others smuggled through Matagorda Bay. He wrote that in 1837 he "saw a cargo of negroes that had landed at Velasco" and that he, himself, had given them a "60 pound 9 ounce fish" to cook and eat. Bostick eloquently remembered that the slaves looked dirty and emaciated, that they wore no shoes and seldom any clothes.
The letter from Sion Bostick revealed more than a recollection. It showed that the smuggling of slaves into and through Texas was not such an uncommon practice, as perhaps is often believed; certainly slave smuggling was not thought of as uncommon. Bostick's language showed that he was not at all surprised that slave smuggling occurred in Texas during a time when it was clearly illegal. For instance, he described at great length his acquaintance with two prominent slave traders, James Bowie and Monroe Edwards. Bostick's depiction of the slave traders displayed his own lack of apprehension, regret, disgust, or concern about the slave traders' character and their roles in the illegal slave trade in Texas.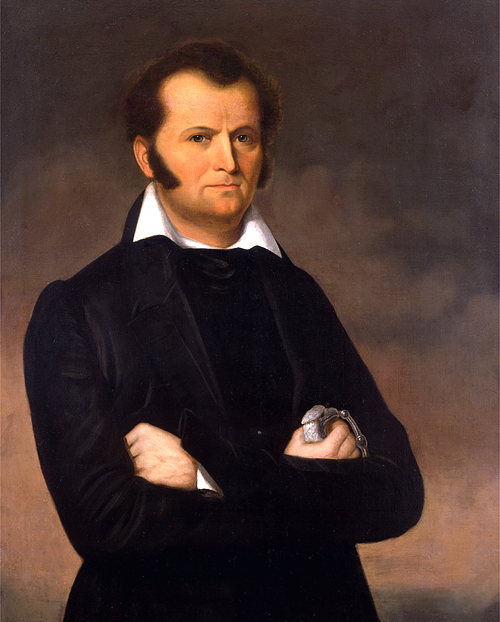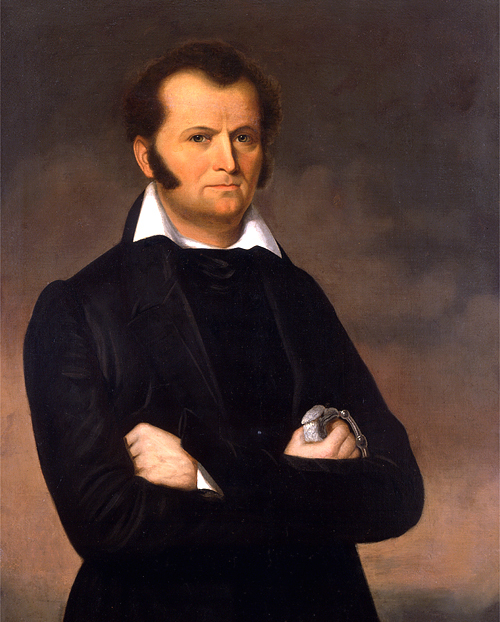 Bostick's letter also stands as evidence that an interest in unveiling such hidden histories began at the turn of the century, prompted by Eugene C. Barker. Such primary documents survived unscathed because Barker collected and preserved them. He realized the significance of collecting the memories from elderly Texans, in order preserve aspects of history that would have died if not written down. This particular letter stands in its original form, written in English and in very lucid cursive, as it was received and read by Eugene Barker in 1902. It has been well preserved, despite it having been written in pencil and remains part of the large collection of letters received by Eugene Barker from many sources.
As a source of research, this particular letter raises many questions, as it can be viewed in different ways as oral history, as a memoir, and as a primary record, among other things. For instance, a few of the questions it raised for me were: how did Eugene Barker understand and use the letter? Did he take it at face value? How did he, or how do we, assess its value and authenticity? How was he able to evaluate it as a legitimate recollection when memories are often thought as fragile and inaccurate? Also, how many letters did Eugene Barker write in total? How did he choose the individuals he decided to write letters to? How many of those individuals responded? Did Barker write only to individuals who were elderly men in the 1830s, or did he also write to elderly women? Did he write to white men and women, or men and women who had been formerly enslaved in the 1830s as well? It is impossible to know the answers to all these questions without doing further research on Eugene Barker, his collection, and the circumstances surrounding his academic agenda on the subject of slave smuggling through Texas in the early nineteenth century.
Historians could use this and other letters in the Barker collection to construct a history exposing the illegal slave trade that happened in and through Texas. Some historians could focus on constructing the history about the hardships, the setbacks and the economic profits the smuggling endeavors created. Others could choose to highlight where the slaves were brought in from, how the enslaved fared, and perhaps how they survived and how they perished. Perhaps some historians could study the enslaved who were smuggled, those described by Sion Bostick, where they were taken, what slave owner bought them, if there were any who ran away, and if there were any who perished. In that way historians and students of history can begin to reconstruct the individual narratives of these little known enslaved people.
Letter from Sion R. Bostick to Eugene C. Barker, in Correspondence: Classified, "African Slave Trade in Texas," 1902, found in Eugene Campbell Barker Papers, 1785, 1812-1959, Dolph Briscoe Center for American History, The University of Texas at Austin.
Information on Sion R. Bostick and his role in the Texas revolution, including personal notes, and obituary, can be found in "Reminiscences of Sion R. Bostick," The Quarterly of the Texas State Historical Association 5 Vol. 2, (October 1901): 85–96.
---
The views and opinions expressed in this article or video are those of the individual author(s) or presenter(s) and do not necessarily reflect the policy or views of the editors at Not Even Past, the UT Department of History, the University of Texas at Austin, or the UT System Board of Regents. Not Even Past is an online public history magazine rather than a peer-reviewed academic journal. While we make efforts to ensure that factual information in articles was obtained from reliable sources, Not Even Past is not responsible for any errors or omissions.