Editor's Note: This is the first article we posted about Texas on Not Even Past. Historian, photographer, and Professor Bob Abzug takes us on a short tour of the intersection of Jewish and African American History in one small town in Texas.
by Robert Abzug
Our family knew Luling as a town one passed through quickly on trips from Austin to the Gulf coast, noticing only banners for the next "watermelon thump" and gaily decorated oil pump jacks. Recently it became my unlikely entry point into a visual appreciation of Texas Jewish history and more. I have taken photographs for about fifty years and, for the past twenty-five years have recorded signs of sacred life on the landscape, a project I call "religion by the side of the road." Mostly, my writing and photography have engaged Protestantism in its myriad forms, though I myself am a Jew. However, in the spring of 2007, Dean Randy Diehl of the College of Liberal Arts asked me to become founding director of the Schusterman Center for Jewish Studies, and the private project took on a form more integrated with my new task. I decided to learn more about Texas Jews.
Jews in Luling? It is hardly Vilna on the San Marcos–there is no synagogue and perhaps no longer any Jews among its 5500 inhabitants. Yet, an online listing of a small Jewish Cemetery (80 graves) in the town piqued my curiosity. My wife and I set out one weekend morning in search of the site and found ourselves amid an old, modest, almost rural African-American neighborhood. Some of the small houses looked as if they had been built in the late nineteenth century. We couldn't find the cemetery and searched an open lot, thinking–a romantic notion–that its graves had crumbled from neglect, lost under the leaves and dirt.
Instead of Jewish headstones, however, I found a concrete marker commemorating what was once the location of the community's Bethel A.M.E. Church. At about the same time, a large man in his 50s and his aged mother noticed us and came by. We told them what we were looking for, shared the discovery of the plaque, and learned a bit about the history of the black community. It turns out Jews and African-Americans came to Luling in the 1880s, soon after the town was founded (1874) as a railroad junction for cotton growers. The mother was part of one of the founding families, as were many who still lived there. The Jewish families had since moved to San Antonio, Houston, and other big cities, following a well-worn pattern across the state. We asked after the Jewish Cemetery, and the man noted that just down the street there was a "white graveyard." I thanked them, and asked them if I could take their picture at the site of the church. We warmly said our goodbyes and walked down the road. (Illustration 1)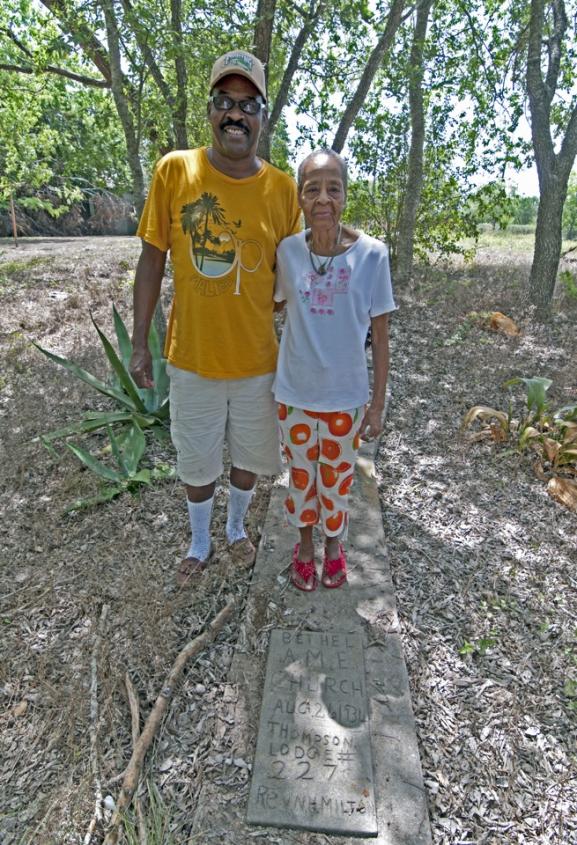 We found a small, well-tended cemetery filled with stones from the nineteenth and twentieth centuries, all bearing the signs of tradition–Hebrew texts and Jewish names–and of acculturation. (Illustration 2)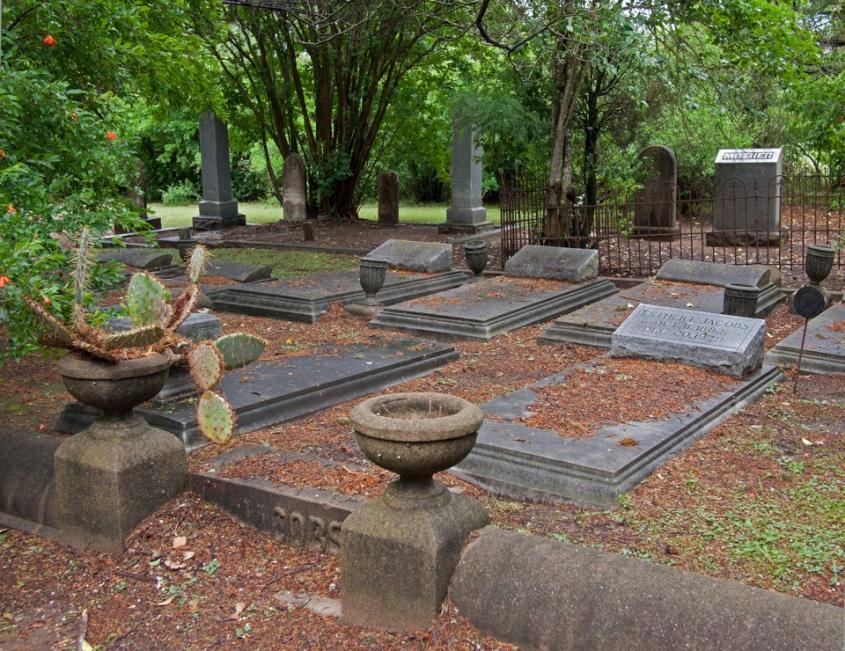 Places of origin varied from Germany to Poland to Russia, as well as some noting Texas birthplaces (sadly, numerous infant deaths were marked as well). Anglicized names abounded as well, and one was quite striking in its noting the departed as a member of Woodmen of the World fraternal organization. My favorite stone was that of Harris Rednick, just one letter shy of redneck, whose stone featured what almost certainly was a Texas Star. (Illustration 3)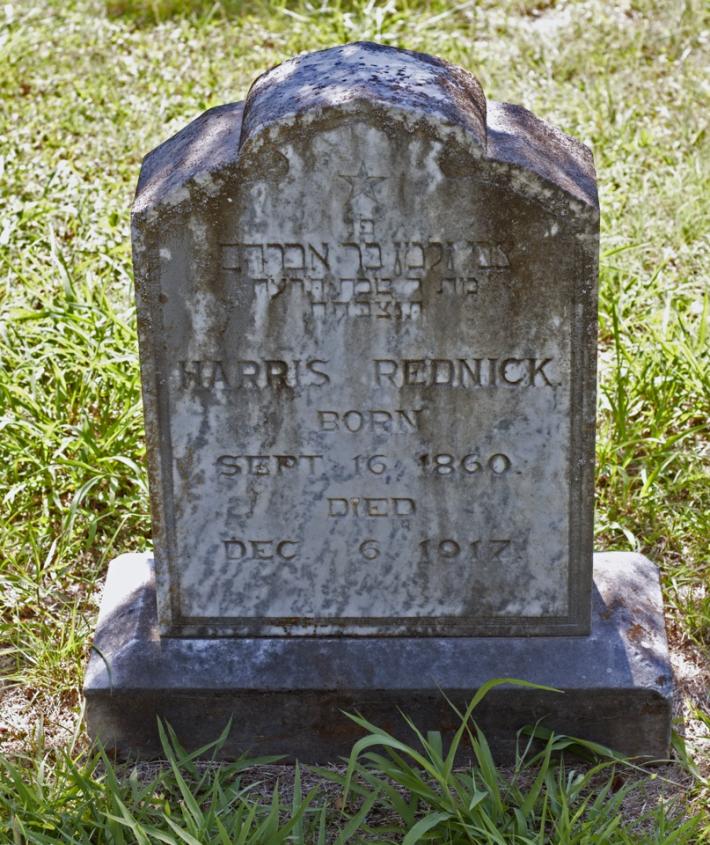 We hoped to top off the day with BBQ at the City Market, but alas they had unexpectedly sold out all their brisket and ribs to a passing tour bus! Still, this half-day in Luling became a short course in Texas, Jewish, and African-American history in one place.
All photographs by Robert Abzug.
---
The views and opinions expressed in this article or video are those of the individual author(s) or presenter(s) and do not necessarily reflect the policy or views of the editors at Not Even Past, the UT Department of History, the University of Texas at Austin, or the UT System Board of Regents. Not Even Past is an online public history magazine rather than a peer-reviewed academic journal. While we make efforts to ensure that factual information in articles was obtained from reliable sources, Not Even Past is not responsible for any errors or omissions.