Compiled by Alejandra C. Garza, Ph.D. candidate, AHA Career Diversity Fellow 2018-2020
This is the third post in a wider series, Navigating the PhD and Beyond: Lessons from the AHA Career Diversity Initiative. The series is presented and curated by Alejandra Garza as part of the AHA Career Diversity for Historians Initiative. As the 2018-20 graduate student fellow, Alejandra's goal was to show graduate students and professors that the skills developed in a PhD program "are applicable no matter what we do when we leave". Here Alejandra interviews Dr. David Conrad. He received his Ph.D. in December 2016 with a dissertation entitled, "The Greatest Good for the Greatest Number: American Land Redistribution in East and Southeast Asia, 1945-1969," supervised by Dr. Mark Metzler. Dr. Conrad is currently a degree evaluator in the Office of Graduate Studies at The University of Texas at Austin.
What motivated you to enter a PhD program? Did your motivations change over the course of the program?
I entered because I loved studying history and I knew what topic I wanted to research. I had worked in the private sector a bit and thought academia would be more fulfilling. I soon found that it wasn't, which was disheartening and disorienting.
Finishing the Ph.D. became more about justifying the time and resources I'd already spent on it. Ultimately even that wasn't enough to keep me going, and I asked my supervisor if I could take a Master's degree and get out. He convinced me that I was close enough to the Ph.D. and that it would be just as easy to finish the dissertation. That made me realize something important: I had set a higher bar for myself than was necessary. Yes, a dissertation should have a high bar, and I'm proud of the one I wrote, even though I see its flaws. I finally realized, though, that what I wrote didn't have to be the ideal dissertation that I imagined it could be. It just had to be good enough for my committee.
What do you wish you had learned in graduate school?
I wish I had learned more about the process of publishing a book. Especially a book that's somewhere between academic and mainstream press material. Even though I'm not currently seeking a tenure-track job, I recently finished the first draft of a book, and I'm having to learn everything about publication as I go. It's a complicated and daunting challenge.
What was your experience with the initial entry into the job market? / How did you end up in the career you currently have?
Upon graduation I didn't want to pursue a faculty position, but I wanted to keep working for a university because I feel most useful and at home in an educational setting. I also wanted to maintain my access to university resources, especially library resources, and I wanted to stay in Austin for family reasons.
There are a lot of staff jobs at UT-Austin that involve working with students, undergraduate or graduate, and I applied to several. I got a few interviews and then finally a job offer. A lot of UT staff move around from one office to another in order to advance their careers, and I've witnessed colleagues and supervisors be very supportive of people who choose to do so, but so far I've stayed in one spot.
If COVID-19 has impacted or even taken your job in these difficult months, please share that with us, too.
My office has been working from home since March with no end in sight. There are some challenges that come with that, but I'm enjoying getting to spend more time with my family, including my 15-month-old toddler.
Any other advice you have for new PhDs entering the job market?
I chose to be brutally honest in my job interviews about where I was coming from and where I saw myself in five years, and this was a liberating feeling. In at least one case that might have led to me not being the top choice, but that's OK. If you can afford to take some time finding the right fit, it's worth it.
This blog series was created by Alejandra C. Garza with assistance from Dr. Alison Frazier and Dr. Michael Schmidt as part of the AHA Career Diversity for Historians Initiative 2018-2020.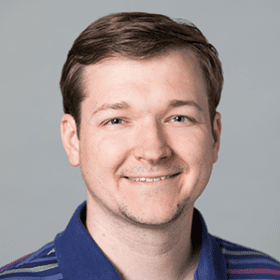 David Conrad is the Degree Plan Evaluator III in the Office of the Vice Provost and Dean of Graduate Studies, University of Texas at Austin
---
The views and opinions expressed in this article or video are those of the individual author(s) or presenter(s) and do not necessarily reflect the policy or views of the editors at Not Even Past, the UT Department of History, the University of Texas at Austin, or the UT System Board of Regents. Not Even Past is an online public history magazine rather than a peer-reviewed academic journal. While we make efforts to ensure that factual information in articles was obtained from reliable sources, Not Even Past is not responsible for any errors or omissions.