For decades Native American and Indigenous activists have advocated for a move away from Columbus Day. They argue that such commemorations are a reminder of the genocide of Indigenous peoples in the Americas that followed the arrival of Europeans in the region. Because of Indigenous peoples' activism, legislatures across the US have started to replace the holiday celebrated on October 12th with Indigenous people's day. This shift is about more than one day of the year. Instead, it encompasses a broader discussion about sovereignty, recognition, and accountability.
In the United States, there are 574 federally recognized tribes and hundreds of others with varying levels of state or federal recognition (or no recognition at all). Earlier this year when the Supreme Court ruled that much of the Eastern portion of Oklahoma remains under Native American jurisdiction in McGirt v. Oklahoma (2020), many people were cautiously optimistic. The ruling was a major victory for Native people and upheld a treaty that outlined the boundaries of the Muscogee (Creek) Nation. However, just last week the EPA granted the State of Oklahoma regulatory control over Indian Country within the state and marked yet another reminder that Native sovereignty is constantly under threat. 2020 has also seen a watershed moment in protests by Indigenous peoples in Central and South America. In Chile, Mapuche activists continue to organize and protest for recognition and to regain control of their lands. In Honduras, on July 18, 2020, 5 Garifuna land rights advocates were kidnapped by individuals believed to be tied to the military. Their disappearance was followed by protests and outrage in the region. However, Alberth Centeno, Milton Martínez, Suami Mejía, Gerardo Róchez, and Junior Mejía have not been seen since.
At the University of Texas at Austin, Native American and Indigenous students in the NAIS program (Native American and Indigenous Studies) joined members of the Miakan-Garza Band of the Coahuiltecan tribe in lobbying for the return of ancestral remains currently housed at one of UT's research labs, to their descendants. For four years, the Miakan-Garza Band has asked UT to return their ancestor's remains, and in September, after a meeting between UT students and President Jay Hartzell, there was a breakthrough. President Hartzell wrote to the Miakan-Garza Band that the university planned to begin the process of returning the remains so they could be reburied. The process itself is ongoing. This week the Native American and Indigenous Studies Program is hosting a week of digital events to celebrate Indigenous people's week. If you would like to support the work of the NAIS program or the repatriation efforts of the Miakan-Garza Band, I'd encourage you to visit their websites.
---
On Indigenous Peoples' Day this year, we should all do the work. That means learning the Indigenous histories of our region, supporting programs that support Native students, and supporting Native authors, artists, and activists every day, not just October 12th. As a starting point, we compiled a list of 6 new books in Native American and Indigenous Studies written by and about Indigenous authors you absolutely should read this year.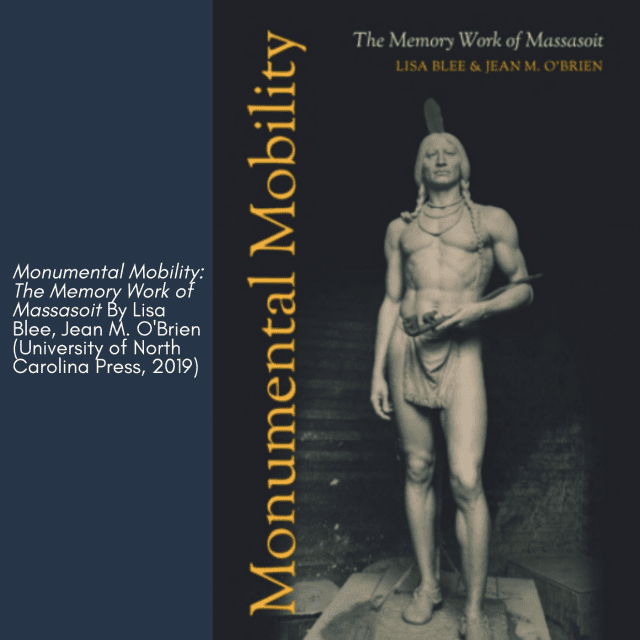 Monumental Mobility: The Memory Work of Massasoit by Lisa Blee and Jean M. O'Brien (University of North Carolina Press, 2019)
"Installed at Plymouth, Massachusetts, in 1921 to commemorate the tercentenary of the landing of the Pilgrims, Cyrus Dallin's statue Massasoit was intended to memorialize the Pokanoket Massasoit (leader) as a welcoming diplomat and participant in the mythical first Thanksgiving. But after the statue's unveiling, Massasoit began to move and proliferate in ways one would not expect of generally stationary monuments tethered to place. The plaster model was donated to the artist's home state of Utah and prominently displayed in the state capitol; half a century later, it was caught up in a surprising case of fraud in the fine arts market. Versions of the statue now stand on Brigham Young University's campus; at an urban intersection in Kansas City, Missouri; and in countless homes around the world in the form of souvenir statuettes. As Lisa Blee and Jean M. O'Brien show in this thought-provoking book, the surprising story of this monumental statue reveals much about the process of creating, commodifying, and reinforcing the historical memory of Indigenous people. Dallin's statue, set alongside the historical memory of the actual Massasoit and his mythic collaboration with the Pilgrims, shows otherwise hidden dimensions of American memorial culture: an elasticity of historical imagination, a tight-knit relationship between consumption and commemoration, and the twin impulses to sanitize and grapple with the meaning of settler-colonialism."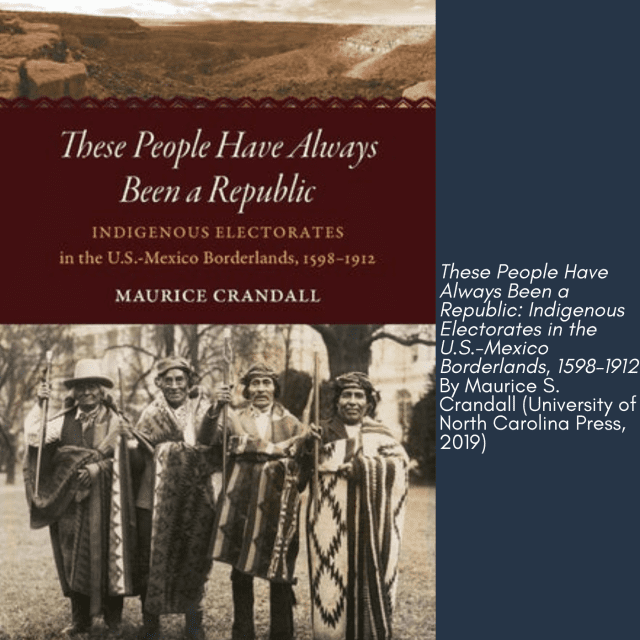 These People Have Always Been a Republic: Indigenous Electorates in the U.S.-Mexico Borderlands, 1598–1912 by Maurice B. Crandall (University of North Carolina Press, 2019)
"Spanning three hundred years and the colonial regimes of Spain, Mexico, and the United States, Maurice S. Crandall's sweeping history of Native American political rights in what is now New Mexico, Arizona, and Sonora demonstrates how Indigenous communities implemented, subverted, rejected, and indigenized colonial ideologies of democracy, both to accommodate and to oppose colonial power. Focusing on four groups–Pueblos in New Mexico, Hopis in northern Arizona, and Tohono O'odhams and Yaquis in Arizona/Sonora–Crandall reveals the ways Indigenous peoples absorbed and adapted colonially imposed forms of politics to exercise sovereignty based on localized political, economic, and social needs. Using sources that include oral histories and multinational archives, this book allows us to compare Spanish, Mexican, and American conceptions of Indian citizenship, and adds to our understanding of the centuries-long struggle of Indigenous groups to assert their sovereignty in the face of settler colonial rule."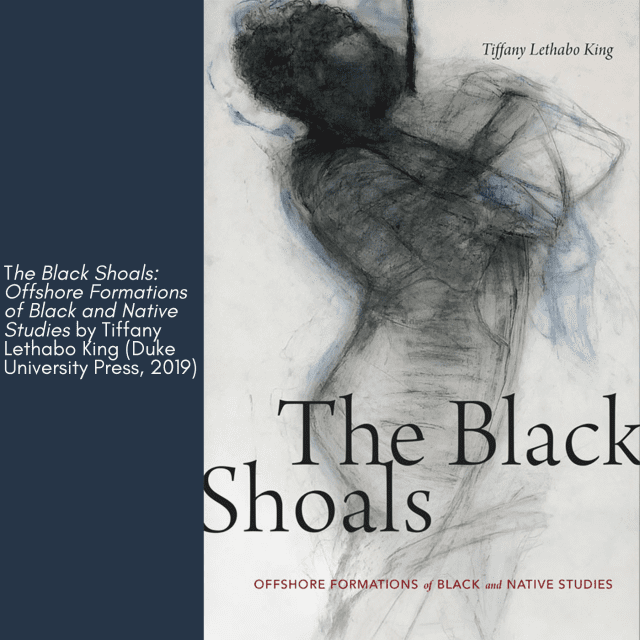 The Black Shoals: Offshore Formations of Black and Native Studies by Tiffany Lethabo King (Duke University Press, 2019)
"In The Black Shoals Tiffany Lethabo King uses the shoal—an offshore geologic formation that is neither land nor sea—as metaphor, mode of critique, and methodology to theorize the encounter between Black studies and Native studies. King conceptualizes the shoal as a space where Black and Native literary traditions, politics, theory, critique, and art meet in productive, shifting, and contentious ways. These interactions, which often foreground Black and Native discourses of conquest and critiques of humanism, offer alternative insights into understanding how slavery, anti-Blackness, and Indigenous genocide structure white supremacy. Among texts and topics, King examines eighteenth-century British mappings of humanness, Nativeness, and Blackness; Black feminist depictions of Black and Native erotics; Black fungibility as a critique of discourses of labor exploitation; and Black art that rewrites conceptions of the human. In outlining the convergences and disjunctions between Black and Native thought and aesthetics, King identifies the potential to create new epistemologies, lines of critical inquiry, and creative practices."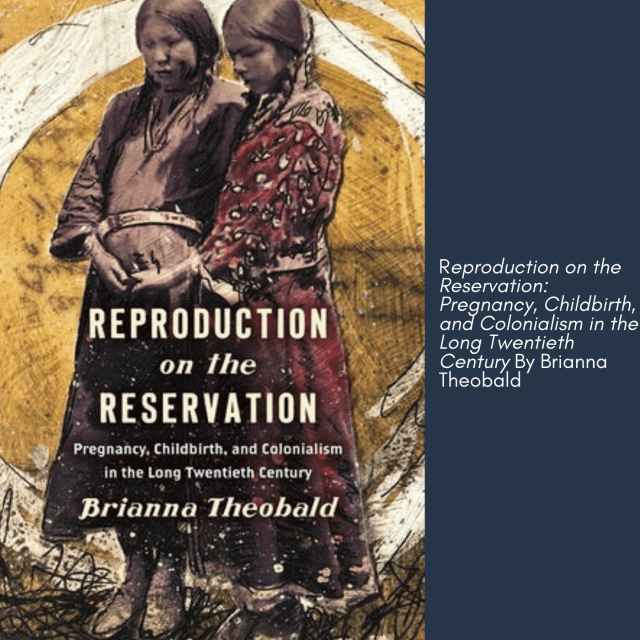 Reproduction on the Reservation: Pregnancy, Childbirth, and Colonialism in the Long Twentieth Century by Brianna Theobald (University of North Carolina Press, 2019)
"This pathbreaking book documents the transformation of reproductive practices and politics on Indian reservations from the late nineteenth century to the present, integrating a localized history of childbearing, motherhood, and activism on the Crow Reservation in Montana with an analysis of trends affecting Indigenous women more broadly. As Brianna Theobald illustrates, the federal government and local authorities have long sought to control Indigenous families and women's reproduction, using tactics such as coercive sterilization and removal of Indigenous children into the white foster care system. But Theobald examines women's resistance, showing how they have worked within families, tribal networks, and activist groups to confront these issues. Blending local and intimate family histories with the histories of broader movements such as WARN (Women of All Red Nations), Theobald links the federal government's intrusion into Indigenous women's reproductive and familial decisions to the wider history of eugenics and the reproductive rights movement. She argues convincingly that colonial politics have always been–and remain–reproductive politics. By looking deeply at one tribal nation over more than a century, Theobald offers an especially rich analysis of how Indigenous women experienced pregnancy and motherhood under evolving federal Indian policy. At the heart of this history are the Crow women who displayed creativity and fortitude in struggling for reproductive self-determination."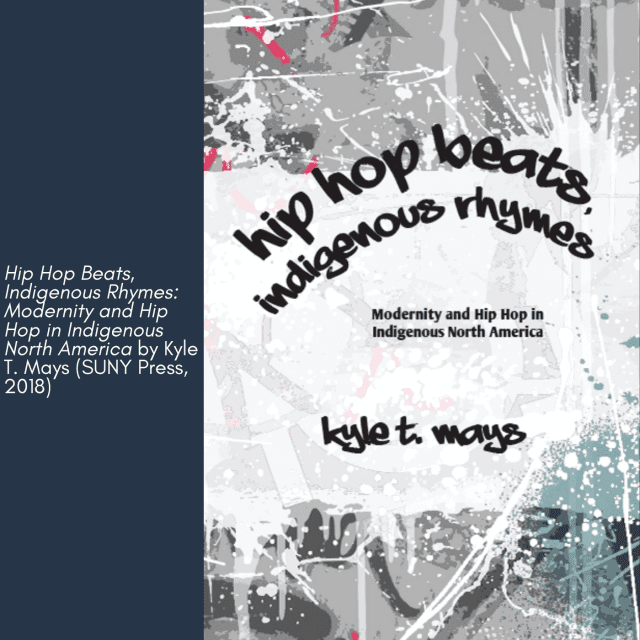 Hip Hop Beats, Indigenous Rhymes: Modernity and Hip Hop in Indigenous North America by Kyle Mays (Suny Press, 2018)
"Expressive culture has always been an important part of the social, political, and economic lives of Indigenous people. More recently, Indigenous people have blended expressive cultures with hip hop culture, creating new sounds, aesthetics, movements, and ways of being Indigenous. This book documents recent developments among the Indigenous hip hop generation. Meeting at the nexus of hip hop studies, Indigenous studies, and critical ethnic studies, Hip Hop Beats, Indigenous Rhymes argues that Indigenous people use hip hop culture to assert their sovereignty and challenge settler colonialism. From rapping about land and water rights from Flint to Standing Rock, to remixing "traditional" beading with hip hop aesthetics, Indigenous people are using hip hop to challenge their ongoing dispossession, disrupt racist stereotypes and images of Indigenous people, contest white supremacy and heteropatriarchy, and reconstruct ideas of a progressive masculinity. In addition, this book carefully traces the idea of authenticity; that is, the common notion that, by engaging in a Black culture, Indigenous people are losing their "traditions." Indigenous hip hop artists navigate the muddy waters of the "politics of authenticity" by creating art that is not bound by narrow conceptions of what it means to be Indigenous; instead, they flip the notion of "tradition" and create alternative visions of what being Indigenous means today, and what that might look like going forward."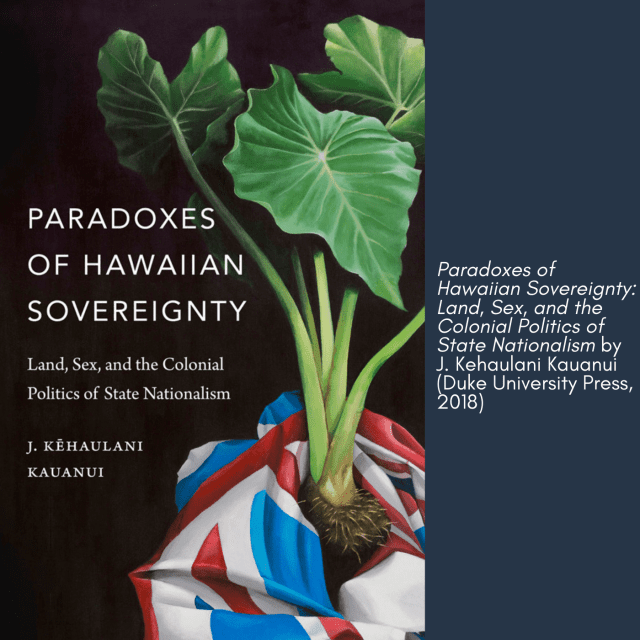 Paradoxes of Hawaiian Sovereignty: Land, Sex, and the Colonial Politics of State Nationalism by J. Kēhaulani Kauanui
"In Paradoxes of Hawaiian Sovereignty J. Kehaulani Kauanui examines contradictions of indigeneity and self-determination in U.S. domestic policy and international law. She theorizes paradoxes in the laws themselves and in nationalist assertions of Hawaiian Kingdom restoration and demands for U.S. deoccupation, which echo colonialist models of governance. Kauanui argues that Hawaiian elites' approaches to reforming and regulating land, gender, and sexuality in the early nineteenth century that paved the way for sovereign recognition of the kingdom complicate contemporary nationalist activism today, which too often includes disavowing the indigeneity of the Kanaka Maoli (Indigenous Hawaiian) people. Problematizing the ways the positing of the Hawaiian Kingdom's continued existence has been accompanied by a denial of U.S. settler colonialism, Kauanui considers possibilities for a decolonial approach to Hawaiian sovereignty that would address the privatization and capitalist development of land and the ongoing legacy of the imposition of heteropatriarchal modes of social relations."
---
Further Reading on Not Even Past: