In Fall 2020 and working closely with the IHS Director, Dr. Miriam Bodian, we created a new section on NEP designed to showcase the work of the Institute for Historical Studies. Since its creation, this section has grown to feature a wide range of talks, panels, resources, book reviews and connected articles. Dr. Bodian is stepping down from the Directorship after four highly successful years. NEP would like to thank Dr. Bodian for her leadership and for a remarkably productive and exciting year of academic programming that we have been privileged to be part of. In a turbulent year, the Institute has provided a hub for academic insight, exchange and discussion. In this article, we highlight five fascinating panels and talks from the IHS in 2020-21 that are well worth revisiting. These are just a few examples of an incredible range of content all collected here.
"Rodney King and the LA Riots: 30 Years Later"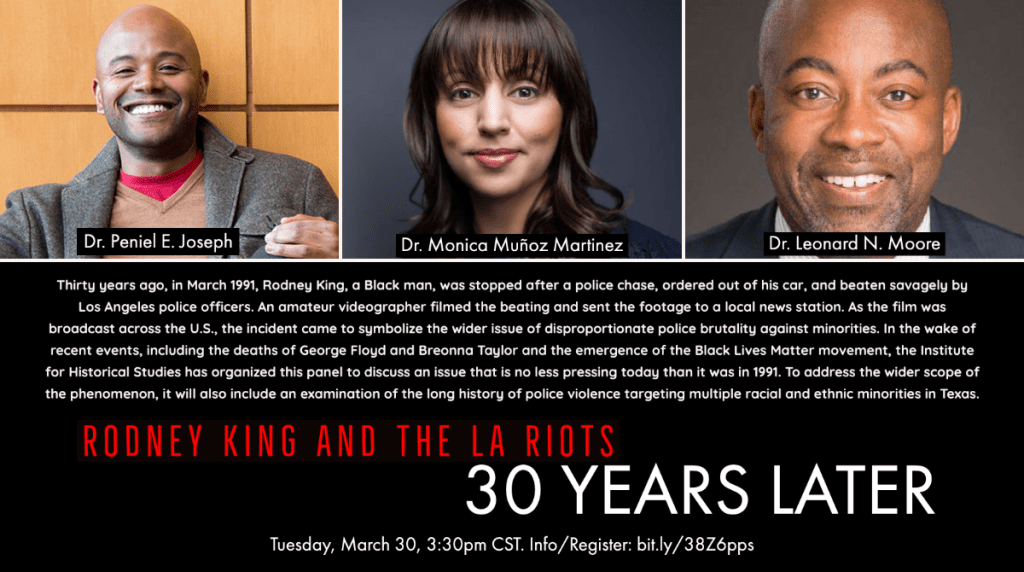 Thirty years ago, in March 1991, Rodney King, a Black man, was stopped after a police chase, ordered out of his car, and beaten savagely by Los Angeles police officers. An amateur videographer filmed the beating and sent the footage to a local news station. As the film was broadcast across the U.S., the incident came to symbolize the wider issue of disproportionate police brutality against minorities. In the wake of recent events, including the deaths of George Floyd and Breonna Taylor and the emergence of the Black Lives Matter movement, the Institute for Historical Studies has organized this panel to discuss an issue that is no less pressing today than it was in 1991. To address the wider scope of the phenomenon, it will also include an examination of the long history of police violence targeting multiple racial and ethnic minorities in Texas.
For the full video and discussion see here
"Her Neighbor's Wife: A History of Lesbian Desire Within Marriage"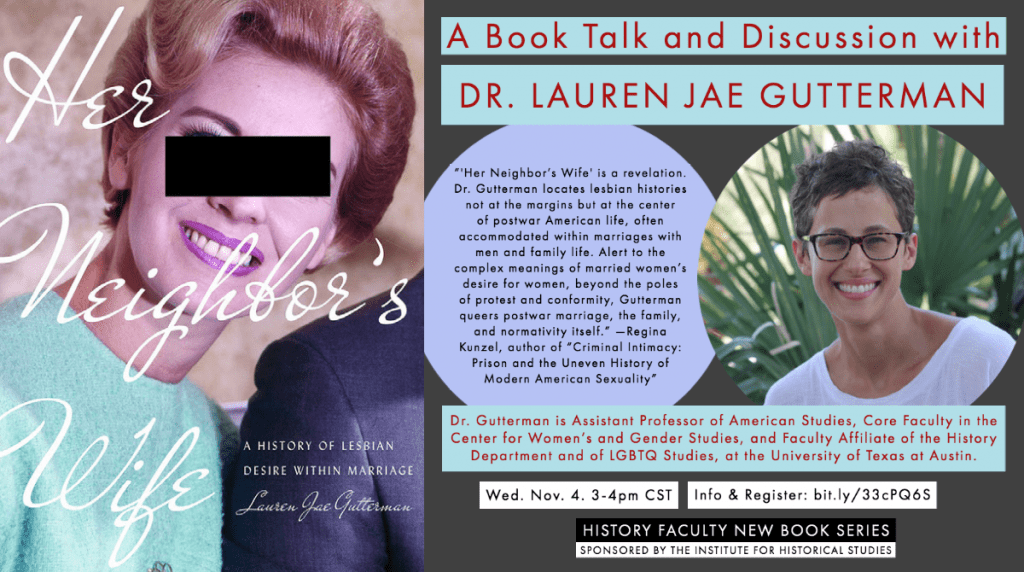 At first glance, Barbara Kalish fit the stereotype of a 1950s wife and mother. Married at eighteen, Barbara lived with her husband and two daughters in a California suburb, where she was president of the Parent-Teacher Association. At a PTA training conference in San Francisco, Barbara met Pearl, another PTA president who also had two children and happened to live only a few blocks away from her. To Barbara, Pearl was "the most gorgeous woman in the world," and the two began an affair that lasted over a decade. Through interviews, diaries, memoirs, and letters, Her Neighbor's Wife traces the stories of hundreds of women, like Barbara Kalish, who struggled to balance marriage and same-sex desire in the postwar United States. In doing so, Dr. Lauren Jae Gutterman draws our attention away from the postwar landscape of urban gay bars and into the homes of married women, who tended to engage in affairs with wives and mothers they met in the context of their daily lives: through work, at church, or in their neighborhoods.
In the late 1960s and 1970s, the lesbian feminist movement and the no-fault divorce revolution transformed the lives of wives who desired women. Women could now choose to divorce their husbands in order to lead openly lesbian or bisexual lives; increasingly, however, these women were confronted by hostile state discrimination, typically in legal battles over child custody. Well into the 1980s, many women remained ambivalent about divorce and resistant to labeling themselves as lesbian, therefore complicating a simple interpretation of their lives and relationship choices. By revealing the extent to which marriage has historically permitted space for wives' relationships with other women, Her Neighbor's Wife calls into question the presumed straightness of traditional American marriage.
For the complete article and talk see here.
"Sex in an Old Regime City: Young Workers and Intimacy in France, 1660-1789"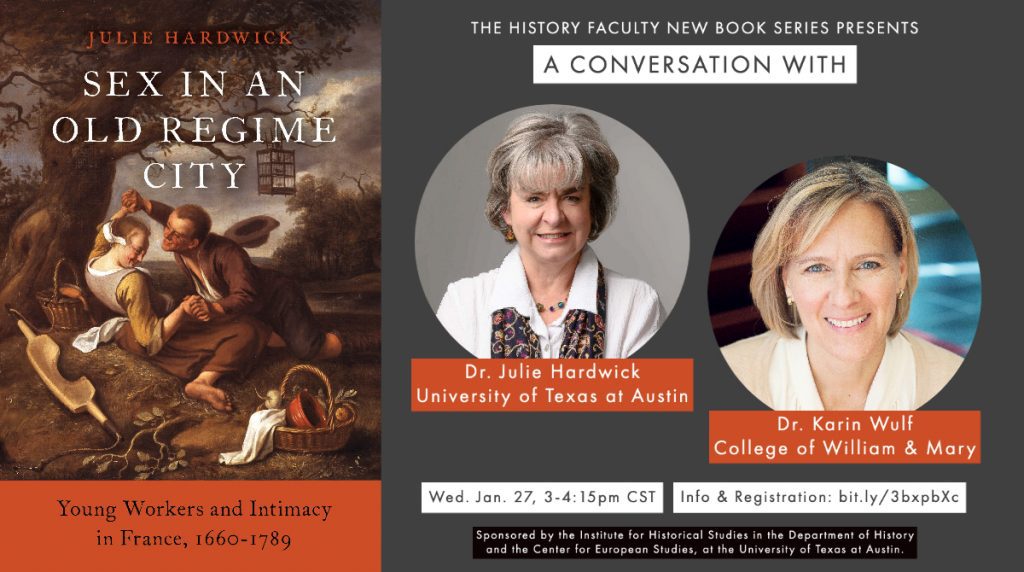 Our ideas about the long histories of young couples' relationships and women's efforts to manage their reproductive health are often premised on the notion of a powerful sexual double standard. In Sex in an Old Regime City (Oxford University Press, 2020), Julie Hardwick offers a major reframing of the history of young people's intimacy. Based on legal records from the city of Lyon, Hardwick uncovers the relationships of young workers before marriage and after pregnancy occurred, even if marriage did not follow, and finds that communities treated these occurrences without stigmatizing or moralizing. She finds a hidden world of strategies young couples enacted when they faced an untimely pregnancy. If they could not or would not marry, they sometimes tried to terminate pregnancies, to make the newborn go away by a variety of measures, or to charge the infant to local welfare institutions. Far from being isolated, couples drew on the resources of local communities and networks. Clerics, midwives, wet nurses, landladies, lawyers, parents, and male partners in and outside the city offered pragmatic, sympathetic ways to help young, unmarried pregnant women deal with their situations and hold young men responsible for the reproductive consequences of their sexual activity. This was not merely emotional work; those involved were financially compensated. These support systems ensured that the women could resume their jobs and usually marry later, without long-term costs. In doing so, communities managed and minimized the disruptions and consequences even of cases of abandonment and unprosecuted infanticide.
For the complete article and talk see here.
"Environmental Justice in Indian Country and Moving Toward a Transformational Land Ethic"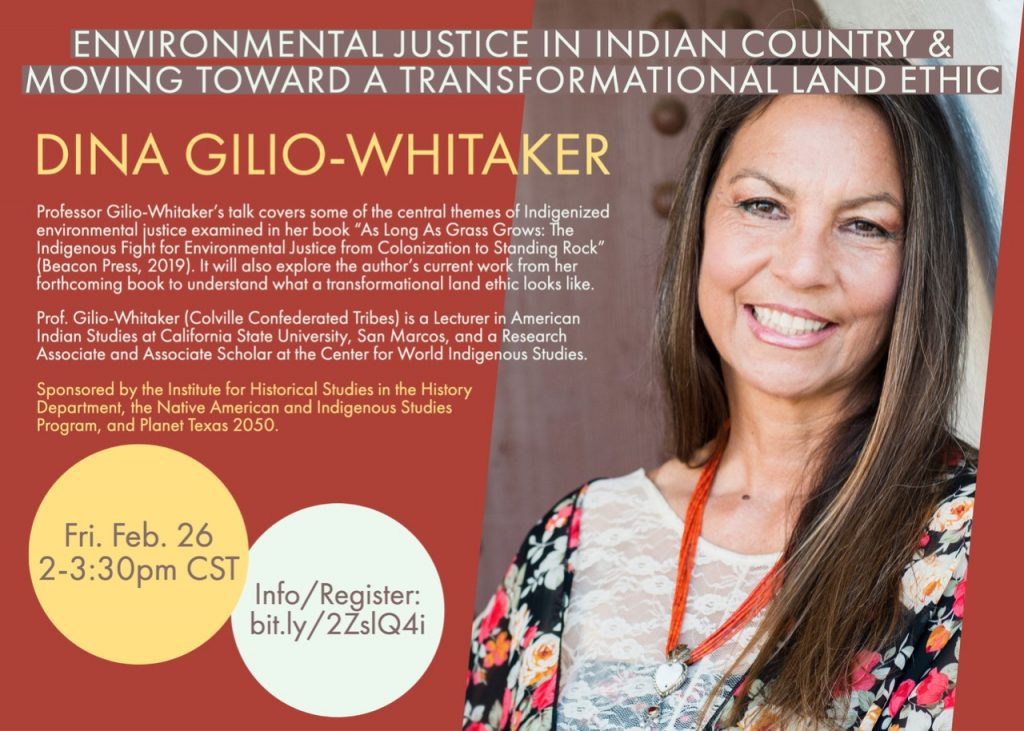 Drawing on the book's theorizing of an Indigenized environmental justice, this talk covers some of the central themes examined in Professor Gilio-Whitaker's recent publication As Long As Grass Grows: The Indigenous Fight for Environmental Justice from Colonization to Standing Rock (Beacon Press, 2019). It then leans into the author's current work from her forthcoming book to understand what a transformational land ethic looks like. https://www.youtube.com/embed/ZkR_Pk6SgcM
Dina Gilio-Whitaker (Colville Confederated Tribes) is an independent writer and researcher in Indigenous studies, having earned a bachelor's degree in Native American Studies and a master's degree in American Studies from the University of New Mexico, and also holds the position of research associate and associate scholar at the Center for World Indigenous Studies. Her work focuses on issues related to Indigenous nationalism, self-determination, and environmental justice. She is the author of As Long As Grass Grows (see above) and co-author (with Roxanne Dunbar-Ortiz) of "All the Real Indians Died Off" and 20 Other Myths About Native Americans (Beacon Press, 2016). An award-winning journalist, she is a frequent contributor to Indian Country Today Media Network and Native Peoples Magazine. Dr. Gilio-Whitaker is currently a Lecturer in American Indian Studies at California State University, San Marcos. Read more about her work on her website, and follow her research and publications on academia.edu.
For the complete talk see here
"Teaching Climate Change: Perspectives from History and the Humanities"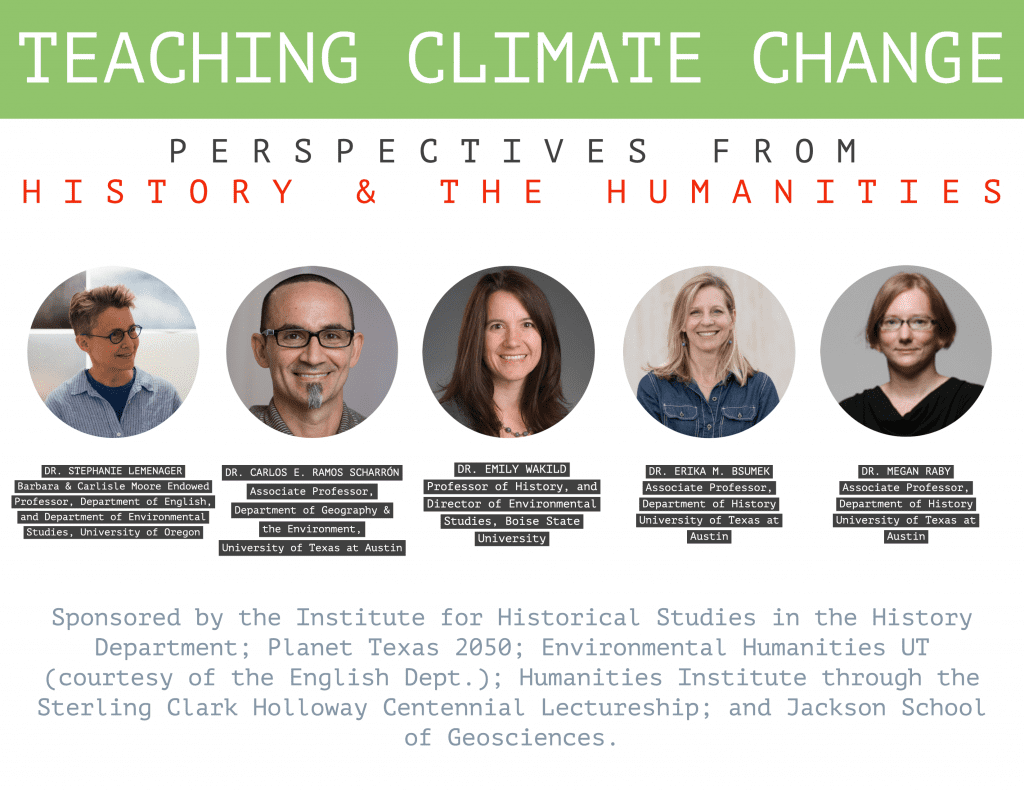 For the complete roundtable see here.
---
The views and opinions expressed in this article or video are those of the individual author(s) or presenter(s) and do not necessarily reflect the policy or views of the editors at Not Even Past, the UT Department of History, the University of Texas at Austin, or the UT System Board of Regents. Not Even Past is an online public history magazine rather than a peer-reviewed academic journal. While we make efforts to ensure that factual information in articles was obtained from reliable sources, Not Even Past is not responsible for any errors or omissions.