The Visualizing Cultures site provides a deep dive into the history of China and Japan through carefully curated collections of primary documents. Created by a team of scholars based at the Massachusetts Institute of Technology (MIT), the page features image galleries, lesson plans, and even an online introductory-level course. It has partnered with archives around the world, such as the Hiroshima Peace Institute, to create a selection of beautifully preserved documents.
The objective of Visualizing Cultures is "to use new technology and hitherto inaccessible visual materials to reconstruct the past as people of the time visualized the world (or imagined it to be)." Its organizers aim to promote "image-driven scholarship and learning." Offering over a dozen units for exploration—ranging from biographical tales to studies of market economy—the site is a rich resource.
For teachers, this webpage provides a range of "standards-compliant" lesson plans. Each includes pre-made handouts and an image gallery designed to complement the themes of the lesson. One of these units, designed by Director of the Program for Teaching East Asia at the University of Colorado Boulder Lynn Parisi, explores the Rise & Fall of the Canton Trade System.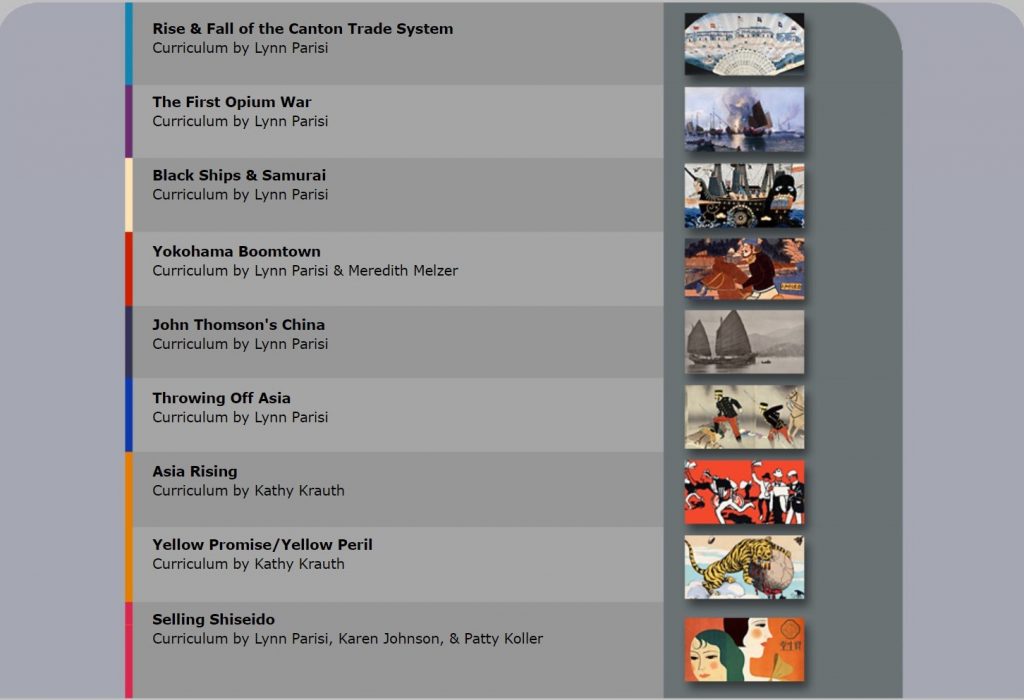 For students and the general public, Visualizing Cultures also offers a unique tool: a free, open-access, introductory course on modern Japan. Four leading scholars in the field—Shigeru Miyagawa of MIT, Gennifer Weisenfeld of Duke University, Andrew Gordon of Harvard University, and John W. Dower of MIT—created the course. Over 30,000 people have enrolled in this class, entitled "Visualizing Japan (1850s–1930s): Westernization, Protest, Modernity."
The final major component of Visualizing Cultures is its content grid: a selection of mini image galleries and short essays related to particular historical moments and themes. Although the organization of these units could be further developed—through the use of tags or categories, for example—each provides a thoughtful exploration of its respective topic. Some units feature historical magazine images, such as the satirical publications from mid-1930s Shanghai. Another incorporates a series of paintings of the Yuanmingyuan imperial complex into an interactive map.
The MIT-based scholarly community behind Visualizing Cultures has designed a unique resource. Its careful and intentional promotion of image-centered learning helps provide a model for how to study history and culture through prints, pictures, and paintings of the past.