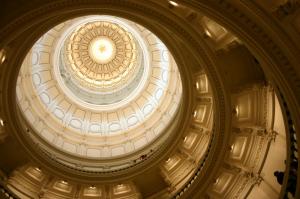 By George Christian
As the Texas Legislature battles an unprecedented budget gap this spring, advocates of various types of gaming are promising billions of dollars for education and other state programs if Texas voters are allowed to approve a constitutional amendment expanding gaming in the Lone Star State. Gaming involves more than just Las Vegas-style casino gambling: it includes everything from the bingo parlor at the volunteer fire department to the horse track at the county fair to "eight-liner" terminals in truck stops. Given the historically persistent opposition of religious and other groups that has stifled the expansion of gaming, it is interesting to note that Texas has periodically expanded its scope in times of economic duress, as we face today.
When Texas joined the Union in 1845, its initial state constitution prohibited Texas residents from buying or selling lottery tickets in the state (a state-operated lottery was likewise prohibited). The 1861 secession constitution, as well as the 1866 and 1869 reconstruction constitutions, continued this prohibition. In 1873, however, the Legislature attempted to circumvent the constitutional provision by granting licenses to so-called "gift enterprises," involving the distribution of tickets and drawing of winners (that is, raffles of cash or other items of value). Fearing the exploitative effects of gift enterprises on the poor, the drafters of the 1876 Texas Constitution inserted Article 3, §47, which not only continued to bar lotteries and gift enterprises, whether operated by the state or private parties, but mandated that the Legislature enact statutes expressly prohibiting them as well. In this respect as in others, the 1876 framers and a heavily populist electorate expressed their deep skepticism that the Legislature could be relied on to do the right thing on its own.
Since 1876, Texas courts and the Attorney General have repeatedly interpreted Article 3, §47 to prohibit games of chance in which a participant is required to make a direct or indirect payment for the privilege of playing. Thus, it is unconstitutional for either the state or a private party to operate slot machines or other devices, such as "eight-liners," video lottery terminals, or casino gaming, that award cash or prizes solely on the basis of chance and without regard to the skill, judgment, or knowledge of any player. Op.Atty.Gen. 1994, No. DM-102; Op.Atty.Gen.2005, No. GA-0358. In 1980, however, the Legislature adopted and the voters approved an amendment to Art. 3, §47, that allows certain charitable organizations (e.g., churches, synagogues, religious societies, volunteer fire departments, veteran's organizations) to conduct bingo games if local voters approve. This provision was expanded by another constitutional amendment in 1989 to permit certain religious organizations to hold raffles. These constitutional changes enabled the charitable bingo industry to grow exponentially, with more than 17.7 million players and $526 million in prize money in 2010 (about $34 million goes to qualified charities).
Voters again amended Art. 3, §47, in 1991 to allow the state to operate a lottery, despite fierce opposition from religious and other groups concerned about the potential adverse effects of the lottery on the poor (not to mention the possible drain on proceeds of charitable bingo games). Governor Ann Richards, who had campaigned in favor of the lottery in her 1990 gubernatorial election victory over Republican Clayton Williams, convinced a conservative but cash-strapped legislature to go along with the idea as an alternative to raising taxes (in the event some taxes still had to be increased). Moreover, the estimated $1 billion in annual revenue from the lottery was desperately needed to resolve a funding crisis in public education (although the cash was never actually dedicated to public education but simply displaced other general revenue funding). The State of Texas, in the name of public education, officially entered the gaming business.
While the Texas Constitution still prohibits most gaming, it does not broadly proscribe gambling. Texas criminal laws, however, do. Since at least the adoption of the revised Penal Code in 1879, it has been illegal to play or bet for money (in a public place) on the outcome of a game or contest, in a political nomination, appointment, or election, or at any game played with cards, dice, balls, or other gambling device. Tex.Pen.Code, §47.02. As one court of appeals held in 1886 on the appeal of the prosecution of a church raffle under this provision, "[I]t was immaterial whether the raffle be for religious, benevolent, or profane purposes." Long v. State, 2 S.W. 541 (Tex.Ct.App. 1886) At least according to Texas law, the road to hell really might be paved with good intentions. Nevertheless, in 1986, proponents of pari-mutuel wagering at horse and dog tracks finally broke through decades of protecting the anti-gambling laws in Texas. In a statewide referendum, voters authorized local option pari-mutuel racing, and the Legislature established the Texas Racing Commission to license regulate horse and dog (greyhound) tracks.
The loosening of anti-gaming laws in the 1980s and early 1990s motivated the economically disadvantaged Tigua and Alabama-Coushatta tribes to open potentially lucrative casinos on their reservations. In 1993, the Tiguas opened a casino near El Paso that offered bingo and later poker, blackjack, and slot machines. Texas Attorney General (now U.S. Senator) John Cornyn filed suit against the tribe in 1999, alleging that it violated Texas' constitutional prohibition and criminal statutes. The Tiguas attempted to override the suit by persuading the 1999 Legislature to legalize casino gambling on an Indian reservation. The bill passed the House but died in the Senate. A federal judge subsequently agreed with the Attorney General, the Tiguas lost on appeal to the U.S. Fifth Circuit Court of Appeals, and the casino shut down in February, 2002. Hoping to reverse that decision, the Alabama-Coushatta launched a casino operation in late 2001, simultaneously filing suit against the State of Texas claiming that the tribe was a sovereign nation under federal jurisdiction and that Texas law did not apply. Like the Tiguas, the Alabama-Coushatta lost in federal court and shuttered the casino in 2002. The tribes made a subsequent sally in the 2003 legislature, but the bill died on the House Calendar when 51 Democrats relocated to Ardmore, Oklahoma to kill a GOP redistricting plan.
Will Texans get a chance to vote on a casino gaming bill this year? The prognosis is cloudy at best. A constitutional amendment currently under consideration in House committee (H.J.R. 147) would authorize the Legislature to permit slot machines and other games of chance in destination casinos, currently licensed dog and horse racing venues, and federally recognized tribal lands. Even if the proposal could reach the House floor for debate, it requires 100 votes (two-thirds of the 150-member House) to send it to the Senate—where the chair of the Senate committee has already indicated that it does not have sufficient support to advance. In the House, with 101 GOP members, including some dozens of self-identified religious conservatives, it is difficult to forecast success for pro-gaming forces. It is also important to note that religious conservatives aren't the only opponents of broad gaming authority: casino operators in Louisiana and Oklahoma, segments of the existing racing industry, and others with vested economic interests in the current system have problems with it as well. Still, the desperate need for more state revenue to reduce the impact of draconian cuts to education, health care, and other programs will not go away any time soon. Gaming advocates are counting on fiscal duress to deliver where policy arguments have failed.
Sources:
Vernon's Constitution of the State of Texas Annotated (West Publishing, 2007)
Vernon's Texas Codes Annotated, Texas Penal Code (West Publishing, 2003)
Texas Lottery Commission, http://www.txlottery.org/export/sites/bingo/index.html
Texas Racing Commission, http://www.txrc.state.tx.us/
Tracy A. Skopek and Kenneth Hansen, "Reservation Gaming, Tribal Sovereignty, and the State of Texas: Gaining Ground in the Political Arena?" Politics & Policy (34:1) pp. 110-133 (2006); (accessed April 14, 2011)
Previous installments of George on the Lege:
Part 5:2 School Finance, 1991-the present
Part 5:1 School Finance, 1949-1991
Part 4: Concealed Weapons
Part 3: Redistricting
Part 2: Cutting Spending
Part 1: Budget Crises, Today and Yesterday
Photo: Wing-Chi Poon [CC-BY-SA-2.5] via Wikimedia Commons
---
The views and opinions expressed in this article or video are those of the individual author(s) or presenter(s) and do not necessarily reflect the policy or views of the editors at Not Even Past, the UT Department of History, the University of Texas at Austin, or the UT System Board of Regents. Not Even Past is an online public history magazine rather than a peer-reviewed academic journal. While we make efforts to ensure that factual information in articles was obtained from reliable sources, Not Even Past is not responsible for any errors or omissions.