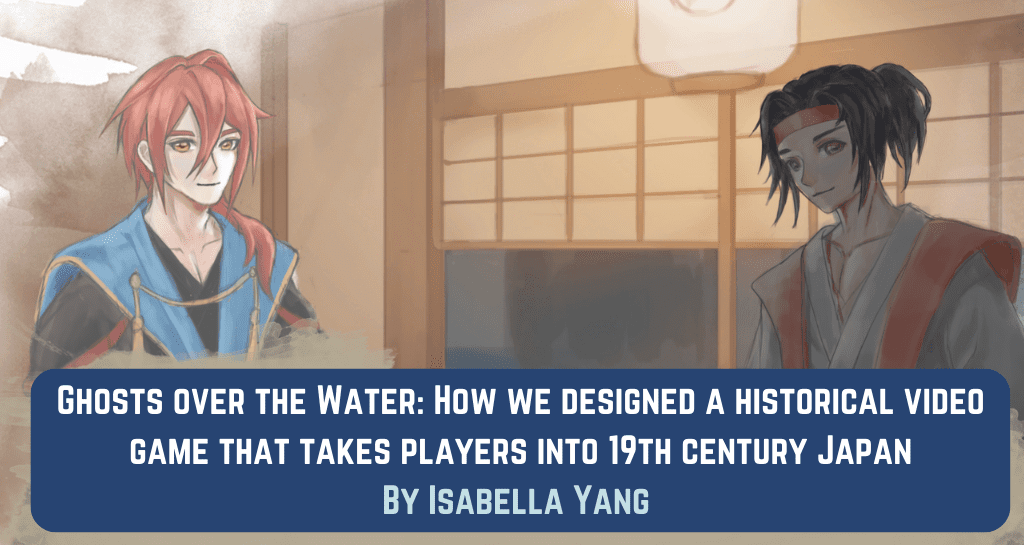 "It happened during the sixth month of the sixth year of Kaei, on a windless summer day; I was only a little over twenty. For over two hundred years, Edo had stood as our political center. For over two hundred years, Japan had been in peace and prosperity… At least on the surface. No foreigners. No chaos. And then, all of that peace—or the illusion of it—dissipated into thin air."
The story of Ghosts over the Water: Changing the Tides of Japan's Future, a visual-novel-style indie video game created by Studio Unagi, a team of undergraduate students working as part of UT Austin's JapanLab, begins with these words. In Ghosts over the Water, players assume the first-person perspective of Tsumaki Naoharu, a fictional 20-year-old samurai official living in Edo in the summer of 1853. Commodore Matthew C. Perry had just sailed into the city's harbor with a fleet of black ships, breaking Japan's long period of international isolation. Working on behalf of Abe Masahiro, one of the most powerful men in Japan in this period, Naoharu is tasked with carrying out a series of investigations that will influence how the Tokugawa government (bakufu) interacts with Perry, the development of new policies towards foreign incursions and indeed the country's future.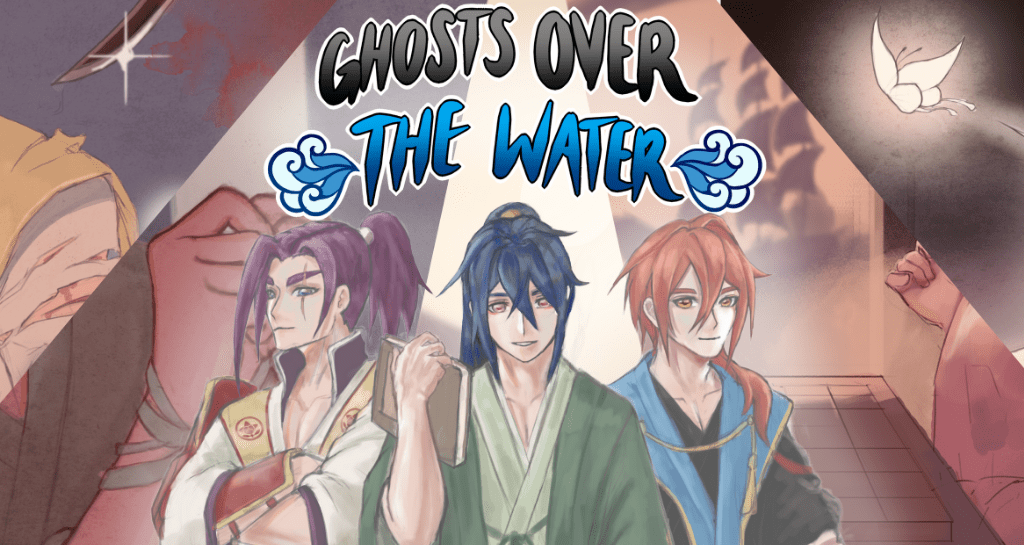 By making a series of individual choices, players help Naoharu navigate the sweltering heat of the Edo summer and the dangerous complexities of samurai politics. In the process, they encounter several factions, some loyal to the existing structures and some not; some welcoming foreigners and some not; some arrogant and condescending, some violent and reckless. Each dialogue option that players select will influence Naoharu's affiliation with those factions, and impact his political career—that is, if he lives to see it. Indeed, Naoharu's very life is at stake. In more than half of the possible outcomes, Naoharu dies, meaning that players do not even have the chance to proceed to the second part of the story. For this reason, players need to be especially careful in securing the favor of the prominent Edo figures they come across. Ghosts over the Water is as much of a survival game as it is a strategy game.
The game was officially released on itch.io, the major platform for independent games, in August 2022 after months of hard work. The final games team comprised four undergraduates from two institutions, UT Austin and Yale, that had decided to partner together to produce this game. It consisted of our narrative leads, Isabella Yang (Yale '22) and Alexis Wu (UT Austin '23), our chief coder Benjamin Brown (UT Austin '22) and our artist Eric Doddy (Yale '24).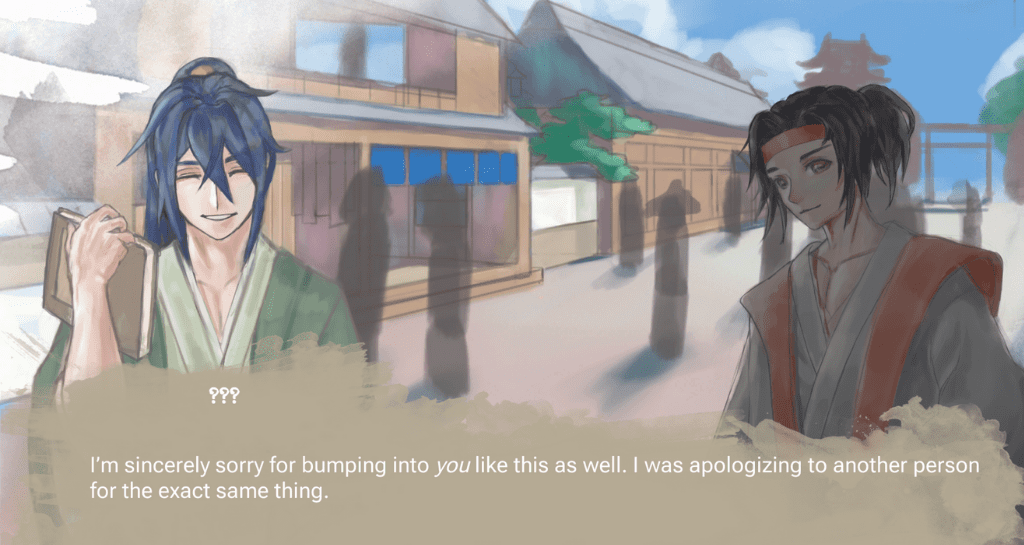 The development of Ghosts over the Water is tied to the rapid growth of the gaming industry and the capacity of video games to take students deep into the past. It emerges from Dr Adam Clulow's JapanLab project, which aims to produce a pipeline of historical videos. This was the second game developed after Ako: A Test of Loyalty which was released in summer 2020.
We wanted Ghosts over the Water to be ambitious. Its script totals more than 130,000 words, features multiple chapters with different ending and is built in Unity, the industry standard for such games. Rather than the visual novel development engine Ren'py, we decided to use the more powerful and complex Unity, as it gave us more artistic freedom and programming versatility. Aside from engine choices, the team had to make a few other hard decisions—deciding to focus the game on Japan's reaction instead of stories from the American side, and choosing to foreground intriguing characters from the past, both well-known and more obscure. For our art style, we moved away from pure realism to a more vibrant, contemporary style that felt more like a game than a historical documentary.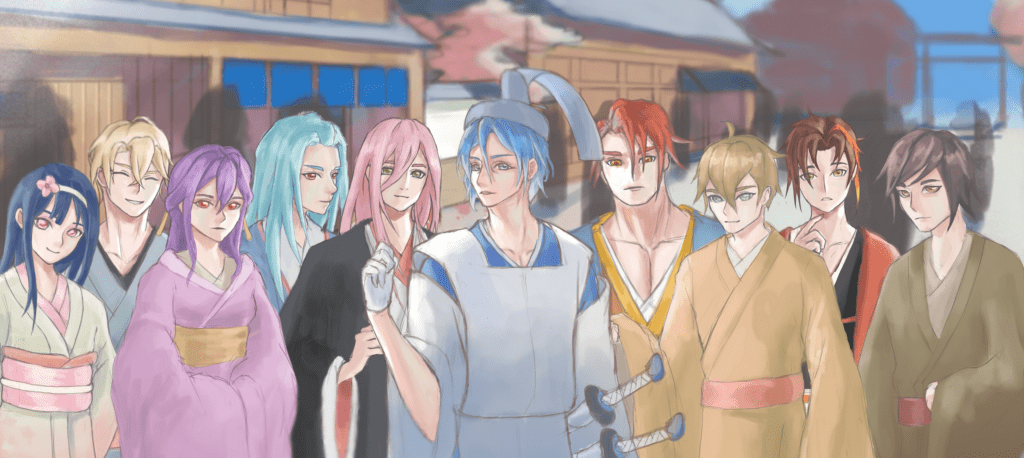 As a team we met constantly, devoting hundreds of hours to constructing the story, refining the gameplay, and fixing dozens of bugs. As project manager and lead narrative designer, I can proudly say that this is one of the projects I've devoted the most time to during my time in college.
We were lucky to have plenty of help along the way. We worked closely with Haley Price (now a PhD student at Brown), who sat in every team meeting, commented on the story, and even personally bug-hunted from line to line with the rest of the team towards the end of the development process. We also met weekly with our historical consultant, Dr. Clulow, who helped us make the game as historically accurate as possible and ready for use in a high school or college classroom. We were especially excited to collaborate with Clay Carmouche, a Narrative Director of XBOX Publishing, who held a series of in-person narrative sessions in Austin in March, where he reviewed and revised the story with the rest of the team. There were also many playtesters along the way who tracked bugs and provided feedback, including students from Dr. Clulow's "Age of the Samurai" lecture class at UT Austin. We owe them all a big thank you.
The game emerged from countless hours of hard work from all the members of Studio Unagi. With a narrative exceeding 130,000 words, three fully independent character-specific routes, fifty character sprites and eight fully illustrated endings, it hopes to provide players with an experience that will intrigue them, showing how the issues of the past resonate today and the turbulent nature of this period in Japanese history. With the game released on itch.io, Studio Unagi is preparing the next step of bringing the game to a wider audience. A release on Steam, the major commercial platform, is scheduled for November 11th, and we plan to promote the game heavily in the coming months.
Due to the pandemic, we met online until March when we were all able to come together – with much excitement – in Austin to work with Clay Carmouche. For me, as well as for every member of the team, this was an incredible opportunity: to learn new skills, to take our interest in game design further, and to blend history with digital storytelling.
In developing this game, we set out to show that History departments can become games studios and that teams of undergraduates can produce and release immersive, engaging and fully formed games. We believe such games are immensely powerful tools for learners, ones that can help them better understand the nuances of the past. We hope it's just the start and that we've created a template for more games like Ghosts over the Water.
Isabella Yang was the project manager and narrative co-lead for Ghosts over the Water. She graduated magna cum laude from Yale in 2022 with distinction in the History major and received both the Robert E. Gries Prize in History and the Williams Prize in East Asian Studies for her thesis, "Wang Xitian and the Chinese Experience in Imperial Tokyo, 1899-1923: Class, Violence, and the Formation of a New National Consciousness." She has interned in the gaming industry and is currently working in Management Development in California. In the future, she plans to continue creating historical video games that are of educational value, and perhaps eventually head back into the gaming industry and create games full-time.