Not Even Past asked the UT Austin History faculty to recommend great books for Women's History Month. The response was overwhelming so we have been posting their suggestions throughout the month. This is our last set of book recommendations; this week we feature books on women and gender in East Asia and South Asia.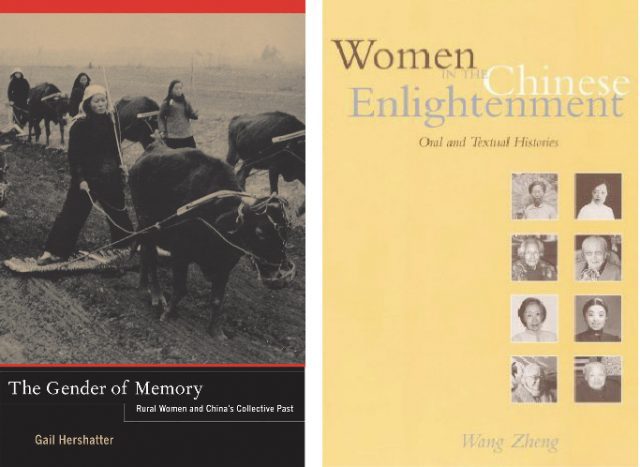 Huaiyin Li recommends:
Zheng Wang, Women in the Chinese Enlightenment: Oral and Textual Histories (1999)
Focusing on the life stories of five prominent women activists in twentieth-century China, this book examines Chinese feminism in the Republican era and its fate under the socialist state.  Its depiction of the feminists' pursuit of national salvation and self-emancipation contrasts sharply with the Chinese Communist Party's master narrative of women's liberation under its leadership.
Gail Hershatter, The Gender of Memory: Rural Women and China's Collective Past (University of California Press, 2011)
Based on interviews with 72 village women in Shaanxi province, this book shows how the Chinese Communist Party's policy reshaped women's agriculture work, domestic routines, activism, marriage, childbirth, and parenting from the 1950s through the 1970s.  It also addresses the intriguing questions of how memories are gendered and how gender figured in the making of socialism in Chinese agriculture. (Reviewed on Not Even Past).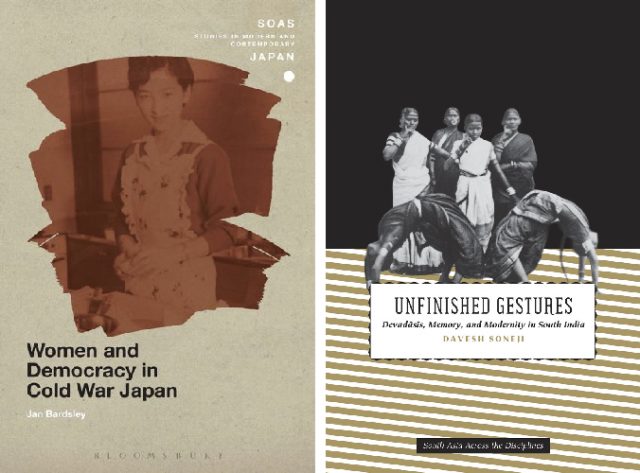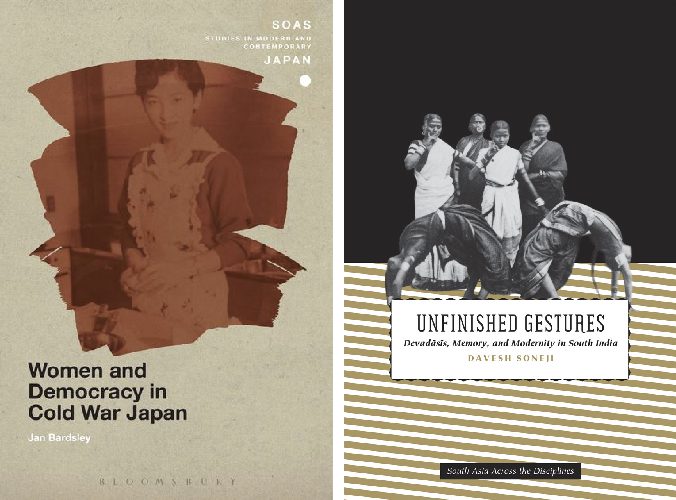 Nancy Stalker recommends:
Jan Bardsley, Women and Democracy in Cold War Japan (2014)
(Bloomsbury, 2016) is an engaging new work that reveals gender roles and gender politics in the 1950s through close readings of diverse popular media.  Focusing on newsworthy events centered around women, such as the wedding of the imperial prince to a commoner and Japan's first Miss Universe title, Bardsley reveals the media construction of the "housewife" embedded within discourses on postwar democracy, Cold War geopolitics, and US – Japan relations.
Cynthia Talbot recommends:
Davesh Soneji, Unfinished Gestures: Devadasis, Memory and Modernity in South India (2012).
This book combines historical research and ethnographic fieldwork to track the fate of South India's devadasis, originally Hindu temple dancers who came to be regarded as prostitutes as India was transformed by colonial modernity.  Typically unmarried and residing in quasi-matrilineal communities, devadasis often served as concubines or courtesans for elite men but came under increasing condemnation by social reformists beginning in the mid-nineteenth century; they were officially outlawed in 1947.  Soneji goes beyond the standard narrative of social change in colonial India by including an extensive examination of the role of dance in Indian royal courts and a sensitive exploration of the memories of ex-devadasis in this innovative, well-written work.

For more books on Women's History:
Great Books (Crossing Borders)
Indrani Chatterjee, On Women and Nation in India
Our 2013 list of recommendations:  New Books on Women's History