Not Even Past will publish letters to the editor with educational or scholarly merit. When the letter concerns a post on Not Even Past, the author of the article will be invited to respond. We encourage letter writers to refrain from ad hominem discourse. 
—Joan Neuberger, Editor.
Having designed a class that engages students with original texts surrounding the Meusebach-Comanche Treaty, I read Jesse Ritner's contribution with great interest. He makes valuable observations about the political position of the Comanche, and attempts to take on the Native American perspective which happens far too seldom. I believe, however, that we should recognize the significance of the Treaty of Fredericksburg.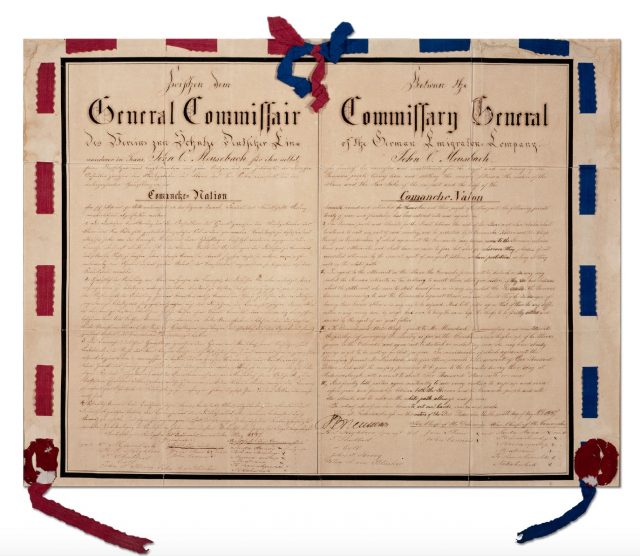 Germans in 1847 did not see themselves as "Anglo-European" settlers. Accordingly, Meusebach launched his expedition without consent of the government (Neighbors and the Delaware followed him), arranged for his own Mexican translator and designated a German Indian agent who remained with the Comanche. The effect was interesting. In a quote attributed to Penateka chief Kateumsi, he finds the Germans to be "less reserved" than the Americans.[1] The Penateka also noticed other cultural differences. A Houston newspaper of May 1847 reads: "[The Comanche] say they are more willing for the Germans to settle in their country than the Texians, for the former settle in towns and villages and do not scatter over the countryside and kill the game as the Texians do."[2] Money was never the only consideration.
As a German freethinker, Meusebach brought a very exceptional view to Texas. None of his letters indicate he wanted a military solution. It is true that the "Comanche did not forfeit land rights in the treaty." But he had no expectation that they should. Meusebach suggested a treaty of integration, not of separation. Engraved in the treaty was the spirit of the idealistic European revolutions of 1848. During a speech delivered at the negotiations, Meusebach exhibited racial sensibilities that differed radically from his contemporaries. He suggested intermarriage between Germans and the Comanche, spoke of the unimportance of skin color and mused about young Germans learning the Comanche language.[3]
One of the first settlements in the grant area was founded by German Forty-Eighters. Among the group was a doctor named Ferdinand Herff who successfully performed cataract surgery on a Comanche chief.[4] The episode further strengthened trust. Evidence that Germans were viewed favorably for a few years also comes from a travel account by Friedrich Schlecht from 1848. When he encountered a band of Comanche, the chief shared coffee with him, and told him that had he been of "those who […] had broken their treaties on numerous occasions" he would not have hesitated to scalp him.[5] The Comanche not only understood geopolitics, they also recognized differences in ethnicity and attitude among those they dealt with.
Whether the treaty remains unbroken is a different question. As Roemer predicted, violence erupted as early as 1850.[6] The significance of the treaty, however, and the reason it is still celebrated by Comanche and German descendants, is that it points to a conceivable alternative to the ethnic cleansing of most Native Americans from Texas territory that eventually occurred.
David Huenlich, Research Fellow, Institut für Deutsche Sprache, Zentrale Forschung, (Ph.D. UT Austin, 2016)
[1] Penninger (1896), Fest-Ausgabe zum 50-Jährigen Jubiläum der Gründung der Stadt Friedrichsburg, p. 91
[2] Daily Telegraph and Texas Register [Houston, TX], Monday, May 10, 1847
[3] Penninger (1896), Fest-Ausgabe zum 50-Jährigen Jubiläum der Gründung der Stadt Friedrichsburg, p. 104f
[4] Handbook of Texas Online, Glen E. Lich, "BETTINA, TX," accessed October 22, 2018, http://www.tshaonline.org/handbook/online/articles/hvb55
[5] Schlecht (1851), Mein Ausflug nach Texas, p. 74
[6] Wurster (2011), Die Kettner Briefe, p. 19f
---
Jesse Ritner Replies
I would like to thank David Huenlich for his thoughtful response to my article on the Meusebach-Comanche Treaty of 1847 and the "Lasting Peace" monument that commemorates it in Fredericksburg, Texas. I appreciate his insight into the role of the Indian Agent, R.S. Neighbors. Neighbors was sent by the governor of Texas specifically to stop the treaty, if possible, and to mitigate any negative effects that might have occurred if the treaty could not be stopped. The goals of the German-Texans were certainly at odds with the goals of the Anglo-Texans and U.S. Government, which was precisely why Meusebach needed to make a treaty with the Comanche. In addition, I never intended to question Meusebach's role as a "German free thinker." However, the evidence that Huenlich presents in his discussion of Meusebach's speech during negotiations, should be read with caution. The reliability of information on his speech is difficult to determine. Most accounts that I know of awere either written by German-Texan boosters or were written almost fifty years later, when relations with Native Americans were profoundly different, and the rhetoric of removal had changed. That being said, Meusebach likely mused about the possibilities of Comanche and German co-existence. In this he was not alone. In 1847, there were still people throughout the nation who believed that Native Americans and Europeans could and would live side by side.
Huenlich is also correct to point out that Germans in Texas in 1847 did not see themselves as "Anglo-European." Too often we think of Texas as Anglo, rather than as the diverse polity it was during the Mexican-American War. What is so interesting about this treaty, and what drew me to it in the first place, was precisely the ways in which it exists outside typical Anglo-Comanche relations. The presence of Americans, Mexicans, Germans, Comanche, and Delaware makes for a fascinating mixture of people, cultures, and political goals. As a result, when looking at this treaty, we must try and imagine an immensely complex world, in which the two of the three biggest political and military actors were at war, and the German-Texans were trying to protect their future access to certain lands.
In this context, Meusebach could only work within prevailing geopolitical systems. On one side were the Comanche, who were undoubtedly feared by both Native Americans and Europeans in the region. On the other, were the U.S. Government and the German Emigration Company, who despite conflicts with each other, agreed on what determined legal ownership of land. The German Emigration Company, which Muesebach represented, had been given a grant of land from the former Republic of Texas, which if they failed to settle, they would lose. As a result, despite the language in the treaty, Meusebach must have been aware that settling the land would, in the eyes of western law, guarantee German-Texan access to it in the future. He would also have been aware, that by German and Anglo reasoning, the company already had rights to own land that was already promised by the U.S. Government to the Comanche.
When we take a step back, and think about Comanche motivation for signing this treaty, two things become apparent. One is the fact that the Comanche saw a very different future for themselves in Texas than the German-Texans saw. The other is that there were existing presumptive rights to land already at work by the time Meusebach entered treaty negotiations. Meusebach was not concerned with money, per se, but he was deeply concerned with property rights, and those property rights were to land that another nation already owned.
Even as Meusebach imagined a future in which the Comanche and Germans lived at peace together, that very desire denied a future in which the Comanche continued to be in control of Comanche land. In order to write a story that does not repeat the removal of people from their land by removing them from history, we must take as our first premise that Europeans, Anglos, German, Spanish, French, etc., had zero right to Indigenous lands. Once we do this, it becomes impossible to see either the Comanche or the Germans as simply friendly and well meaning, and as a result allows us to see how, in 1847, each group imagined radically different futures for themselves and each other than the future that came to pass.
The Comanche imagined a future in which their horse herds still roamed the plains and buffalo still prospered in the American West, in which trade fairs in the center of Comancheria were still economic and cultural centers, and the Comanche military was still feared the way the U.S. military is feared today. It is only once we acknowledge that this was a possibility, and that even well-meaning settlers aspired to lands that were never theirs, that we can begin to understand the violence that settler societies unleashed on North America.
The history I offered in my first article aspired to such an imagination. It is based on this premise that I proposed that the treaty's significance was greater than its value to German-Texas. The treaty does not point to an alternative future because some German-Texans chose friendship over violence, it points to an alternative future because it gives us insight into myriad possibilities that the Comanche imagined for themselves.
---
The views and opinions expressed in this article or video are those of the individual author(s) or presenter(s) and do not necessarily reflect the policy or views of the editors at Not Even Past, the UT Department of History, the University of Texas at Austin, or the UT System Board of Regents. Not Even Past is an online public history magazine rather than a peer-reviewed academic journal. While we make efforts to ensure that factual information in articles was obtained from reliable sources, Not Even Past is not responsible for any errors or omissions.